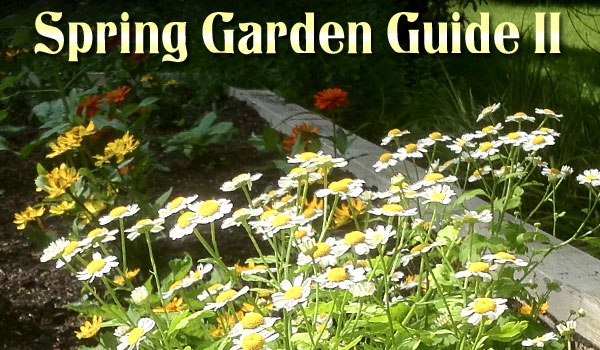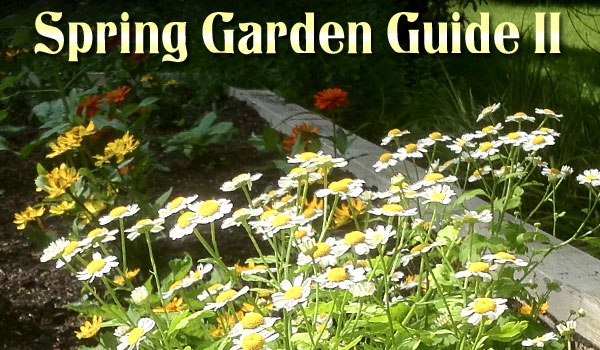 Hal Goodtree writes and photographs the Gardening Column.
Cary, NC – It's mid-season for Spring gardens across Cary. In our Spring II Garden Guide, we'll explore some choice perennials you can grow at your house.
Spring Perennials
A couple of weeks ago, I talked about annual flowers for summer. But now's a great time to plant spring perennials.
Here's what's happening in my Cary garden right now.
———————————————————————————————————
Coreopsis
First up is Coreopsis, also called Tickseed. It produces happy, daisy-like blooms for many weeks in the spring garden.
It's easy to grow, likes sun and gives a nice re-bloom if you cut it back.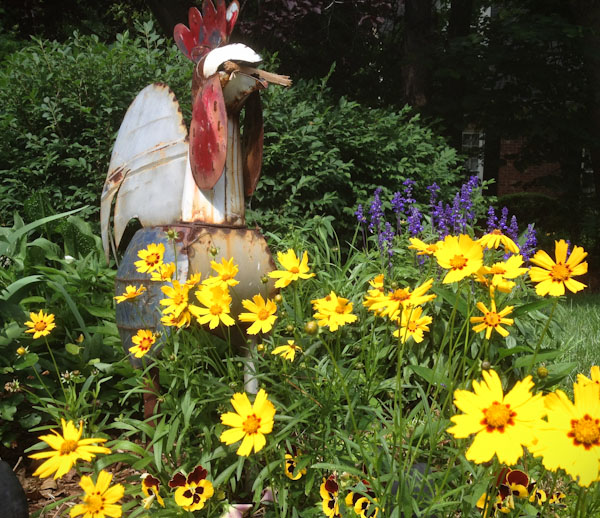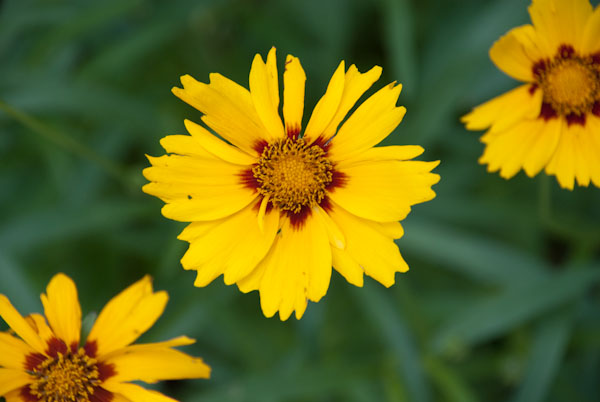 Feverfew
Next up is a medicinal herb called Feverfew. The medicinal effects are said to be negligible, but the flowers are lovely.
I've tried Feverfew in a number of places, but it seems to prefer a partly sunny location in my corner of Cary. It's a happy and carefree plant, easy to grow and rewarding in the right spot.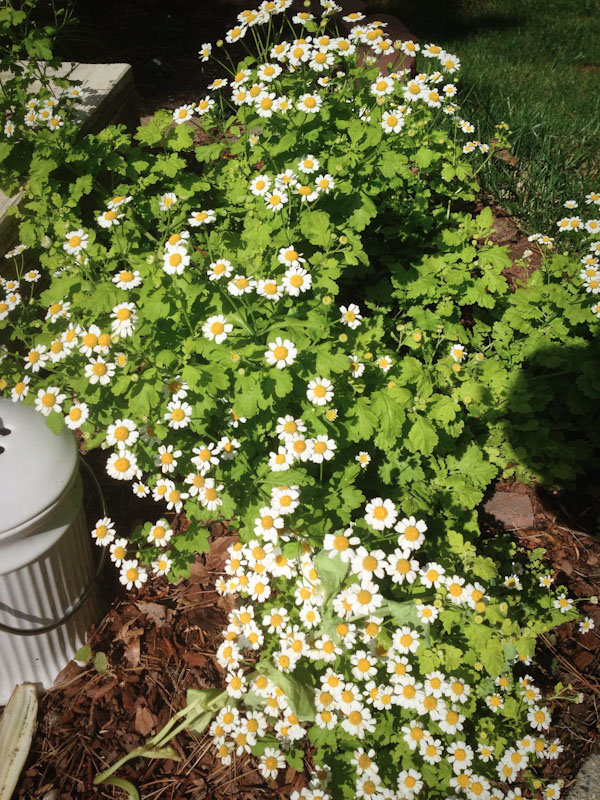 Fragrant
Every spring garden should be fragrant. Roses, lilacs and honeysuckle are all classic choices.
Right now at my house, the air is sweet with the smell of Gardenia and Privet.
Gardenia
First up in the fragrance department is Gardenia. It may have the shortest bloom time of any of my shrubs, but it has the sweetest fragrance, subtle with a hint of melon and cucumber.
Gardenia likes bright light, but not direct sun. Acidic soil is ok which is good for gardeners in the Triangle. Doesn't like to get too dry, so keep it near a hose.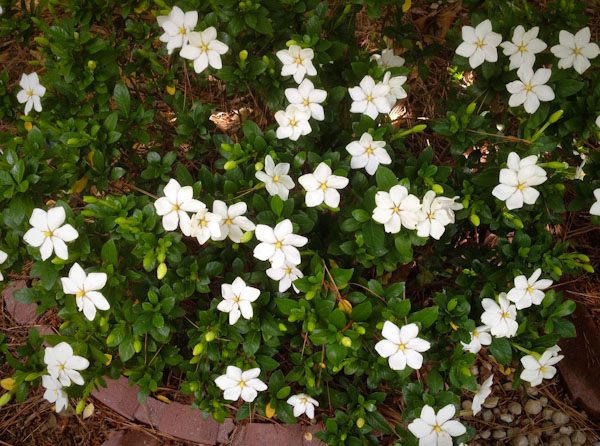 Privet
Privet, seen below, is a fragrant and useful foundation plant. That means you'll often find it planted around the foundation of your house.
Privet thrives in sun and shade, clay soil and even moderate drought. It takes a nice shearing if you are into topiary.
There are lots of varieties of Privet. Pretty much all are blooming around now. Their scent is big – it surrounds the house in a cloud of perfume for weeks, mixing with the other Spring fragrances in the garden.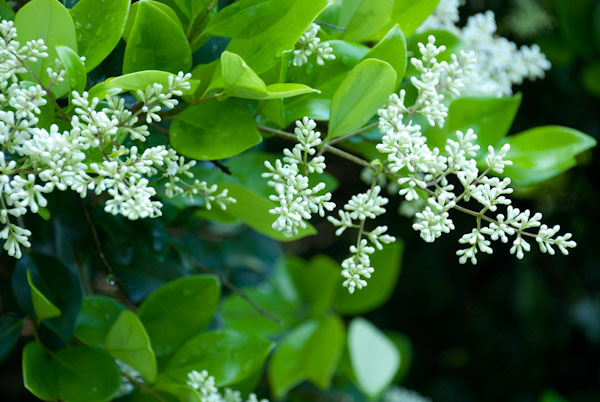 Tasty and Ornamental
Herbs don't have to be segregated into their own bed, they can be mixed throughout the garden with other plants and flowers.
Garlic Chives
Garlic Chives, seen below, are basically evergreen in the Piedmont. They mix nicely with other plants in a pot, adding "vertical interest."
They're also good in the wok or on a salad. They taste like chives with just a hint of garlic. Good in marinades, too.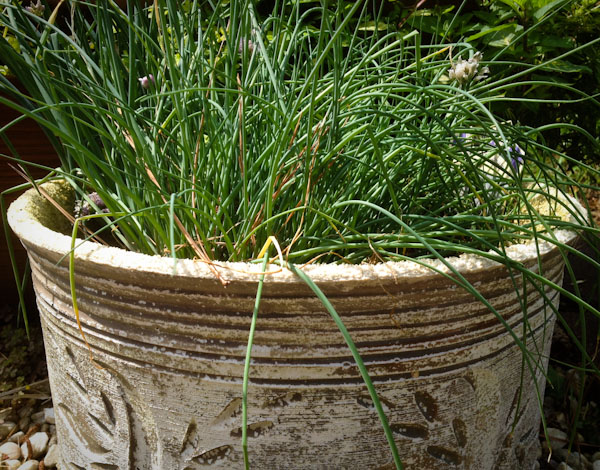 In the spring, garlic chives produce flowers. The delicate blooms last for weeks and make nice dried flowers.
Not fussy about environment. Put them in a pot and don't love them to death.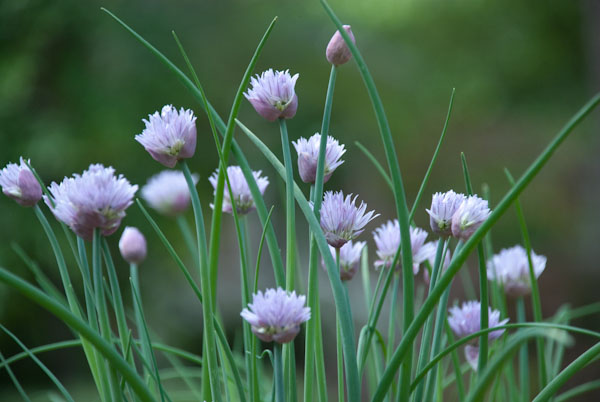 Oregano
Oregano, seen below, is a most useful and easy to grow garden herb.
My oregano is the Greek variety. It's very tasty, particularly in pasta sauce and Mediterranean dishes.
It's really a no-maintenance plant if you put in the right spot. My oregano thrives in a partly sunny location.
Now is the time we take our biggest harvest for the year, hanging the oregano to dry on a rack in the kitchen.
In early summer, oregano puts up a nice bloom of flowers, takes a nap for high summer and grows again in the autumn until frost.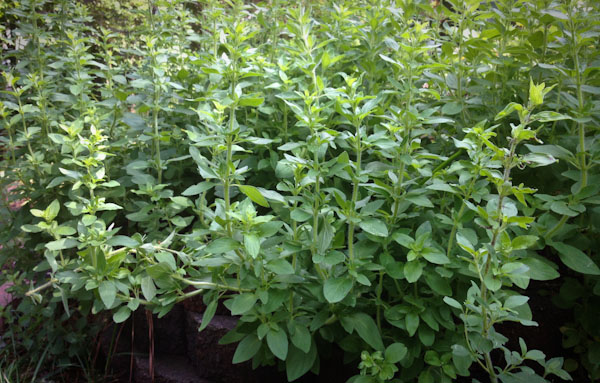 Rosemary
Rosemary is delicious in roasts, breads and Provençal cooking. It's also an amazingly tough, dense, evergreen shrub that likes a good pruning.
Sculpt it, shape it, then throw it in the casserole.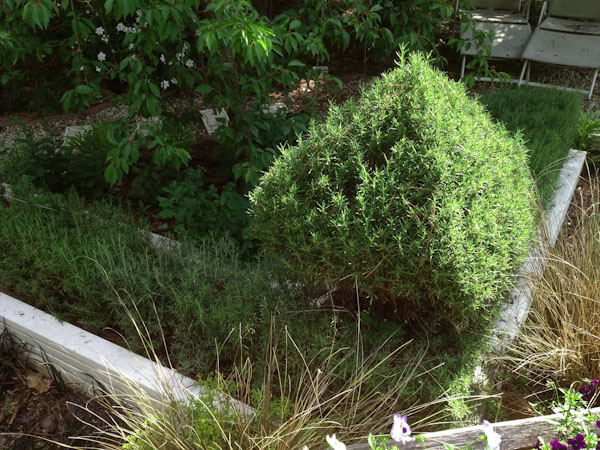 Useful
Flowers and shrubs are dandy, but sometimes you need ground cover or edging plants.
Sedge and ivy are two of my favorites.
Sedge
Sedge is tough, versatile and adds a low vertical interest to the front of beds and boxes. It use it all around the garden in sun and shade. You can divide it in the autumn to make new plantings in another area.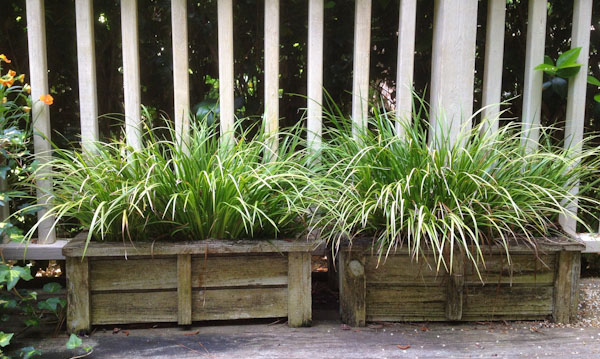 Ivies
Ivy is a low-growing evergreen ground cover. It loves shade and thrives with a limited amount of water.
What I like best about ivy is that it comes in many interesting cultivars with white and yellow accents and differently cut leaves.
Once a year, you have to cut back ivy away from the house or trees because it will climb up and take over. Because ivy can be invasive, I limit its use in beds but employ it widely for trailing foliage in planters.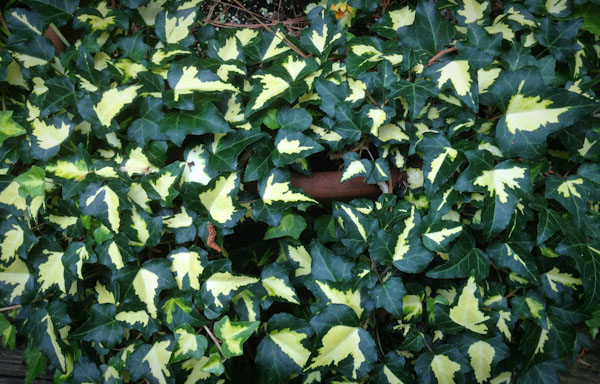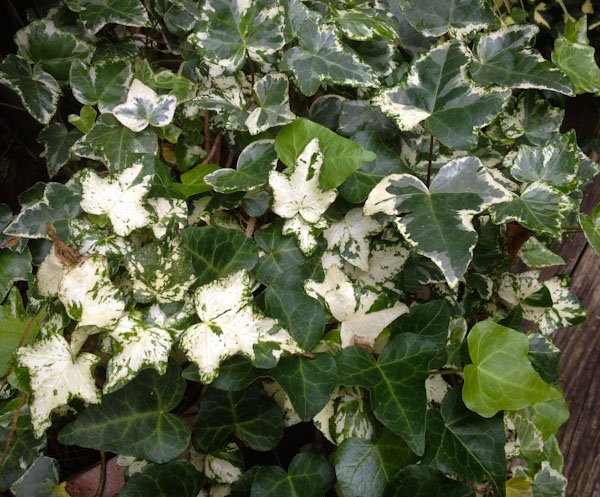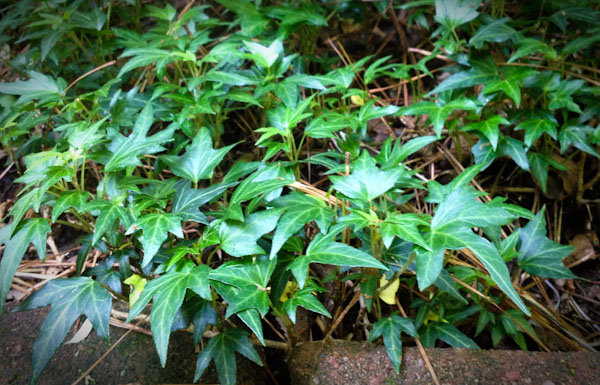 What to Plant Now
All the plants mentioned in this story can be seen right now in the garden store. Plant them now and you'll reap the benefits for years to come.
———————————————————————————————————————————-
The Gardening Column on CaryCitizen is sponsored by Garden Supply Company on Old Apex Road in Cary.
https://carycitizenarchive.com/wp-content/uploads/2012/05/spring-garden-guide-ii.jpg
350
600
Hal Goodtree
https://carycitizenarchive.com/wp-content/uploads/2020/03/cc-archive-logo-450-v3.png
Hal Goodtree
2012-05-17 22:11:39
2013-02-15 11:26:31
Spring Garden Guide II