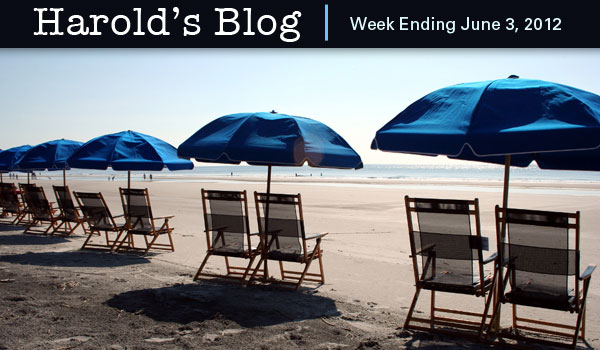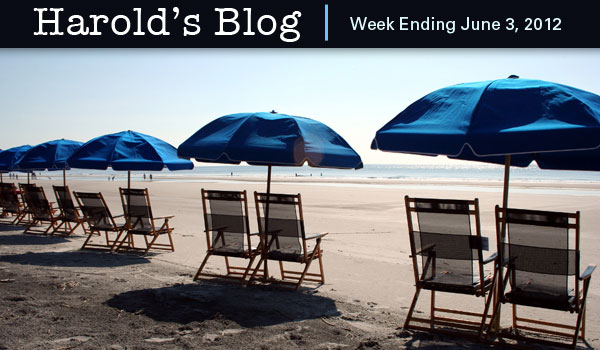 From the blog of Cary Mayor Harold Weinbrecht. Photo by Andrew Cohen.
Cary, NC – This was a family vacation week for me. So this week's blog is mostly about that vacation.
Sea Creatures
It was the first time we have spent time together since Christmas. My youngest daughter is home from college in Greenville and my oldest daughter is visiting from Manhattan.
We vacationed in Hilton Head where we dealt with Tropical Storm Beryl for three days. It was mostly a wind event but rained hard all day Tuesday after lunch.
Each year our visit to Hilton Head seems to have a theme with sea creatures. One year, there was an abundance of sand dollars; another year there were a gazillion jelly fish; this year was dominated by shells from horseshoe crabs. I wonder what next year will bring?
A Blast
I usually stay extremely active during my vacations. Hilton Head is home to a top five tennis resort where I do advanced drills for an hour and a half each day. With the hot and humid weather it is guaranteed to be a daily soak from head to toe. I follow these drills with a long bike ride (from one to three hours). Then I finish the day with a four mile run. It was a great time for me and I had a blast. Of course the girls had a blast too.
Remembering Stan Norwalk
Since coming home I have been going through emails and voice mails. I read that former Wake County Commissioner Stan Norwalk died which was very sad. Stan was one of the first people I talked to when I got involved in Cary Politics in 1998. We were in agreement on most every issue. He was a passionate individual that put his heart and soul into this region and we are all better off from his service. Rest in peace Stan.
Table Tennis
In news from staff another major table tennis event was announced:
"For the third time in 2012, Cary, North Carolina's Bond Park Community Center will play host to a major continental Table Tennis event. The North American Championships are scheduled to be held August 31- September 2, and will feature the top players in the hemisphere.
The event is open to players from the United States, Canada, Bermuda, and Greenland. Continental champions will be determined in men's and women's events. Additionally, a Junior team event will determine entries into Junior Worlds and a Cadet boys and girls event will determine selections for the World Cadet Challenge. Pending the number of entries, competition will be a round robin format followed by a single elimination bracket."
Cary Town Council Vacancy
Staff also did a press release on the council seat that will be vacated by Julie Robison on June 30th:
CARY, NC – Interested Cary citizens have from noon on Friday, June 1 until noon on Friday, June 29 to place their names into consideration for the unexpired At-Large Cary Town Council seat that will be vacated by Julie Robison effective June 30. To be considered, candidates must be at least 21 years old, live within the Cary corporate limits, be registered to vote and not have any disqualifying factors, such as sex offenses and felonies. Current Town of Cary employees are not eligible for appointment.
Cary citizens interested in the job should prepare a Statement of Interest and Qualifications (SOIAQ) that addresses all — but need not be limited to — the following:
Name, street address, mailing address (if different from street address), zip code, telephone number, and email address;
Describe why you want to serve as a Cary Town Council member;
Describe your perspective on Cary's growth management and what you would do, if anything, to change it;
Describe your perspective on Cary's financial management and what you would do, if anything, to change it;
Willingness and ability to serve until citizens elect a successor in the fall 2013 Cary municipal election;
Community involvement, community connectedness;
Previous government experience;
Other relevant experience;
Education;
Occupation and place of employment (if applicable); and
Other personal qualities
SOIAQs should be submitted to Town Clerk Sue Rowland by noon on June 29, 2012 via email at sue.rowland@townofcary.org. All persons who submit an SOIAQ will receive an email confirmation.
Following the deadline, all SOIAQs will be placed on the Town's website. SOIAQs are public records under North Carolina law and will be shared with others upon request and without notice; therefore, please do not include private identifying information on the SOIAQ, such as Social Security numbers. For more information, search "Council Vacancy" at www.townofcary.org or call (919) 469-4011.
Emails
Although I was on vacation the emails were not. I received a complaint about the proposed backyard chickens, a complaint about town staff and their relationship to council, a complaint that our police department, I, and others are corrupt and that is why Brad Cooper was convicted, concerns about a rezoning proposal on Upchurch Farm Road, and a threat to be voted out of office because we have permanent water conservation measures.
Next Week
Next week will be time to get back to work. On the calendar are a video shoot, several meetings, and five high school graduations.
Well that is all for this week. My next post will be on Sunday June 10th. Please feel free to email me with a comment. Email all Town of Cary questions or comments to Harold.Weinbrecht@townofcary.org. Email personal comments to augustanat@mindspring.com.
https://carycitizenarchive.com/wp-content/uploads/2012/06/cary-mayor-harold-weinbrecht-0603.jpg
350
600
Harold Weinbrecht
https://carycitizenarchive.com/wp-content/uploads/2020/03/cc-archive-logo-450-v3.png
Harold Weinbrecht
2012-06-04 19:15:12
2016-01-09 11:58:31
Harold's Blog: Vacation and More