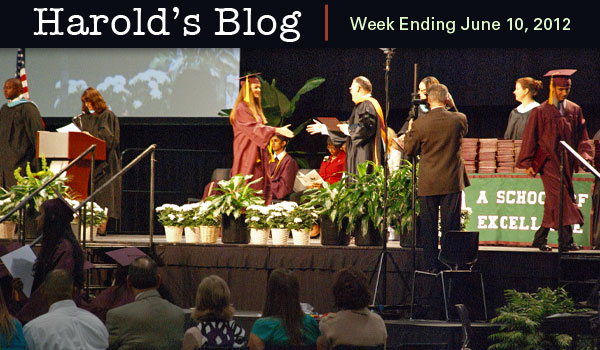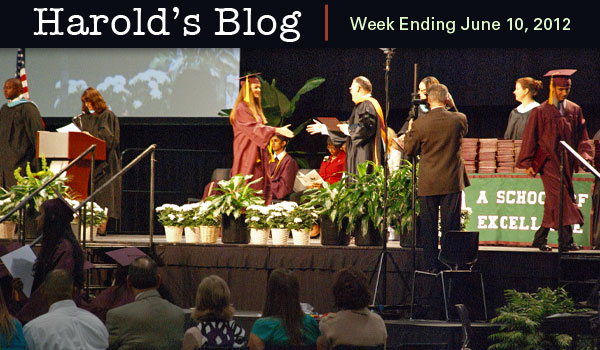 From the blog of Cary Mayor Harold Weinbrecht. Photo by Hal Goodtree.
Cary, NC – This week was dominated by local High School graduations. I also participated in various other meetings.
Town of Cary Video
Monday I did a video shoot for the Town of Cary website. It is a welcoming video for potential citizens and businesses. We took about a half dozen takes and hopefully they can produce at least one good one.
White House Conference Call
Tuesday started with my participation in a conference call to the White House. The conference call was an information and Q&A session for regional leaders prior to Vice President Biden's visit to Winston Salem. Leading the discussion was chief of staff to Vice President Biden, Bruce Reed. He spoke of the main areas the White House will be focusing on in the upcoming months. The following information was sent from the White House staff related to the call:
– Congressional "To Do" List – President Obama has put together a "To Do List" for Congress that would create jobs and help restore middle class security. These initiatives have had bipartisan support, and the President believes Congress should pass these measures right away. For more information, please visit: http://www.whitehouse.gov/todolist
– Support for manufacturing and "insourcing"- #4 on the "To Do List" for Congress is legislation to attract and keep good jobs in the United States by rewarding companies who bring jobs back to America. The President believes this should be paid for by eliminating tax incentives for companies that ship jobs overseas. American manufacturers have added more than 400,000 total jobs in the last two years-the strongest growth since the late 1990s – and their continued strength is vital to creating an economy built to last that makes things the rest of the world buys.
– Support Equal Pay – As discussed on Tuesday, President Obama and the Administration strongly supported passage of the Paycheck Fairness Act, a comprehensive and commonsense bill that updates and strengthens the Equal Pay Act of 1963, which made it illegal for employers to pay unequal wages to men and women who perform substantially equal work, and will continue to fight for its passage. Learn more about wage inequality and its effects on American families here.
Questions and comments were made from regional elected officials that included Carrboro, Chapel Hill, Winston Salem, and Creedmoor.
Streetscapes and Performance Reviews
Tuesday afternoon I met with town management and staff to go over interpretations of the downtown streetscape plan. The point of the meeting was to make sure staff and council members agree on how to proceed with streetscape using the downtown master plan as a guide.
Tuesday night the council went into closed session to do the performance review for the town attorney and the town manager. We allotted one hour for each and had a great discussion. Although the council believes we have excellent staff we work very hard to find recommendations as to how they better can do their jobs.
Economic Development
Wednesday I attended a meeting of the Economic Development Committee. Some of the interesting points that came from that meeting include:
– The 2nd Quarter of this year is slower than the 1st Quarter. Manufacturing, consumer confidence, and an election year are believed to be playing a big part in the slowdown.
– Office rent levels do not support new construction.
– Currently a benchmark of 4% unemployment is considered full employment. A future new norm may be around 6%.
– A local company is considering expansion of 50 to 100 positions and $20 million in capital investment.
– Recruitment of an office and R&D could create 150 jobs paying an average of $102,000 plus benefits.
– A winery is considering a move into downtown.
– The Cary Arts Center attracts 10,000 visitors monthly.
– Cary Sports have seen Olympic Table Trials, Division II Baseball Championships, Division III tennis championships, and sold out Railhawk games.
Cary is expanding Wake Med Soccer Park to include:
A three story building for lockers, multipurpose, restrooms, and concessions.
An additional 3000 seats
New team facilities
New locker rooms
– Raleigh-Cary listed as 7th out of 100 "Best Cities for Jobs" with 450,000 more jobs
– 41% of Raleigh-Cary residents have a college degree. It is more than two thirds in Cary
North Carolina is listed as one of the top five most competitive states for business
– Cary unemployment rate is 5.6% which is the lowest of the 7th largest municipalities in the state. Raleigh is 6.6%, Durham is 6.8%, Fayetteville is 7.0%, Charlotte is 7.8%, Winston-Salem is 8.3%, and Greensboro is 8.5%.
The meeting concluded after about 1 ½ hours.
Grads at Green Hope
Thursday I had the joy and privilege of being on stage at the Green Hope High School Graduation. I almost didn't make it on time and caught up to the others as they were lining up to go on stage. It is priceless to watch the expressions of the young men and women walking across the stage. It is also interesting how the procedures differ from school to school. Green Hope called every name in one reading and the crowd, which did cheer, was well behaved. There were approximately 460 graduates for Green Hope and the ceremony lasted about an hour.
Money Mag: Cary Evaluated as "Best Place" AGAIN
Thursday night I interviewed with a reporter from Money Magazine. Money Magazine is putting together the "The Best Places to Live" issue and wanted to evaluate Cary. We had a great interview (that lasted about an hour) and I was able to talk about most of the wonderful things in Cary. When we shook hands to say goodbye she said "I love your town". So I take that as a good sign. We'll see.
More Grads:  Middle Creek, Cary High, Panther Creek
Friday I took vacation from work so that I could attend three Cary high school graduations. The Middle Creek graduation was held at Memorial Auditorium. They graduated over 360 seniors and continued their tradition, of no hollering and clapping the during the diploma presentation, for the eighth year. After the diplomas were presented the seniors walked through arches of roses. Very classy.
Next I headed over to the Raleigh Convention Center for the graduation of 475 seniors from Cary High School. Cary High School has, of course, a long tradition. There were families of graduates with parents, friends and relatives who were graduates of Cary High School. I was lucky to see three of my Sunday School students walk across the stage and receive their diplomas.
The last graduation I attended on Friday was for Panther Creek, the fourth largest high school in North Carolina, which graduated over 560 seniors. I thought it was interesting that three sets of identical twins were among the graduates.
Eagle Scout Anthony Rizzieri
Saturday I had the pleasure of attending the Eagle Scout ceremony for Anthony Rizzieri. For his Eagle Scout project he built a sensory garden for autistic children. I was very impressed with this young man's maturity and big heart. I believe he is headed for great things.
And More Grads: Athens Drive
Saturday night I attended the graduation for Athens Drive with approximately 400 seniors walking across the stage to get their diplomas. Out of the five I attended this one had the pomp with the coral group giving great performances.
Note to Media: We Are Not Raising Taxes "for Downtown"
Sunday, the local newspaper did a story about downtown and the future downtown park. I was disappointed that it implied we were raising taxes four cents for downtown. The bond referendum in the fall will have three questions: One for a new fire station, one for several transportation projects, and one for several parks projects. If all pass then a two cent tax increase is likely for fiscal year 2014 and a two cent tax increase is likely for 2016. In addition, we will still likely have the lowest tax rate in the county when this is implemented by 2016.
The implication that referendum is for downtown or mostly for downtown is false. It is a town wide referendum. I suspect the town will have to issue a letter to the editor to correct the inaccuracies.
Emails
Emails this week included the following information from the North Carolina Department of Transportation:
"…Significant improvements to the railroad tracks, bridges, and signal systems have been completed in Cary between the Harrison Avenue crossing and the NE Maynard Road crossing east of town, centered around the East Durham Road underpass. In short, the track crossovers have been reversed to allow for more efficient train movements between Raleigh and Cary, bridge decks have been replaced over East Durham Road, and signal programming has been revised to accommodate these changes
With these track improvements complete, maximum speeds on the Norfolk Southern track (track north of the Cary train station) for freight trains will increase from 35 miles-per-hour to 40 miles-per-hour between Harrison Avenue and East Durham Road. The maximum speed of passenger trains will increase from 40 miles-per-hour to 45 miles-per-hour throughout these limits, though passenger trains will continue to stop at the station between Harrison Avenue and Academy Street. …"
Emails from staff this week asked that we remind the public of our request to participate in the town's Technology Task Force. The Technology Task Force will meet eight times from August to November and review, evaluate and prioritize new and emerging technologies that will facilitate better engagement, citizen outreach and service delivery to make it easier for citizens to communicate with the Town and utilize available information. To apply, search "Technology Task Force" at http://www.townofcary.org. Applications will be accepted through June 30, 2012.
Staff also sent an email with current plans under review. These plans can be reviewed at http://www.townofcary.org/Assets/Planning+Department/Planning+Department+PDFs/planreview/Active+Projects+in+the+Review+Process+(sorted+by+date).pdf. Highlights include:
– 116 townhomes for Good Hope Church Road and Highway 55
– Streetscape on Chatham Street
– Gym at St. Michael's Church
– 222,000 square foot office building at SAS
– Downtown theater
– A Walgreens at Waverly Place
There were several emails from citizens including complaints about the "temporary" 9th grad center, a complaint about the town's backflow value required testing, a complaint that said our water conservation program is political, a complaint about the proposed country transit tax because it would invite more development, a complaint about allowing backyard chickens, a complaint about bio solids, and a recommendation to oppose a rezoning.
Well that is all for this week. My next post will be on Sunday June 17th. Please feel free to email me with a comment. Email all Town of Cary questions or comments to Harold.Weinbrecht@townofcary.org. Email personal comments to augustanat@mindspring.com.
https://carycitizenarchive.com/wp-content/uploads/2012/06/cary-mayor-harold-weinbrecht-0610.jpg
350
600
Harold Weinbrecht
https://carycitizenarchive.com/wp-content/uploads/2020/03/cc-archive-logo-450-v3.png
Harold Weinbrecht
2012-06-11 20:46:59
2019-12-07 17:19:52
Harold's Blog: High School Graduations