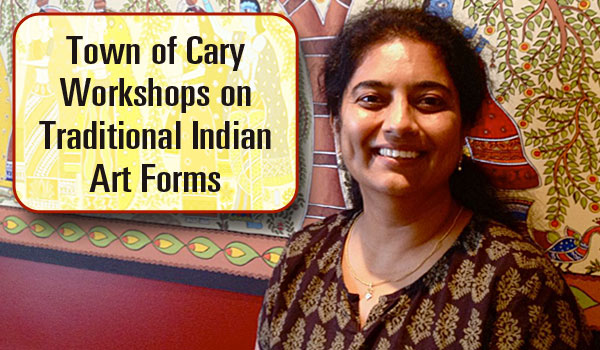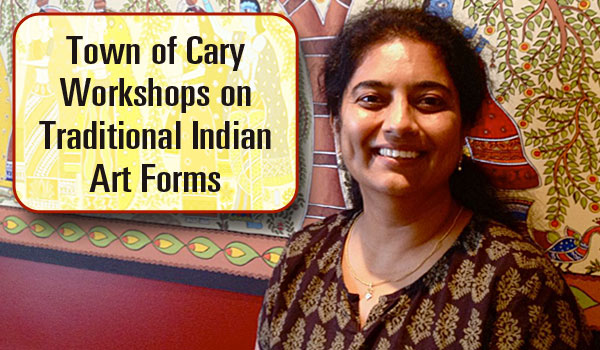 Story and photos by Lindsey Chester.
Cary, NC – We all know the work of Andy Warhol, Vincent Van Gogh and Rembrant. But how many of us have ever heard of artforms called Rangoli, Warli and Zentangle? Local artist Sampada Agarwal is set to  teach some workshops presented by Town of Cary to acquaint people with these traditional and modern styles of art.
Mama's Sand Paintings
Sampada Agarwal learned the artform called "Rangoli" by watching her mother daily create paintings with sand on the floor of their home in the western part of her native India.
Rangoli paintings are meant to be temporary, and each day are wiped away and a new design created, typically by the matriarch of the household. This tradition is passed down through the daughters of a home. Growing up, Sampada unconsciously learned the art, incorporating the style she saw into greeting cards she made as a child.
First an Engineer, Then an Artist
An engineer by trade, Sampada emigrated to the US first for college, and then with companies that took her and her family to Kansas, Chicago and New Jersey. About 10 years ago her family moved back to India for her husbands' business for four years.
It was during that time back in India, faced suddenly with no job or housework to occupy her time, that Sampada got back in touch with her creative roots. She had lost her voice for a time after teaching at the local university and needed to find something to do while her vocal chords healed. She decided to enroll in a painting workshop in the art form known as Warli, taught by the local tribal peoples.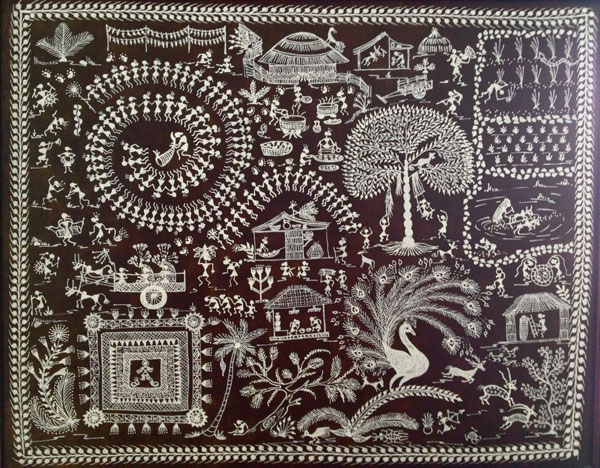 Warli
Warli designs are traditionally painted on brown mud walls, and depict everyday activities in a stylized,  pattern-heavy manner. Sampada enjoyed it very much, and enrolled in another, 3 day workshop. Since that time (6-8 years) she has worked using both Warli and Rangoli art forms in her own version of these styles.
Walking into Sampada's home you are struck by the use of pattern everywhere. She doesn't stop with a canvas or paper, but has embellished chairs, tables, book cases and even an umbrella with her sinuous monochromatic Warli painting designs. The play of light and dark delights the eye and fits easily into her modern home.
Zentangle
Another style of painting caught her attention a few years ago is called Zentangle and was created in the US by Maria Thomas and Rick Roberts. Similar to the Indian traditions she so enjoys, Zentangle is pattern heavy and is black and white. A workshop several years ago in Massachusetts taught her the basics and she has since become a certified Zentangle Teacher (or CZT). The premise of these designs is to learn a series of pattern-types that can be examined and put together in an infinite number of combinations.
No Mistakes, Just Possibilities
"There are no mistakes, only possibilities. And no eraser is given." This encourages students to improvise and concentrate wholly on the work before them, she says. Sampada uses this style in greeting card and monogram creations that are truly eye-catching.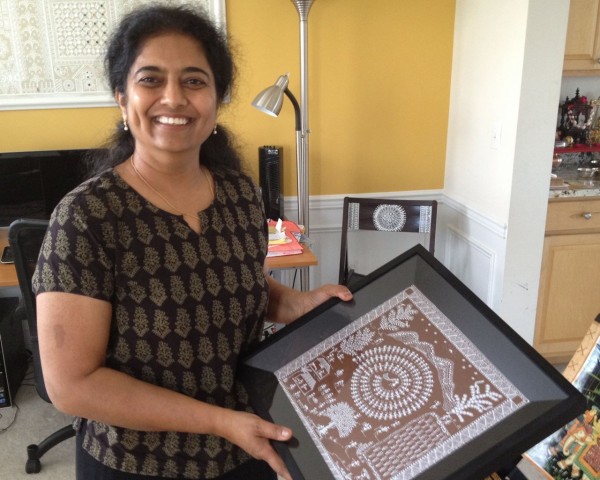 Town of Cary Workshops
As a lead-in to the annual Diwali Festival that takes place this year in October, Samapda is teaching art workshops through the Town of Cary to acquanit children and adults with these engaging and accessible artforms.
The classes are offered beignning June 13 and require advance registration through the Town's Parks and Recreation website. Look on page 26 of the Summer brochure for full descriptions of the four classes that artist Sampada  Agarwal will be teaching. Three seminars are one day only, and one is taught for a full week. No experience necessary!
Look for it at Diwali
At Cary's Diwali Festival, presented by Hum Sub, there's always a Rangoli design on the ground are at the entrance to Booth Amphitheatre. Look for it and appreciate the temporary nature of the beautiful design, created especially for the one-day event. And think of Sampada bringing a bit of her colorful culture to Cary for us to enjoy.
https://carycitizenarchive.com/wp-content/uploads/2012/06/indian-art-workshops.jpg
350
600
Lindsey Chester
https://carycitizenarchive.com/wp-content/uploads/2020/03/cc-archive-logo-450-v3.png
Lindsey Chester
2012-06-11 18:50:49
2015-12-28 14:08:44
Town of Cary Workshops on Traditional Indian Art Forms