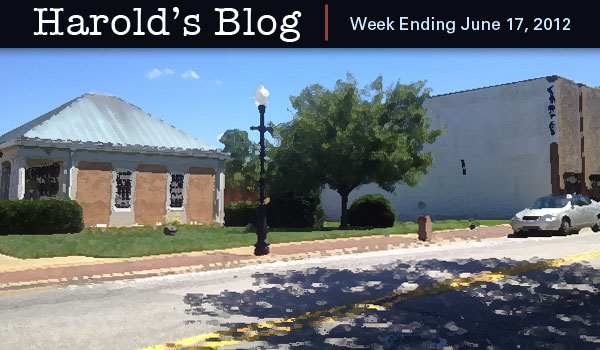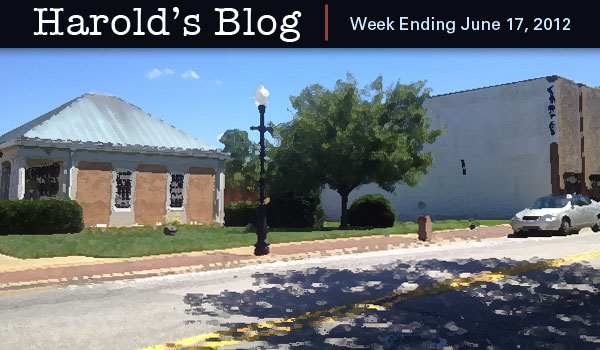 From the blog of Cary Mayor Harold Weinbrecht. Photo by Hal Goodtree.
Cary, NC – This week was a typical council meeting week with the council meeting, associated meetings, and ceremonies. The only difference was a mediation that occurred later in the week.
Monday
Monday I called council members to find out questions or concerns they may have about Thursday's council meeting agenda. I was able to contact Adcock, Smith, and Frantz. At the time of the calls there appeared to be no questions or concerns. Later that day I met with management, directors, administration, and legal to go over the agenda. There wasn't much discussion and meeting only lasted a few minutes. My estimation for the length of Thursday's meeting was less than an hour for open session and an hour and fifteen minutes total.
Monday evening I met with the town attorney to go over several items. We continued the meeting via the phone the next morning. It is important for council members to be updated frequently by the attorney's office on important issues.
Tuesday
Tuesday I met with the town manager to go over several items. We talked about downtown, media reports, and upcoming issues. Our meeting, which was interrupted by another meeting, lasted about a half hour.
Later Tuesday I facilitated a meeting of the Western Wake Partners Policy Advisory Committee. This committee makes decisions impacting the creation of the new sewer plant. We voted and approved three contracts: the construction of an administrative building, the construction of an effluent pump station, and the construction of the effluent pipeline. The next meeting of the partners is scheduled for July.
My Response to Cary News Story About Downtown
Tuesday, I sent a letter to the [Cary News] editor in response to their Sunday story about downtown and council expenditures which was so egregious that it required a response. Here is the content of my letter:
Regarding your article, "Cary readies downtown block for demolition," the Town of Cary does not run deficits.  State law requires us to have a balanced budget each year, and we do.  Staff anticipates a modest $1.7 million surplus for this fiscal year ending June 30.  This surplus results from our cautious and conservative approach to our finances, with revenues coming in a little better than expected and expenses being a little lower than estimated.

The $21.4 million in the article is an appropriation from fund balance– a designated "savings account" where we set aside cash to help pay for capital projects like parks and roads.  Staff anticipates bringing design options for the 13-acre downtown site to the Council in the next few months.  In addition to a park, we are considering a new, larger library, space for hosting events like a farmer's market, and private uses like shops, restaurants, and offices.

As for the $80 million Community Investment Bond Referendum for parks, transportation, and fire projects this November, some of the funds would be used for downtown projects, assuming voters approve the ballot measures and their associated tax increases.  Property taxes would rise two cents July 2013 and two more cents July 2015.

While Cary has the lowest tax rate in Wake County and hasn't raised taxes in over two decades, it will be up to Cary voters to decide if we move forward in the next three to five years on the bond projects. For details, search "2012 Bonds" at http://www.townofcary.org.
I listed the letter here in case they don't print the entire letter.
Dorcas Goes  Solar
Wednesday I attended a ribbon cutting for Dorcas ministries' new Solar Panels. Dorcas Ministries is the first non-profit in Wake county to house a solar system. The new solar system will have enough power to supply 30 homes for an entire year thanks to the help of Yes Solar and Argand Energy.
In a recovering economy, this is a smart partnership between non-profit and profit-based businesses and is what we need for a better future.
Middle Creek Champs
Thursday I along with two council members met briefly with the town clerk to approve subcommittee meeting minutes. This took all of five minutes and we then headed to the council meeting.
Thursday's council meeting consisted mostly of four public hearings and recognition of the Middle Creek as baseball state champions. The Middle Creek team presented me with a baseball and a picture which I will proudly display in the case in the mayor/council office. After an open session that lasted less than an hour we went into closed session. The entire council meeting lasted until about 8:30 PM.
Mediation
Friday, I participated in mediation between the Town of Cary and another party. Since this is a legal issue I can't discuss the topic. I did think the process was unique.
The town was represented by three council members, staff, and attorneys from inside and outside the organization. The mediator was an attorney. The other party was represented by several people including several attorneys. First the other party presented information and an initial offer. Then the two parties moved into separate rooms. The mediator then took offers and information back and forth between rooms. We concluded after a little over four hours.
Cary Cops and Camp Confidence
Later Friday I participated in the graduation ceremony for Camp Confidence. This camp was a week long course led by the town's police department for middle school girls that may be at risk. The purpose was to expose them to positive role models and help build confidence and self-esteem. There are upcoming camps for boys to be held in the near future.
State Dems Meet: Wake County Democratic Women Breakfast
Saturday morning I attended a breakfast sponsored by the Wake County Democratic Women. There were at least a couple of hundred in attendance including Governor Purdue, Congressman Price and Miller, and several state, county and local elected officials. Several speakers, including Governor Purdue, harshly criticized the state legislature for their policies against education and women.
Internet Cafés
This past week there were news stories about internet cafes in Cary. Staff is currently working on language to add to the Land Development Ordinance that would allow internet cafes in very limited areas. Keep in mind that there would likely be legal consequences if we didn't allow it so it is not like we have a lot of choice. The implication in the local [Cary News] newspaper headline, "Cary could make room for sweepstakes", was that Cary would encourage these businesses. This is absolutely false and is just another negative shot at Cary by the local news which we have come to expect.
Emails: Economic Development and more
Emails this week included an economic development announcement from the Cary Economic Development and the Chamber of Commerce. They announced that M*Modal, a medical transcription company, has leased approximately 18,000 square feet of space in RDU Center and will ultimately employ approximately 75 individuals at their Cary location.  The company is headquartered in Franklin, Tennessee; however, the majority of the leadership team will work out of the Cary facility.  M*Modal is the first tenant in the 115,000 square foot RDU Center II office building.
Emails from citizens this week included requests for council to vote against rezonings, criticism that we have signs prohibiting concealed weapons in parks, concerns about the Cary-Chatham County Joint Land Use plan, concerns about a dangerous road condition, and criticism (from a weekly critic about pretty much anything and everything) that we have no vision for downtown.
Next week looks slower with mostly meetings and events.
Well that is all for this week. My next post will be on Sunday June 24th. Please feel free to email me with a comment. Email all Town of Cary questions or comments to Harold.Weinbrecht@townofcary.org. Email personal comments to augustanat@mindspring.com.
https://carycitizenarchive.com/wp-content/uploads/2012/06/cary-mayor-harold-weinbrecht-0617.jpg
350
600
Harold Weinbrecht
https://carycitizenarchive.com/wp-content/uploads/2020/03/cc-archive-logo-450-v3.png
Harold Weinbrecht
2012-06-18 18:30:24
2016-01-09 11:58:31
Harold's Blog: Internet Cafes, the Media and More