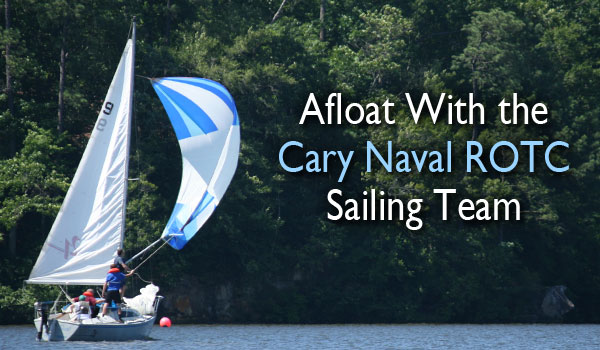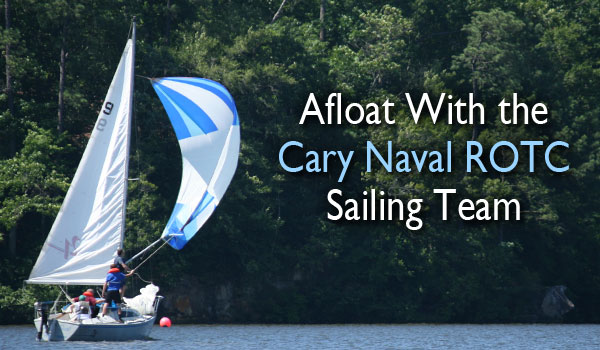 Story by Brian Schmid. Photo by Phillip Thomas.
Cary, NC – Did you know that Cary High has a Junior ROTC program? Did you know that it's Naval ROTC? Well, Cary NJROTC has a new sailing team, and I'm the captain. Here's the story of a typical sailing practice on our new yacht.
Not The Average Team
Sailing practices are relaxed exercises by the unit's standards, but the cadets still showed their normal level of discipline out of habit.
Our 21 foot Parker Liftkeel Yacht was originally used at the United States Naval Academy at Annapolis. The boat came out of dry storage and was ready to rock in under an hour. Our instructor, Chief Petty Officer Brown, simply stood by and supervised. The boat was rigged and launched entirely by the NJROTC cadets.
You read that right – four high schoolers were responsible for launching a boat that still sells for $17,000 used. That's not something the average high schooler gets as part of a public school education.
A Big Fish in a Small Pond
The Parker Yacht is always the most noticeable boat on the lake. The mast towers over 20 feet in the air, and the billowing white sails provide easy visibility to the homes on the lake and people on the shore.
Luckily, it's an interesting show; the yacht heels over 45 degrees or more in good wind, and the colorful spinnaker sail that we fly off the bow draws gasps even from us when it is completely inflated.
Learning Beyond Boating
Sailing a boat this size teaches a person much more than how to tell port from starboard. The value of communication becomes obvious, as does the necessity of teamwork. Keeping things organized suddenly becomes incredibly important, and listening to orders becomes the difference between a great day of sailing or running aground on the shores of Lake Wheeler.
I'm always impressed to see a freshman or sophomore hauling the lines just as hard as a junior or senior, and the lessons stick with them long after we get off of the lake.
While the sailing team is not currently competitive due to its age and size, the team is one of the larger points of pride for the Cary High unit, as one of only two programs in the state.
I get to do a lot of different things through NJROTC and other programs, but being captain of the sailing team is one of my favorites. There are few feelings better than inching past another sailboat at the end of a difficult race or teaching a group of people how to work the lines.
The team is a valuable addition to the Cary NJROTC. And, yeah, it's pretty enjoyable, too.
https://carycitizenarchive.com/wp-content/uploads/2012/06/cary-njrotc-sailing-team.jpg
350
600
Brian Schmid
https://carycitizenarchive.com/wp-content/uploads/2020/03/cc-archive-logo-450-v3.png
Brian Schmid
2012-06-20 20:02:28
2013-06-18 10:47:26
Afloat With the Cary Naval ROTC Sailing Team