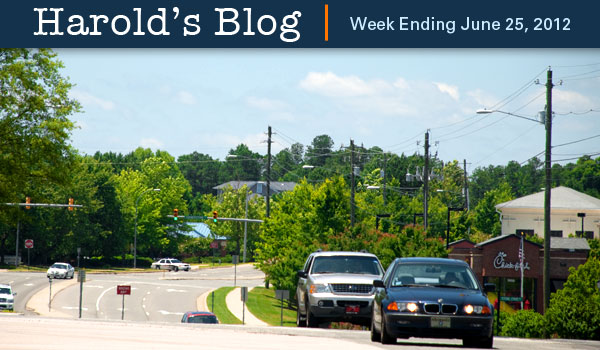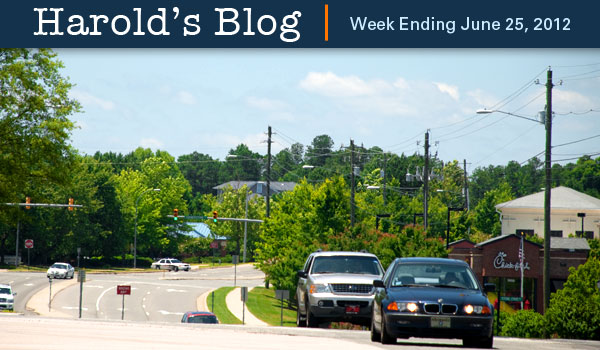 From the blog of Cary Mayor Harold Weinbrecht. Photo by Hal Goodtree.
Cary, NC – The highlights for this week included the hosting Wake County mayors at the Booth Amphitheater and a free health fair.
Wake Mayors Meet on Transit
Monday began with a conference call between eight Wake County Mayors about the transit plan. Mayors expressed concern that the Wake County Commissioners have not decided if and when they would bring the transit plan to a referendum. This is causing hardship with some municipalities that need to plan based on the outcome of that vote. It was decided that Mayor McFarlane would ask, on behalf of the mayors participating in the call that the commissioners at least talk about their intentions with the transit plan.
Monday night I had a private dinner with a candidate running for office this fall. These dinners will become a more frequent as Election Day draws near.
Tuesday: Planning "Prevent Blindness Mixed Doubles Tennis Classic"
My first meeting Tuesday was with the town manager to catch up on issues. Our discussion included the budget, staff processes, and downtown economic development and lasted about 45 minutes.
Next I had dinner with a group representing the 21st Prevent Blindness Mixed Doubles Tennis Classic starting on August 2nd. They are honoring me for this year's tournament. We talked about various ways to help raise money through this year's tournament. I look forward to the tournament and hope local tennis players will participate and help out this great organization.
Transportation
Wednesday I attended the Capital Area Metropolitan Organization Transportation Advisory Committee (CAMPO) on behalf of Cary. I was joined by a Cary staff member. Most of the items on the agenda were for information purposes. The biggest discussion item was the Wake County Transit Financial Plan.
The county manager, David Cooke, spoke and made the following points:
"I see no scenario where the transit plan will get on November referendum".
The Financial Plan is a doable plan and he feels good about it.
They are adding an option for consideration that is "do nothing" using the current bus systems.
They hope to update the financial plan with this option the last week of June.
The transit plan has hardly changed after all the public hearings. Some components of the rail changed.
David King of the Triangle Transit Authority made the following points:
When the Legislature approved the half cents sales tax referendum authority it was with a process of collaboration.
The plan is extremely constrained and conservative.
We will continue to move forward until the "do nothing" alternative is approved.
"We are ready to take action or stand aside".
If this happens we believe growth will come to a grinding halt and "everything will go to …."
Towards the end of the CAMPO meeting the District 5 representative of NCDOT reported and presented information about the I-440 improvements from US 64 to the US 264 bypass. This is a 12 mile section that will have work begin in the spring of 2013. Work will be done both day and night and is expected to take at least 2 years. Most of that segment will see lane closures to 2 or 1 lanes. They are working with major employers to try and get them to stagger peak times. Without employers help and alternate routes they expect very long delays. To help there will be a smart phone app that will tell travel times and give the number of lanes accessible. There will also be a web page with information closer to the start of the project.
More Politics
Thursday I met with another candidate for office. Over the next few weeks and months I anticipate I will be meeting with candidates for national, state, and county offices. In addition, I will be meeting with folks interested in being appointed to town council and being appointed to one of the town's boards and commissions. This particular meeting lasted about 45 minutes and consisted mostly of how I could help the candidate.
More Mayors
Friday I participated in a Metro Mayors Board of Directors Conference Call headed up by Durham Mayor Bell. On the conference call were 15 or so mayors. A staff member reported on recent actions from the General Assembly. Here are some of the points of interests:
The budget was passed and Governor Purdue has until July 1st to sign or veto. While this version has $250 million more for education it is over $700 million lower than last year.
The Powell Bill will be impacted by a gas tax cap but the impact will be less than 1%.
Road maintenance will be cut in this budget. There will be $44 million less for Primary Roads and $18 million less for Secondary Roads.
I-95 widening from border to border would take approximately 60 years with the current equity fund allocation. This is the main reason the legislators are looking into tolling.
Elected officials that belong to Metropolitan Organizations, like the Capital Area Metropolitan Organization that includes Cary, will soon have to disclose more financial information. There has been concern that people making decisions on transit projects may get personal benefit.
There was a long discussion on Internet Cafés. The decision to allow them is being challenged in the Supreme Court. A tax for this use is being proposed for education. Some in the legislature are contemplating whether or not to wait for a Supreme Court decision before addressing the taxing issue.
The conference call concluded a little over a ½ hour.
Hindu Society of North Carolina Health Fair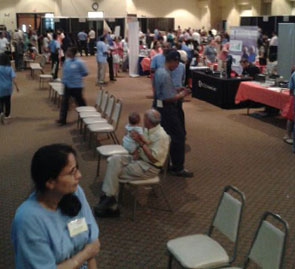 Saturday morning I attended a free health fare put on by the Hindu Society of North Carolina. This free health fare covered the full gamut of health from blood work, orthopedics, mental health, and other health areas. In addition, there were stations to allow folks to give blood or join National Marrow Donor Program.
This is the fifth year this free health fair has been held. All these physicians and volunteers gave their time and talents for the benefit of those less fortunate in our communities. It is interesting to note that some of these medical organizations continue to help year round such as NCIAP Medical Care. This non-profit provides medical care service for the uninsured. All they require is an upfront payment of $45. God bless them all!
Mayors Association at Booth
Saturday evening I hosted the Mayor's Association at the Booth Amphitheater. We were treated to a great performance from the NC Symphony and accompanying band as they played hits from the 1980s. The mayors thoroughly enjoyed it and it was a great showcase for the Town of Cary.
Media Attacks – Red Light Cameras
In local news this week the local newspaper took the opportunity to highlight an ongoing Cary lawsuit by putting it on the front page. The story was about Cary's red light camera system. Since this is currently in the courts, Cary is limited to what we can say and that leaves us somewhat defenseless to attacks by the media and others. The local story did print text toward the end of their story that is extremely important: "Redflex keeps nearly 90 percent of the ticket revenue. The rest goes to the Wake County Schools." Another important point that was left out of the story was that yellow light timing length is determined by NCDOT and not the Town of Cary.
It is my continued hope that the local newspaper will one day print all the pertinent information so that their readers have all the facts.
Emails from Staff
Staff emails this week included a couple of notifications.
Searstone pulled 42 Building permits on June 14th.  They also paid for their site/subdivision plan fees, infrastructure financial guarantees, parks fees, and received plat approval.  Those fees totaled roughly $823,000.  Staff stated "1st time I've ever heard of picking up 'everything' of practically an entire development at the same time or on the same day."
Last week a site plan was submitted that would replace the Galaxy Theater with a Harris Teeter.
McCrimmon Parkway
Other emails included a notification of plans for McCrimmon Parkway from the Town of Morrisville. Here is the content of that notification:
MORRISVILLE, NC – The next meeting for the McCrimmon Parkway Extension Development Guide will take place on Thursday, June 21. The meeting will begin at 6:30 pm and take place at the Historic Christian Church of Morrisville, located at 222 Church Street. This project will focus on finding the right mix of conservation and development between Airport Boulevard and Aviation Parkway along the pathway of the future McCrimmon Parkway extension.
At the first three meetings in February, April, and May residents, property owners, Town staff, and a consultant from the Triangle J Council of Governments shared background information, and discussed key issues to guide future standards for development in this area. On June 21st, the group will discuss appropriate land uses in this area.
The largest remaining undeveloped area in Morrisville lies along the path of the future McCrimmon Parkway Extension between Airport Boulevard and Aviation Parkway. This area has considerable development potential as a result of its proximity to I-40, NC 540 and the Raleigh-Durham International Airport. At the same time, it also includes a number of sensitive natural features. In this project, interested members of the public and other community stakeholders will work with Town of Morrisville staff and a professional facilitator to build agreement on an appropriate mix of conservation and development for this area. The Development Guide prepared through this process will serve as policy guidance for this area in the preparation of the Unified Development Ordinance – an updated set of standards for new development in the community.
The purpose of the Two Plans and a Code project is to fill two gaps in the adopted Morrisville Land Use Plan to complete the policy framework for how land should be used in the community. This will enable the Town to prepare a single, user-friendly set of updated development standards for the entire town. In so doing, this project will help turn community ideas into quality development, and maintain a high quality of life as Morrisville grows. For more information on this and the other projects under Two Plans and a Code, or to submit your comments regarding this project, visit: www.townofmorrisville.org/twoplansandacode.
Emails From Citizens
Emails from Cary citizens this week included dozens on transit. As mentioned earlier, several mayors asked that the County Commissioners to at least talk about allowing the voters to decide if they want a ½ cent tax increase for transit. So far the commissioners refuse to even discuss it.
Other emails included several requesting denial of the Fumagali property. In addition there was an email about construction on a road to Cary Park, concerns about Cary's Business Improvement District, questions about the council vacancy, questions about a sign, requests to vote no on fracking, and one very kind email thanking me for being mayor (that made my week!).
Next Week
Next week will be a busy one as we tackle the budget, lose a council member, and begin a council appointment process.
Well that is all for this week. My next post will be on Sunday July 1st. Please feel free to email me with a comment. Email all Town of Cary questions or comments to Harold.Weinbrecht@townofcary.org. Email personal comments to augustanat@mindspring.com.
https://carycitizenarchive.com/wp-content/uploads/2012/06/cary-mayor-harold-weinbrecht-0625.jpg
350
600
Harold Weinbrecht
https://carycitizenarchive.com/wp-content/uploads/2020/03/cc-archive-logo-450-v3.png
Harold Weinbrecht
2012-06-25 19:30:30
2016-01-09 11:58:31
Harold's Blog: Wake Mayors, Transit, Politics, Free Health Fair