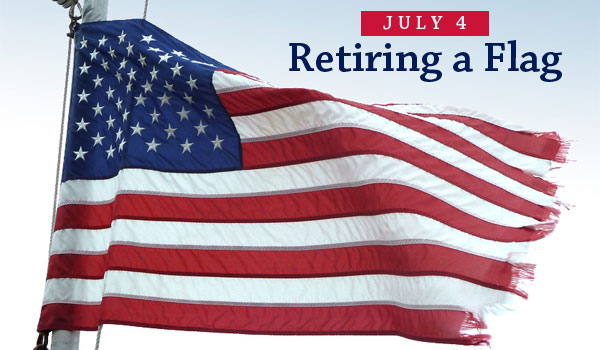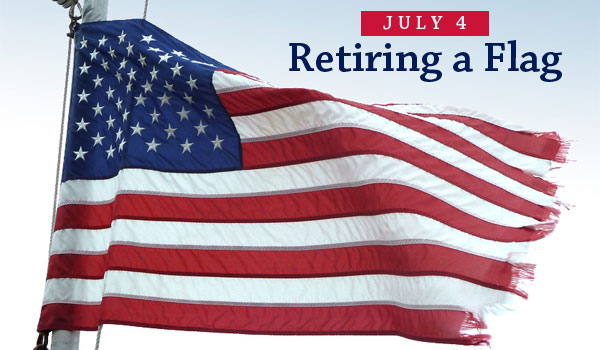 Story by Hal Goodtree. Photo by Richard Eriksson.
Cary, NC – With July 4th just around the corner, many people in Cary will be flying the U.S. flag. But is your flag in fit condition? And what can you do if it is not?
Is Your Flag Fit to Fly?
According to the U.S. Flag Code, "The flag, when it is in such condition that it is no longer a fitting emblem for display, should be destroyed in a dignified way, preferably by burning."
Dirty Flags
If your flag is dirty or stained, it can be washed. If the dirt or stains won't come out, it should be retired.
Torn or Frayed Flags
Torn or frayed flags can be repaired. In some cases, a few quick stitches can do the trick. In other cases, new stripes can be sewn into place.
Torn or frayed flags should be repaired or retired.
Old Flags
Old flags are just fine (as long as they are in good shape), from Betsy Ross's original to today's flag with 50 stars.
From U.S. History.org:
Official United States flags are always considered living, active flags. Any flag that at some time was the official flag is still considered a living flag to be accorded all due respect.
Retiring a Flag
If you decide it's time to retire your flag, it's best to contact an organization such as the VFW, the Elks or a local Scout Troop.
These organizations conduct a proper flag retirement ceremony. These usually include two color guards, one for the flag currently in use and a special color guard for the flag to be retired from service. The Pledge of Allegiance is said by all in attendance.
The following words have become traditional at flag retirement ceremonies:
"This flag has served its nation well and long. It has worn to a condition in which it should no longer be used to represent the nation."

"This flag represents all of the flags collected and being retired from service today. The honor we show here this evening for this one flag, we are showing for all of the flags, even those not physically here."
Can I Retire the Flag Myself?
The U.S. Flag code allows anyone to retire a flag, provided it is done with proper respect.
Read more about having your own Flag Retirement Ceremony.
Cotton, Wool or Nylon
Traditionally, flags were made of cotton or wool. Today, many flags are made of nylon or plastic.
Burning synthetic materials can release dangerous gases (and is illegal in some places). The current practice is to have a flag retirement ceremony, then bury the flags made from synthetic materials instead of burning.
Find Out More About the Flag
To find about more about the history and usage of the U.S. Flag, visit U.S. History.org.
https://carycitizenarchive.com/wp-content/uploads/2012/06/retiring-a-flag.jpg
350
600
Hal Goodtree
https://carycitizenarchive.com/wp-content/uploads/2020/03/cc-archive-logo-450-v3.png
Hal Goodtree
2012-06-25 18:45:43
2012-06-25 17:51:48
July 4: Retiring a Worn Flag