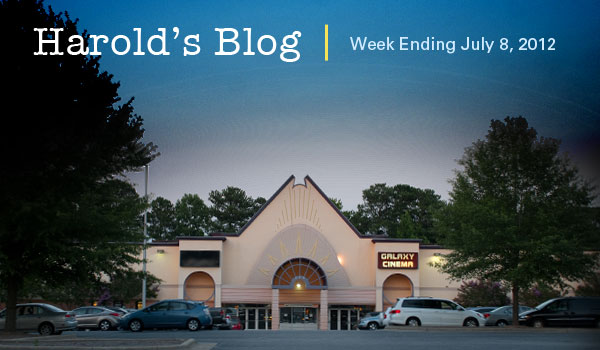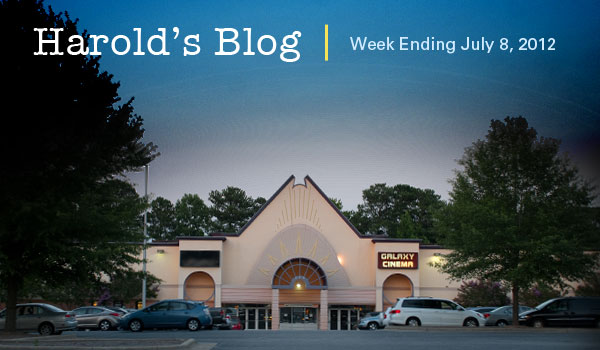 From the blog of Cary Mayor Harold Weinbrecht. Photo by Hal Goodtree.
Cary, NC – This week was comprised of July 4th celebrations and various meetings.
The Cary Media and Negativism
Monday I met with a reporter from the local newspaper. We had a good conversation about my concerns that the local paper taking the negative position on issues in Cary. I was assured by the reporter that they had no negative agenda.
He asked that I make positive comments about the newspaper in addition to negative comments in my blog and I agreed to that. So in that vein I would like to commend the local newspaper on their coverage of the Galaxy Theater. Right now they are the source to go to for information regarding the theater.
Julie Robison's Vacancy and 59 Applicants
Tuesday was council's first work session on appointing a replacement for former council member Julie Robison. There were a total of 59 applicants and each council member was tasked to present six names to be considered for interviews.
This meant that in the worst case scenario we would have thirty-six names to consider for interviews. Instead the overlaps produced sixteen names.
Out of those names we decided not to interview those that only had one recommendation. That eliminated four names. We also decided to not to interview two candidates that were deemed as polarizing even though they had three recommendations. The remaining four names had three or more recommendations. Then we reviewed names with two recommendations and agreed to add two of those people to the interview list. In the end we had six names to interview.
Below are the names with associated links to their application statement:
Scott Brookhart
Kelly Commiskey
Hari Nath
Christy Perrin
Julia Rudy
Ed Yerha
The council will interview these candidates on Wednesday, July 18th. Our next work session will be on Tuesday, July 31st.
Bradford Project at Davis Drive and High House
After the work session I was supposed to meet with the developer of the Bradford project at Davis Drive and High House. Since I was running late for my next event I spoke to him briefly and told him I would get information from Mayor Pro-Tem Adcock who was also scheduled to attend the meeting.
Independence Eve
I then headed over to the Sertoma Amphitheater in Bond Park to be the featured speaker at the Independence eve celebration. The event was well attended and we were all treated to a great performance by the Cary Town Band as they played patriotic songs.
This was the 25th year the Cary Town Band set the tone for Cary's Independence Day celebrations. I read a proclamation commemorating the occasion and presented it to director Stuart Holloman. Then I gave remarks which lasted about 15 minutes.
My remarks included responses from 10 and 11 year olds on what July 4th meant to them. I also talked about some historic notes related to the creation and protection of the Declaration of Independence.
I ended with challenges for the audience:
"…In our celebrations of our country's Independence this year, let's not forget to reflect on the meaning of those stars and stripes on our flag; the idea of democracy, and uniting with citizens to fight for a better future for us all. I challenge each of you to set aside just a few hours in your busy lives to get involved with your local government, and unite with other citizens to make a difference in our Cary community.

If your passion is the environment, join our Block Leader program. If you have an interest in safety, enroll in our Citizens Police Academy or work with our officers to create a community watch program in your neighborhood. If you enjoy event planning, consider becoming a part of our Festivals Committee. If you enjoy a clean and green Cary, volunteer with our Spruce program, and help us keep litter off our roadways.

All of these opportunities and many more are available now. Your participation makes our community a better place, and we thank you for that. It's a way for all of us to practice the spirit of America right here in Cary. …"
The event lasted about an hour and a half.
Independence Celebrations
On July 4th my wife and I attended the Independence Celebrations at the Booth Amphitheater. My only role was to give welcoming comments to the crowd.
The audience was treated to an encore performance by the Cary Band and then a great performance by the North Carolina Symphony. At about 9:15 we were treated to one of the best fireworks displays in the Triangle.
It was a great evening and fun was had by all.
Politics and Voting
Thursday I had a private meeting with a candidate for office. Candidates mostly want contact names of those who can contribute or influence a group of people. We talked for about an hour and I was impressed by this candidate's intelligence, drive, and determination.
Saturday I attended a canvassing event for a group that was tasked to register voters. Regardless of what party or candidate you support, it is extremely important that everyone vote. Every vote counts and makes a huge difference. I heard that a similar group registered several hundred names on July 4th.
Fatal Crash at Southwest Cary Parkway and West Chatham Street
An email was sent by staff this week in response to a fatal crash at Southwest Cary Parkway and West Chatham Street. In March NCDOT reviewed this intersection for a signal and determined a traffic signal was not justified based on signal warrants. They also added that it was not an appropriate traffic safety solution.
Since that time, Cary Town staff has continued to work with NCDOT to determine what changes or safety enhancements could be made.  Based on the review of traffic and safety data, NCDOT and Town staff recommended the following items:
Removed 2 small trees in the median two facilitate the installation of a second stop sign on W Chatham St.
Placed red reflective sheeting on the sign posts for the stop signs to improve nighttime visibility.
Installed Stop Sign Ahead signs on W Chatham St prior to the intersection.
Installed a double headed arrow sign on SW Cary Pkwy opposite W Chatham St.
Relocated side street warning signs on SW Cary Pkwy to improve visibility.
Relocated 45 mph speed limit signs to improve visibility.
These sign changes/additions have been completed recently and should provide additional travel information to drivers to make them more aware of the intersection.  These changes will be monitored by Town staff and NCDOT over the coming months to determine if any additional modifications will be needed to further improve safety.
Emails from Citizens
Emails from citizens this week included concerns over the Galaxy Theater potential closing, a complaint about trash pickup, a complaint about the school choice plan, a complaint about the wireless water meters (same individual that has complained dozens of times), a concern about fracking in Cary, and a complaint about our permanent alternate day irrigation (same individual that has complained before claiming our policy is because he is wealthy and we are liberals).
Coming Up
Next week includes a meeting of the Morrisville/Cary Joint Issues committee, other meetings, and one speaking engagement.
Well that is all for this week. My next post will be on Sunday July 15th.
Please feel free to email me with a comment. Email all Town of Cary questions or comments to Harold.Weinbrecht@townofcary.org. Email personal comments to augustanat@mindspring.com.
https://carycitizenarchive.com/wp-content/uploads/2012/07/cary-mayor-harold-weinbrecht-0708.jpg
350
600
Harold Weinbrecht
https://carycitizenarchive.com/wp-content/uploads/2020/03/cc-archive-logo-450-v3.png
Harold Weinbrecht
2012-07-09 16:45:14
2016-01-09 11:58:31
Harold's Blog: Week Ending July 8, 2012