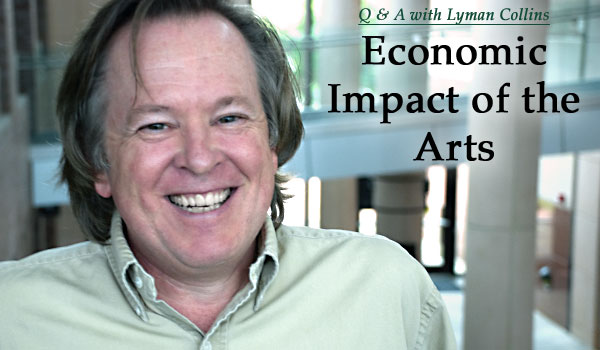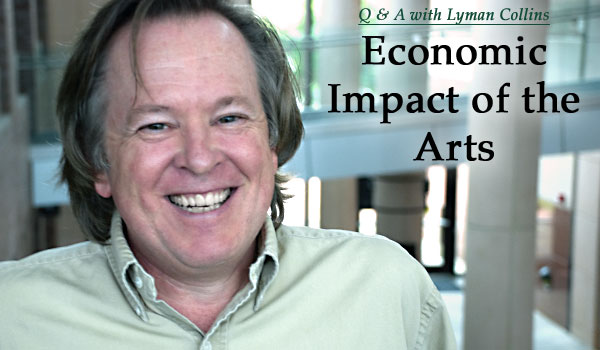 Q&A with Lyman Collins. Photo by Hal Goodtree.
Cary, NC – One of the reasons Cary is a prosperous town is the amount of economic development activity in the community. In this story, we'll investigate the economic impact of the arts.  Prepare yourself to be surprised.
Economic Impact of the Arts on Cary
For this story, we fired a few questions at Lyman Collins, Town of Cary Cultural Arts Manager.
Q: What does a Cultural Arts Manager do?
Lyman Collins: I provide general direction for all of Cary's cultural arts venues and programs including Cary Arts Center, Koka Booth Amphitheatre, Sertoma Amphitheatre and Page-Walker Arts and History Center.  The new Cary downtown theater will also be a facility in the Cultural Arts Division.
We offer hundreds of classes and programs and host festivals including Lazy Daze, Spring Daze, Diwali, Ritmo Latino, Kwanzaa and MLK Dreamfest, as well as the new downtown initiatives like the Cary Cross Currents Music Arts Festivals and expanded free outdoor performances like 7 o'clock Rocks.  The public art program is also an important component of enriching Cary's cultural (and physical) landscape.
In addition, we work with the myriad of cultural organizations in Cary that partner with the Town in the ever expanding array of cultural events and activities available to the citizens of Cary and beyond.
Of course, I am fortunate to work with an outstanding staff in providing these services and programs.
Q: So how big is the arts industry in Cary? Isn't it just a bunch of free shows and wannabe dad-bands?
Lyman: Well, I think anyone who has attended a performance at any of our venues or enjoyed any of our festivals or participated in any of the 60+ Cary cultural organizations would understand that the arts is a lot more than that.
Though it may come as a surprise, non-profit arts and culture is a $9.2 million industry in Cary.
Q: Over $9 million dollars? How did you measure that?
Lyman: Last year Cary agreed to participate in a national study of the arts & the economy conducted by the national organization, Americans for the Arts (AFTA).  We started by collecting data on direct expenditures by arts organizations in town, totaling more than $4.2 million. They provide jobs, purchase supplies and generate revenue for the town, the county and the state.
We then added in direct spending by audiences, totaling some $4.9 million.
One important note about these numbers is that they reflect information from 37 of the 63 eligible cultural non-profits in the Town's database, so it is reasonable to surmise that if information was included from all potential organizations these numbers would be a bit higher.
Q: Who spends that money? Is it mostly out-of-towners?
Lyman: Local audiences (residents of Wake County) account for almost 83% of the total, spending over $2.7 million. Non-residents (about 17% of the total) spend another $2.2 million. The report noted that there were 286,930 audience members, participants and attendees that met the definition of resident and 59,604 that were classified as non-resident. Obviously out-of-towners spend more individually ($37.12/person vs. $9.59/person) but both groups generate significant economic activity.
Total participation in cultural activities from the 37 organizations totaled just over 345,000 or more than two and a half times the size of Cary.
Q: How many jobs do the arts create in Cary?
Lyman: Non-profit arts in Cary create 399 full-time equivalent jobs.
Q: So where does this $9 million go? What's the local benefit?
Lyman: According to the AFTA study, arts in Cary generate $8.2 million in direct income for residents.
Another half million accrues as income for local government and $523,000 in state revenue.
And unaccounted for in all of these economic figures is the value of volunteers.  During the 2010 study year over 4,000 volunteers contributed almost 81,000 hours to non-profit cultural organizations (including Town programs) that is valued at an additional $1.7 million.
Q: What's the biggest misconception about the arts in Cary?
Lyman: Most people agree that arts and culture enrich life in our community.  But a popular misconception is that it is a drain on economic activity.
In fact, arts and culture are a big business in Cary, generating revenue for the town, creating jobs, paying salaries and attracting spending by non-residents.
Also it is important to note that most of these figures were collected in 2010 prior to the opening of the Cary Arts Center.  Not included in these numbers are the 115,914 visitors to the Center since its opening in July 2011.
Shows, music, workshops and programs are fun, enriching and enlightening. They are also a pillar of our economic success as a community.
https://carycitizenarchive.com/wp-content/uploads/2012/07/lyman-collins.jpg
350
600
Hal Goodtree
https://carycitizenarchive.com/wp-content/uploads/2020/03/cc-archive-logo-450-v3.png
Hal Goodtree
2012-07-24 16:52:52
2012-07-24 16:52:52
Business: Economic Impact of the Arts