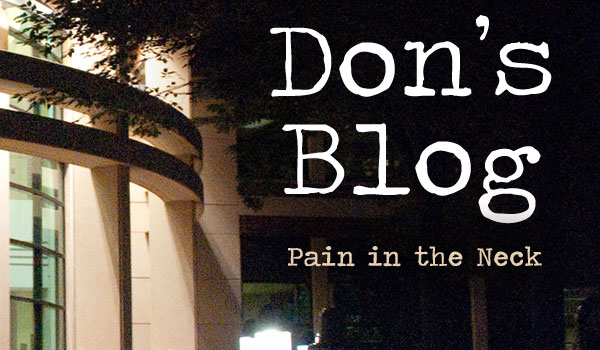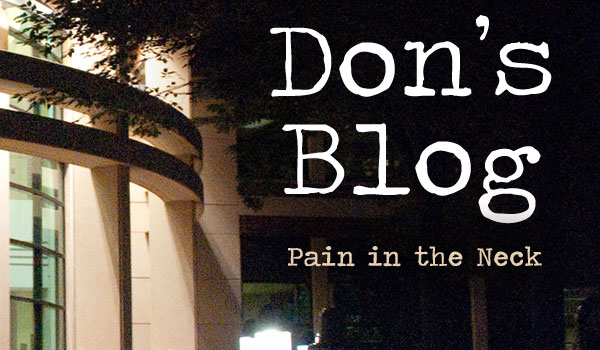 From the blog of Don Frantz, District 2 Cary Town Council Member. Lead photo by Hal Goodtree. Other images courtesy of Don Frantz.
Cary, NC – The last few weeks have been rough. Back in April I had surgery to fuse three vertebras in my neck; I had two herniated discs that were wreaking havoc on a nerve and causing tremendous pain. Well, everything was doing fine until I started to experience the same pain again, only this time on my left side.
A Pain in the Neck
The doc gave me some anti-inflammatory meds and in about a week, the pain was gone. Yay! Or so I thought.
A few days later the pain came back with a vengeance on my right side and my hand was numb. Nice. We tried meds again with no luck before sending me for another MRI. I was on the operating table the next day. Turned out I had another damaged disc that was pushed into my spine causing all kinds of problems. Here is the MRI image where you can see the disc pushed into my spine. Hurt like hell….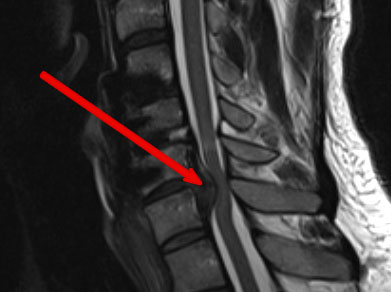 I'm back at home now doing the best I can to rest and heal. The majority of nerve pain is gone and I am starting to feel most of my hand and fingers. My neck and throat are sore from the surgery, but that's to be expected and it gets better each day. It will be a while before all the feeling returns to my hand and I regain arm strength, but I can deal with that. The pain, not so much.
Thanks so much to everyone who has called, emailed or stopped by to express your concerns. Your thoughts and prayers mean the world to me.
Larry's Beans
The next day I had a Planning and Development Committee meeting and then interviews with the five candidates for the vacant council seat.
The Planning and Development Committee meeting was light with the only discussion item being consideration of a resolution authorizing the lease of the James Jones House at the corner of Academy and Dry to Lawrence Coffee and Bar LLC. The resolution passed unanimously.
In a nutshell the town will commit $150,000 to restore and make improvements to the historic James Jones House, and Lawrence Coffee and Bar LLC agrees to lease the property at a tiered rate for five years. The lease agreement totals $139,794, nearly the entire cost of renovations…which the town would have made to this historic property regardless.<
Lawrence Coffee and Bar LLC will operate Larry's Beans out of the house. Larry's Beans serves wines, local beers, local kombucha (a fermented tea), cocoas and craft sodas, as well as sandwiches and salads.  The business will operate from 7:00 AM through 6:00 PM, Monday through Friday and 8:00 AM through 7:00 PM on weekends.  This schedule may be adjusted in conjunction with special events at the Cary Arts Center.  They will also employ 15 persons.
This is a wonderful use for the historic James Jones House and I wish them all the best in their efforts, and truth be told I also look forward to a great coffee shop on my route to work each morning! ;-)
Vacant Council Seat
Afterwards the council met for candidate interviews for the vacant council seat. We split into two groups of three and spent 20 minutes interviewing each of the five candidates. It was kind of like speed dating.
I have to say that all five of the candidates are extraordinary people; each with different skills, talents and backgrounds to offer; and all of which would be valuable to have on the council and to the town. Each of them have also served on our Cary's Planning and Zoning Board, as well as other boards and commissions and are very familiar with town operations and departments. This is important to me as I am looking for a candidate that hit the ground running and need little time to adjust to their new role.
Council members are to now pick our top 2-3 candidates and we'll see who gets the most votes and go from there. I know who my first and second choices are, but I'm still torn on who to pick for my third choice. Like I said, they are all extraordinary people – this is not an easy decision. We have a worksession scheduled for the 31st and we hope to make our selection then.
I want to thank each and every one of the 59 Cary citizens who applied to serve. Cary is one of the greatest communities to live in largely because of citizens like you; people who care enough to give back and volunteer their talents to make our community an even better place to live, work and raise a family. We are so blessed.
I also spent a great deal of time this past week reviewing citizen applications for all of our boards and commissions before submitting my recommendations to Deputy Town Clerk, Karen Gray. The council will further discuss the applicants at an upcoming worksession.
Presidential Politics
I want to take a minute to talk politics, and about my involvement with the Romney for President Campaign.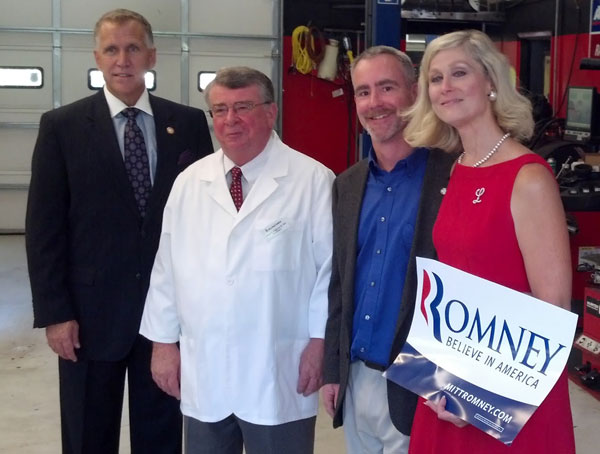 About a month ago we hosted a press conference on behalf of the Romney campaign at our business along with NC Speaker of the House, Thom Tillis and Dr. Jim Fulghum to discuss the recent Supreme Court decision regarding the Affordable Care Act (Obamacare) and more specifically, the small business community's concerns with the fiscal and regulatory impacts of the act. I have also met with Senators Rob Portman of Ohio and North Carolina's own Richard Burr for a business roundtable discussion about small business issues and concerns and the need for regulatory and tax reform at the federal level.
I am helping the Romney campaign because I am angry with what I see as nothing short of an assault on private business and free enterprise from our federal government and our President. I am done with being demonized by a President hell bent on turning public opinion against us – the job creators. And I am sick of hearing that all us "rich" small business owners aren't "paying our fair share", or that we somehow owe our success to the government. If anything we've managed to succeed despite government.
What the hell happened anyways? There used to be a time when we looked up to successful people – we aspired to be them. Now we are told they are evil.  I don't get it.
Along with Governor Romney, I will be supporting those candidates who value the contributions of small business to our economy and our communities. I will be helping candidates who understand and appreciate entrepreneurs who take a huge financial risk and work endless hours starting and running their businesses. I will be speaking out about issues of concern in the business community, and I will be contributing both time and money to those candidates who believe in free enterprise and individual responsibility.
This should not come as a surprise to anyone as it was an attack on business – to include our business – that got me involved in politics in the first place. And ever since then, whether as a small business owner, a Cary Town Councilman, a member of the National Federation of Independent Business (NFIB) NC Leadership Council or the Cary Chamber of Commerce, I have continued to work to help the business community.
After all, the number one indicator of one's quality of life is a paycheck.
If you don't have a good job, there's a pretty good chance your quality of life stinks. I don't want your life to stink. :-)
You may disagree with me and that is fine. We can agree to disagree. I encourage everyone to get involved and support those candidates who best represent your values.
That's all for now. As always, thanks for reading!
https://carycitizenarchive.com/wp-content/uploads/2012/07/don-frantz-0724.jpg
350
600
Don Frantz
https://carycitizenarchive.com/wp-content/uploads/2020/03/cc-archive-logo-450-v3.png
Don Frantz
2012-07-24 14:15:18
2015-12-30 17:43:02
Don's Blog: Pain in the Neck