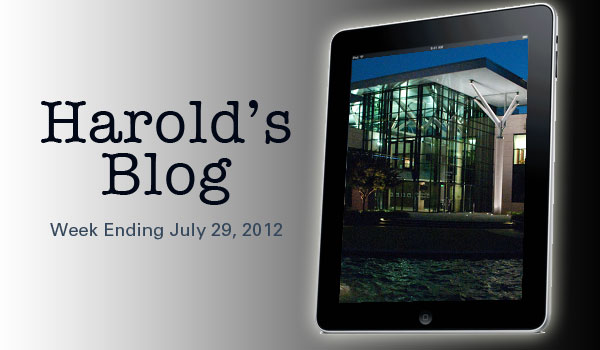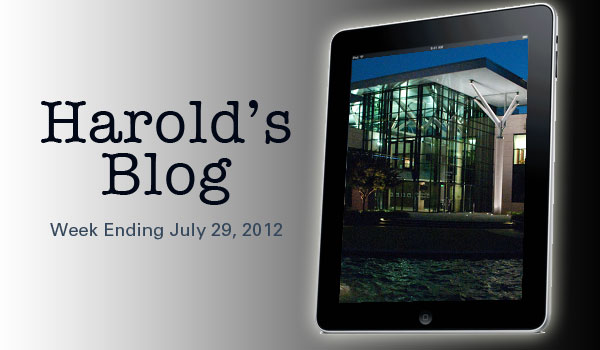 Cary, NC – This week was slower even though we had a council meeting. Usually July is one of the slower times of the year.
Herb Young Remembered
Monday started on a sad note as five out of six council members attended Herb Young's memorial service. The only council member that couldn't attend was council member Frantz who was recovering from surgery. Councilman Frantz said that Herb was a family friend and he very much wanted to attend.
Monday
Later Monday I called council members to see if they had questions or concerns about the agenda for the Thursday council meeting. The only concern expressed was a condemnation for a portion of someone's property for a necessary drainage easement for the South West Street Utility Improvements Project.
Monday afternoon I meet with management, directors, legal, and administration to go over the agenda for Thursday's council meeting. We discussed a condemnation and potential speaker topics at Public Speaks Out. We also made sure everyone was clear about the quasi-judicial public hearing. I predicted the meeting would last until 10 PM. Mayor Pro-Tem Adcock predicted 8:45 PM.
Storm Damage
Tuesday I had a brief meeting with the town manager to go over issues. It was right after a severe thunderstorm and there were a lot of reports of trees down. So we kept our conversation short so he could manage storm issues. In our brief discussion we talked about an upcoming condemnation for a sewer easement on a lady's property.
Cary Matters
Wednesday I joined Jack Smith in taping the August episode of Cary Matters. We divided the taping into three segments and we were able to do them all in one take. The tapings are done in the council chambers and sometimes we have to retake if a train goes by and sounds the horn a long time. In the third segment of this taping a train did go by and sound the horn several times but it wasn't picked up in the audio. At least that is what we hope. We finished in a little over 30 minutes.
Technology
Thursday started with a staff information session on smart phones, IPads, etc. The purpose was to allow council to look at the latest technology to see which ones they would prefer using. I had to give up my Blackberry last year so I am assuming I will be giving up my laptop for new technology in the near future.
Council Meeting Highlights
Thursday's council meeting was one of the longer ones we have had in a while. Here are some of the highlights of the meeting:
– Cary was recognized as having a champion tree. It was on the late Herb Young's property.
– Several people that live near the proposed Carpenter Park spoke objecting to a second entrance on their street.
– Citizens from the Weycroft community spoke in opposition to the proposed development located west of Green Level Church Road, and north of McCrimmon Parkway. Property owners stated it was an "inheritance" and their "right to develop". There is a valid protest petition with this proposal so it will take a super majority of council to approve.
– People spoke in favor and against a land development ordinance allowing bee keeping. Council sent this to Planning and Zoning for their review and recommendation. They asked staff to bring in bee keeping experts (like Dr. Ambrose of NC State) to help with the discussion.
– A quasi-judicial public hearing was held to expand an existing religious assembly use into the existing structure located at 511 Kent Drive. In the hearing the applicant added restrictions. The council unanimously approved.
– The council discussed a condemnation proposal at length before unanimously approving. The purpose of the condemnation was to secure a permanent drainage easement and temporary access easement necessary for construction of the South West Street Utility Improvements Project.
You can watch the entire council meeting on YouTube at www.youtube.com/TownofCarychannel . The council meeting ended at 10:02 PM and my prediction on Monday missed by two minutes.
Wireless Metering – Under Time, Under Budget..and The Triangle's First
In notifications this week it was announced that the town has completed the 18th month process of installing our wireless water metering system called Aquastar. This wireless system collects multiple reads per day, allowing for better leak detection, increased billing efficiency and improved customer service. During the installation, which was completed on time and under budget, contractors working on behalf of the Town of Cary replaced over 61,500 residential and commercial water meters as well installed the technology's backbone.
Cary is the first municipality in the Triangle to complete and maintain a fixed wireless meter reading system, a system that will conservatively save utility customers $7 million over its 17-year life when compared to traditional manual water meter reading.
Staff: Cary's Population Est. at 142,257
Emails from staff this week included second quarter report to council. Highlights include:
– As of July 1, 2012, the Town of Cary's population is estimated at 142,257. This is an increase of 2,785 people (+2.06%) in the last year.
– During this quarter the Town grew by 66.3 acres through annexation of Town owned land bringing the size of Cary to 35,771 acres or 55.9 square miles.
– The 18 month installation of Aquastar (wireless automated meter system) has been completed. The customer website is under construction and expected to be available for customers at the end of the year.
– Final construction plans have been completed for the downtown theater (The Cary) which will include a 180 seat theater and an adjacent new three story building with supporting stage space and additional commercial space possible. The project is intended to start construction in late fall with completion by summer 2013.
– CTRAN's fixed route system experienced significant increases in ridership during this past quarter. During the last twelve months we experienced a 39.5% overall increase in the number of passenger trips.
– In legislative news the local bill we requested that protects the private information of minors involved in Town programs was approved.
– All eight of the major construction contracts for the new Western Wake Regional Wastewater Management Facilities have now been bid and awarded. All will be under construction by the end of September 2012.
– The Town's first all-electric passenger vehicle, a Nissan Leaf has been received and is being driven by a Facilities Expediter.
– The Town's first Strategic Energy Action Plan was adopted by Council on June 14, 2012. The plan includes an energy reduction goal with an associated energy management plan for Town operations.
– During the last quarter 302 new single-family dwelling permits were issued, up 33.0 percent from the previous quarter, and up 10.2 percent over the same period last year. The average unit was 3,678 square feet.
– Cary issued 20.6 percent (266 permits) of all SFD permits in Wake County between April and June 2012, more than any other Wake County municipality including Raleigh.
– Beginning in early 2013, NCDOT will be completely replacing the existing road base and pavement on I-40 (commonly known as the southern beltline) from Jones Franklin Road overpass to just north of US 264 (Exit 14, Knightdale Bypass).
Water demand from April 1 to June 30, 2012 averaged approximately 17.7 million gallons per day, as compared to the same time period in 2011 when demand averaged 18.5 million gallons per day.
– From April 1-June 30, 2012, www.townofcary.org was visited 401,986 times by users from 178 countries/territories, including the United States, India, Canada, United Kingdom, Turkey, Philippines, Australia, Germany and Malaysia.
– There was a 12% overall increase in crime during the last twelve months. The increase can be attributed to the significant increase in Part 2 crimes and "Other Offenses" due to the fact that we are now tracking DWI arrests under Part 2 crimes (Alcohol Offenses) and Mental Commitments and Warrant Services under "Other Offenses", which was not done prior to the new RMS system. The increase can also be attributed to a rise in reported drug violations, aggravated assaults, and simple assaults.
– Ten digit dialing began in our area on March 31 of this year. This change by the state Utilities Commission has created a tremendous increase (21%) in false 911 calls in our communications center, as it has for all centers in our area.
Nasty-Grams
Emails this week covered a lot of topics. It might be of interest to know that council members get nasty-grams on occasion. There are a handful of people in town who seem to just want to be hurtful. And part of being on council means you have to accept that and deal with it. I thought I would include two of this week's nasty-grams as an example. The first is from someone who moved across from the dump and wants the town to build a wall or move the dump:
"… waiting for the day you will grow a heart… people like the Prestonians whom you would never dare to impose your noise and pollution."
The second is from someone who believes we do not need alternate day watering and btw he lives in Preston:
"You are holding the Town of Cary captive with your liberal water restrictions on a God given resource that is full. I call your faith in question. How can you go to church knowing that you want to control other free people and their resource?"
Thankfully, most of Cary is made up of kind, caring people. While we won't always agree we will respect each other.
Citizen Feedback
Email from civil citizens this week included several concerns about a second entrance for the proposed Carpenter Park, a concern about a Time Warner cable on a sidewalk, a concern about the pedestrian crossing at Cary Parkway and Kildaire Farm Road, several concerns about a proposed rezoning next to the Weycroft subdivision, a concern about chickens in Cary, and a concern about Wake County's Middle School Site with modular units.
Hometown Spirit
The Town of Cary is currently accepting applications for the Hometown Spirit Award. These will be accepted from Aug. 1 through Sept. 9. Information is on-line at http://www.townofcary.org/Departments/Town_Clerk_s_Office/Hometown_Spirit_Award.htm. Please give this some thought and HELP US find the next recipient.
Next Week
Next week will be an important week. On Tuesday the council will have a work session that could result in deciding who will fill the vacant council seat. Thursday I am being honored at the Prevent Blindness Mixed Doubles Tennis Tournament Classic Dinner at the MacGregor Downs Country Club Dinner. AND there is also a surprise meeting which I can't talk about…yet.
Well that is all for this week. My next post will be on Sunday August 5th. Please feel free to email me with a comment. Email all Town of Cary questions or comments to Harold.Weinbrecht@townofcary.org. Email personal comments to augustanat@mindspring.com.
https://carycitizenarchive.com/wp-content/uploads/2012/07/cary-mayor-harold-weinbrecht-07290.jpg
350
600
Harold Weinbrecht
https://carycitizenarchive.com/wp-content/uploads/2020/03/cc-archive-logo-450-v3.png
Harold Weinbrecht
2012-07-30 16:15:50
2019-12-07 17:00:28
Harold's Blog: Herb Young, iPads and Nasty-Grams