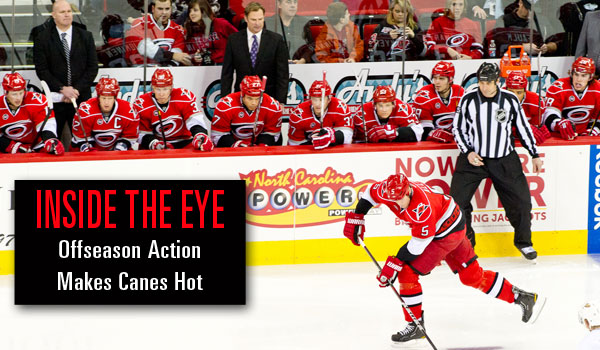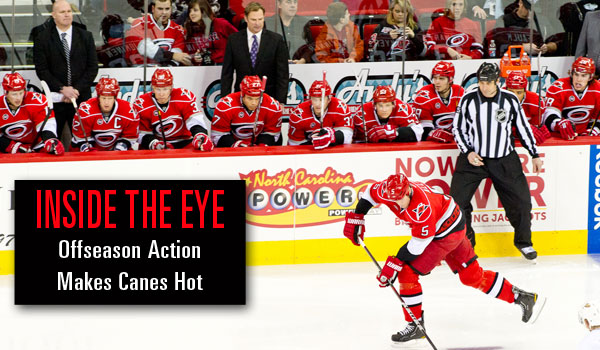 Story by Bob Fennel. Photo by Tom Mousseau.
Cary-lina, NC – It may be the height of summer, but the Carolina Hurricanes are generating heat with some big off-season moves.
Blood Thicker Than Ice
The Canes pulled off some major moves this summer, first by trading Brandon Sutter for Jordan Staal on Staal's wedding day, no less.
There were minor league players also involved but Sutter and Staal were the key players.  Losing Sutter hurts big time.  He is an excellent player who constantly was lined up against the opposing teams top line, and usually the top player.  He was excellent on the penalty kill and was mature beyond his years.
Don't be surprised if he's back in a Canes sweater sometime in the future.   As much as Sutter did not want to leave the Canes, Rutherford made it known he had a problem including Sutter in any trade talks.  JR was very disappointed to lose Sutter but knows it takes a great player to get an elite player. JStaal is exactly what the Canes needed.  I'm not psychic, but I told friends since the season ended that we'd sign JStaal.
Pittsburgh is fine this year with the salary cap but couldn't keep JStaal along with their other high dollar players.   The Staals are a close-knit family.  They wanted to play together for a long time.  Proves that blood is thicker than ice.
Jordan is worth every penny and the duration of the contract is great.  Sutter was one of the Canes' top forwards on the man-down situation.  Jordan is as good and everyone in Pittsburgh will say, better.  He has size, a longer reach and bangs bodies with the best of them.   Having the Staals killing the same power play should be very effective.
Both Jordan and Sutter had 3 shorthanded goals.  Coaches don't penalize players by putting them on the ice while shorthanded.  They put players that are disciplined with one of the two forwards possessing speed having the instinct and ability to turn a bad situation into crowd pleasure.   Sutter and the Staals are those type of players.
Jordan recently had an interview with reporters and made it real clear how excited he was to be on the Canes.  For now, the newlywed is working out, getting ready for the season, and house hunting.
Alex Semin
Many NHL sites had Semin signing with the Canes after Zach Parise signed with the Wild.
There was a play for Rick Nash but he wanted to go to the Rangers and that's fine.  He wanted, and deserved, a long-term healthy contract.  Most knew Semin would only get a one-year contract wherever he went.  The fit for the Canes should be excellent.  Coach Kirk Muller was an unbelievable two-way player that led by example on every team he was on.  Great part of being a coach is you say what the example is and players either follow and have ice time or don't follow and sit.  Players and coaches on the Capitals were vocal about Semin's lack of intensity, both on offense and defense, on the ice 100% of the time.  Coach Muller will have the answer for any question about Semin's future intensity and two-way play.
Semin is a sharpshooter and natural goal scorer.  He was a Cane-killer as he had his most productive games against the Canes.  Semin has the size JR was looking for to be on the same line as Eric Staal.  But don't be surprised to see Semin also play on shorthanded situations. Like both Staals, he has reach, size and speed.  He's very strong and back check with the best of them.  He's not a fighter.  If you want a good laugh, YouTube Semin Staal Fight.  There are several clips and all are enjoyable.
JR got a great deal, a one-year contract to see if Semin fits the Canes' mold: a team player on the ice and in the locker room, good work ethic, good community citizen and represent the Canes in a professional way.  Semin also gives the Canes a gun in the overtime shootouts, which was one of the weakest parts of the Canes last season. If he performs as expected, he can expect the Canes to extend his contract.  Semin was 13th overall in the 2002 draft , which was a good one for the Canes.  The only player taken by the Canes that year: Cam Ward.
Tim Wallace
Tim Wallace signed a two-way deal with the Canes meaning he could start the season in Charlotte.  He only has 73 NHL games under his belt but had a great college career and did well in the AHL.  He's not afraid to mix it up as he had 307 penalty minutes in 328 AHL games.  If he has a good training camp and preseason, don't be surprised to see him on the roster.  The first two lines are set, and the third and fourth lines are up for grabs. The Canes are making it clear they want to get bigger this year.  Wallace fits that mold.  He could be a very good checking line forward.
Jeremy Welsh
Jeremy Welsh played in the last game for the Canes last season just hours after playing in a college tournament.  Another large body, 6'3", 200 pounds, fitting the 'new ' mold, but he was all over the ice that night.   He took 2 silly penalties but in all fairness, getting thrown into the situation and not having the professional training required beforehand, did put him at a disadvantage.  The Canes have high hopes for Welsh and his training camp will determine where he starts the season.   The third line may have 2 positions locked up: Juri Tlusty and Pat Dwyer; fourth line could be up for grabs.  Long time Cane Chad LaRose, Tim Brent, Anthony Stewart, Andreas Nodl, Zach Boychuk, Zac Dalpe, Drayson Bowman, Chris Terry, Jerome Samson, Nicholas Blanchard, Brody Sutter, Riley Nash, Wallace, and Welsh all fighting for 4 positions.  Jared Staal is also on the Checkers and when he was 17, the 'book' on him was he was ahead of all his brothers at the same age.
Joe Corvo
Welcome back Joe!  Third time is a charm. Corvo spent last season with the Bruins paired with another former Cane, Dennis Seidenberg.  Seidenberg is a close second to Rod Brind'Amour working out in the gym.  Corvo plays a similar style as Justin Faulk.  Both can handle the puck, neither are large but leverage their bodies with the best of them.  One of the best matchups in hockey is Joe Corvo against Erik Cole as they are good friends off the ice and the competition on ice is great stuff.  Corvo will get plenty of power play time and his spot is 12 o'clock high just inside the blue line.
Marc-Andre Gragnani
Like Wallace, Gragnini only has played in only 73 NHL games.  He's not slotted to make the Canes roster as a defenseman but could see some time up with the Canes during the season.  He's a good skater, decent size, and has good numbers for a defenseman despite his limited NHL experience.
Defense
The Canes rewarded and locked up Jay Harrison with a 3 year extension starting next season.  Harrison is one of those good news stories: hard road to the NHL, solid person, great teammate, family man, and committed to the community.
He was also selected by the Carolina chapter of the Professional Hockey Writers' Association as the winner of the Josef Vasicek Award (formerly "Good Guy Award") for media cooperation.
Teammates will say his nickname fits him better than anyone in the NHL (maybe except Sidney Crybaby), Harry, but most pronounce it Hairy.  The Canes still need a solid shut down defenseman.  While they have their depth chart on defense filled out, don't be surprised if there's a trade or another signing before the season starts.  With the plethora of solid forwards fighting for NHL jobs, a multi player trade, including someone penciled in on defense, isn't out of line in the coming weeks.  Jaroslav Spacek is still unsigned and Bobby Sanguinetti is high on the Canes front office list, which add to the mix.
One more possibility is Ryan Murphy.  He was the 12th overall pick last year for the Canes.  He played Juniors with Jeff Skinner and like Skinner, is a great skater and is just 19 years old.  If anyone saw him during the preseason last year, they will remember his skating ability and how well he handles the puck.  He had one rush up ice that reminded me of a young Bobby Orr or Brad Park, as he was that impressive.   In scouting reports he's been compared to Paul Coffey.  He had a bad concussion early last year but was very effective when he came back still leading his team's defensemen with 11 goals and 43 assists in just 49 games.  Because he's not yet 20, like Skinner's situation 2 years ago, he either makes the Canes or has to go back to Juniors.  He lacks size, 5'11", 176, but he will be a great NHL player someday. Maybe that career will start this year.
It's Summer and the Canes are Hot
Ticket sales have been at an all time high.  There are more blogs and internet articles about the Canes this summer than there were when the Canes won The Cup.
With Brind'Amour now along side Muller behind the bench, I doubt there will be many players coming off the ice not giving 100% if they want to see another shift.  I have no doubt, Rod have much to do with Eric Staal and Sutter being so improved in faceoffs last season.    With all the changes and improvements, Canes fans are excited for the season to begin.
Even better news: the players are excited.
https://carycitizenarchive.com/wp-content/uploads/2012/07/hurricanes-off-season-2.jpg
350
600
Bob Fennel
https://carycitizenarchive.com/wp-content/uploads/2020/03/cc-archive-logo-450-v3.png
Bob Fennel
2012-07-30 14:18:03
2012-07-30 14:18:03
Inside the Eye: Offseason Action Makes the Canes Hot