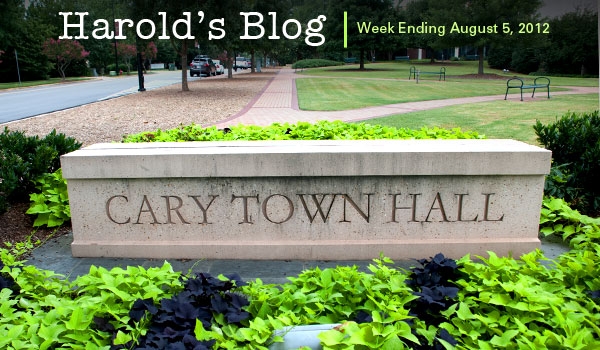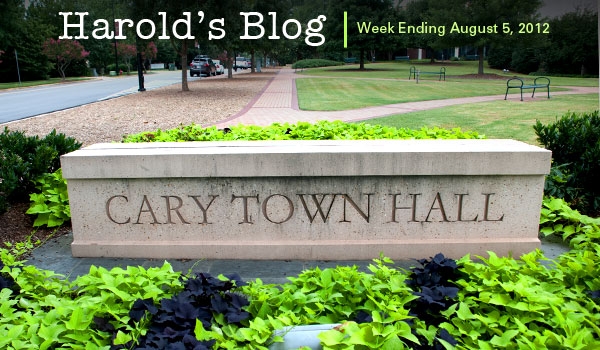 From the blog of Cary Mayor Harold Weinbrecht. Photo by Hal Goodtree.
Cary, NC – This week was a big week as we appointed a new council member and I met the first lady of the United States.
Running Low on Vacation Time
Monday I had no meetings scheduled since I took a long weekend at the beach. This is a family vacation week but unfortunately I am low on vacation days. Most council members have full time jobs and take vacation to perform some council duties. This year I have used about two weeks of vacation.
Tuesday: Cary Community Plan
Tuesday was a busy day. I first met with the town manager to go over current issues. We talked about a complaint from a downtown business and development interest on the state property off Walnut Street near the mall.
Following my meeting with the town manager the council held the first of two work sessions. The first was an update on the proposal for the Cary Community Plan. This plan would be a comprehensive plan that would include all other town plans such as:
Vision Element
Town-Wide Land Use Plan
Southeast Area Plan
Town Center Area Plan
Northwest Area Plan
NW Maynard Area Plan
Southwest Area Plan
Walnut Street Corridor Plan
Carpenter Community Plan
Chatham-Cary Join Plan
Parks and Recreation Master Plan
Growth Management Plan
Affordable Housing Plan
Comprehensive Transportation Plan
Open Space Plan
Historic Preservation Master Plan
Water Distribution System Plan
Wastewater Collection System Plan
Reclaimed Water System Plan
Long Range Water Resources Plan
To bring these plans up to date individually would cost approximately $896,000 in consultant fees and a great deal of staff time with duplication. A comprehensive plan would cost just over $900,000 but greatly reduce staff time. In addition, a comprehensive plan would greatly improve information for those trying to come to Cary. After a presentation from consultants and staff on how this would be created there was much discussion from council. In the end the council agreed to move forward with the Cary Community Plan.
Tuesday: Ed Yerha Appointed to Town Council
The second of our work sessions was the appointment of a new council member to fill Julie Robison's unexpired term.
The process started with 59 people applying for this position. A few weeks ago the council met and reduced the number to six. One applicant dropped out leaving five. The council then group interviewed (only 3 council members in a group) all candidates.
After these interviews it was clear that Cary was blessed with five of the best in Cary. Any one of them would do a great job as a council member. But it was the council's task to pick one. Then the council spent a few weeks individually interviewing candidates. Council members were also encouraged to have individual conversations with each other before the meeting.
In my conversations with council members it was clear that four council members felt Ed Yerha was their top candidate. So as the work session began Mayor Pro-Tem Adcock made a motion to appoint Yerha. The discussion that followed was mostly positive with only one unfortunate negative comment about Mr. Yerha. He was approved by a 4-2 margin.
Personally, I have known him for 14 years and served with him on the Planning and Zoning board. He is an outstanding servant to this town and has served on many boards and commissions. In addition, he volunteers throughout town and is active in his church. He will serve us well and is a fantastic guy. I am honored to be able to serve with him and look forward to what he brings to the table.
Meeting Mrs. Obama
Wednesday I was presented a unique opportunity to meet the first lady of the United States so I had staff attend a meeting I had scheduled with the Western Wake Partners on my behalf. I was lucky to be part of the photo op crowd to see the first lady at the Raleigh downtown Marriott.
The evening started with a security check. Then I was ushered into a room of people where we were offered hors d'oeuvres and drinks. I drank a diet coke and stayed away from the food. I was able to mingle at meet several business people and a few politicians.
After about 30 minutes or so we lined up to meet the first lady. Once it was my turn I was announced and instead of greeting me with a handshake she greeted me with a hug. I like huggers so that was very nice.
I then introduced myself and thanked her and her family for their service to the United States. I made a couple of other comments and she thanked me for my service. Then we posed for a picture, shook hands, and I left. I then went into the main ballroom where she spoke for twenty minutes or so. She was a very good speaker and I was very impressed.
I am very grateful for the once in a lifetime opportunity.
Prevent Blindness Mixed Doubles
Thursday I was privileged to be honored at the Prevent Blindness Mixed Doubles Tennis Classic Dinner at MacGregor Downs. The honoree is someone that is involved in the community and tennis and I guess that pretty much describes me. We were all treated to a wonderful dinner before I spoke.
My comments included a lot of personal tennis experiences and how the sport became a passion of mine. I encouraged those in attendance to combine their passions, whether it is tennis or something else, with the Prevent Blindness effort.
Cary News and Negative Spin
[Editorial]
In the news this week was an article in the Sunday Cary News about the council appointment to fill Julie Robison's seat. As usual they categorized our decision as partisan even though we are a non-partisan group. They even implied that we were a divided dysfunctional group with a "Split Cary Council" remark when in actuality we are one of the best functioning elected bodies in the state.
Since I have been mayor, we have worked well together and rarely, if ever, voted along party lines. So for the newspaper to imply that any decision we have made is due to partisanship is disingenuous. And in this particular case the final two applicants didn't even belong to a political party.
In addition, the comments about campaign contributions were a contradiction to the implied controversy of "cronyism" since Mr. Yerha gave both to Democrats and Republicans and to the person that made the comment.
In summary, the Cary News once again made a front page story out of a non-issue. Why? Who knows but it appears to be a continuing effort to create controversy. My goal is to make sure the newspaper fails at their effort of creating controversy and that all seven council members continue to work together to provide the best possible representation to our citizens.
Maybe one day the newspaper and some of the other media will stop trying to divide communities and start focusing on the providing the news like the CaryCitizen does. And maybe, just maybe, if we look for things we have in common rather than things that make us different, we will all be better off.
[End editorial]
Bradford Project
Emails this week included information from staff that the Bradford project is getting started at Davis Drive and High House Road. The current approved plan is the one on the town's website at http://sitesubplans.townofcary.org/Bradford_07-SP-114-B/planindex.htm.   The town has a new plan under review known as Bradford Phase I.
Staff also sent out information about current plans under review at http://www.townofcary.org/Assets/Planning+Department/Planning+Department+PDFs/planreview/Active+Projects+in+the+Review+Process+(sorted+by+date).pdf. Some of the plans of note include:
Grading for the Bradford project:
81 single family lots and 104 townhomes in the Fryar subdivision
101 single family lots in the Holland Farm subdivision
A 4307 square foot restaurant in Searstone
108 single family lots in the Southerlyn subdivision
73 single family lots in the Williams Tract subdivision
37 single family lots in the Cedar Bend subdivision
A parking deck at SAS
Demolition of a theater (Galaxy) and building of a grocery store
Sketch plan for 116 townhomes in Phillips Place
15 single family lots in the Marsh subdivision
A gymnasium at St. Michaels church
A 222,405 office building at SAS
26 single family lots in the Copperleaf subdivision
20 single family lots in the Weldon Ridge subdivision
A Walgreens drugstore in Waverly Place
Citizen Email
Emails from residents this week included a complaint about our red light cameras, a museum proposal, concerns about the Bradford project, a concern about the intersection at Carpenter Fire Station Road and Green Level Road, and requests to attend events.
Next Week: Red Lights and Chickens and More
Next week's activities include a council meeting where we vote on red light cameras and chickens, a leadership dinner, and National Night Out on Academy Street.
Well that is all for this week. My next post will be on Sunday August 12th. Please feel free to email me with a comment. Email all Town of Cary questions or comments to Harold.Weinbrecht@townofcary.org. Email personal comments to augustanat@mindspring.com.
https://carycitizenarchive.com/wp-content/uploads/2012/08/cary-mayor-weinbrecht-0806.jpg
350
600
Harold Weinbrecht
https://carycitizenarchive.com/wp-content/uploads/2020/03/cc-archive-logo-450-v3.png
Harold Weinbrecht
2012-08-06 16:16:03
2019-12-07 17:01:21
Harold's Blog: Ed Yerha Named to Town Council, Meeting the First Lady & Media Spin