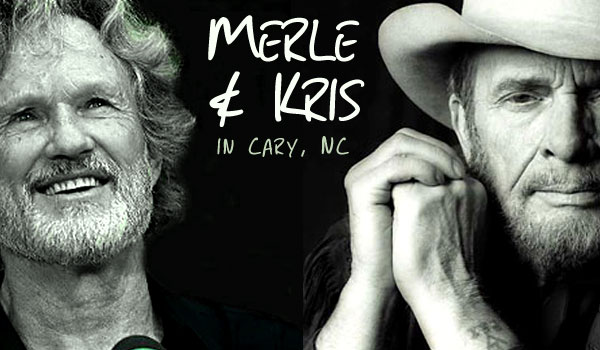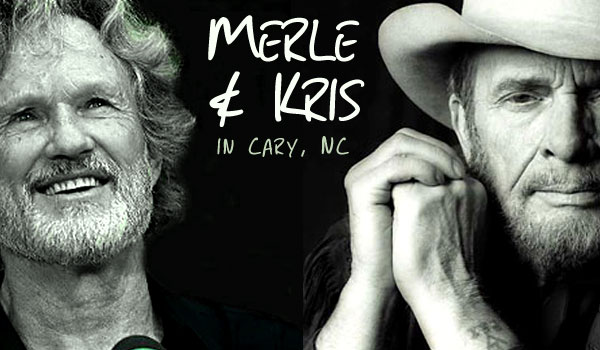 Story by Matt Young.
Cary, NC – It's become a pattern. Rain, thunderstorms off and on all day, only to clear in the late afternoon, bringing lower temperatures, right before a concert at Koka Booth Amphitheatre.
Touring Forever
It happened again as Pinecone (The Piedmont Council of Traditional Music)  presented Merle Haggard and  Kris Kristofferson in Cary Tuesday night.
I'm a traditional country music lover, and I twisted the arm of  my wife, Chris, to go – insisting that this was history and these two artists won't be touring forever (although they almost have been touring forever). She assured me after the show, that she was glad she did.
Kristofferson is a natural with Haggard and their voices were strong as they harmonized for each other. Kristofferson in 1985 formed a group called The Highwaymen with Waylon Jennings, Willie Nelson and Johnny Cash. Haggard is a country hero, and his name is appropriately mentioned in the same breath when people talk about Hank, Willie, Waylon and George. Merle Haggard was a very prolific writer and performer – producing 38 number one hits and over 120 albums since the early '60s.
Ya Know Folks…
Merle and Kris did not do separate sets. They sang together on many songs supporting each other's voices. If they sang alone, they shared the stage with the one that wasn't singing providing some of the instrumentals. Kristofferson played his acoustic guitar and the occasional harmonica. Haggard still plays perfect rockabilly guitar leads and only put down his starburst Fender Telecaster once to pull out a fiddle to play. He rocked it.
"Ya know folks, Kris and I wrote these songs when we were in our twenties, and now that we are in our forties…" (crowd applause and laughter). – Merle Haggard, Cary, NC:  Koka Booth Amphitheatre, August 7, 2012
The Way a Grandfather Tells a Story
The crowd was mostly older people, over 50. Lots of cowboys hats and boots. Sideburns longer than you normally see. More ponytails on the men than the women. Gray ponytails, mind you. Lots of American flags. Friendly. I commented to one of "Cary's finest" that this would be an easy night for her. She nodded and giggled in agreement.
The people at the Amphitheatre were respectful. Quiet during each song and showing warm appreciation after the artists were finished. It was the same way you would react when your grandfather tells a story to you.
Still Sharp
Merle and Kris each forgot the words to a song that they were singing once. And they started playing different songs – at the same time once – they stopped and laughed. Each time, Haggard made a joke about how old they were, or how old the crowd was. He began one song by talking about Theresa, his fifth wife of twenty years, referring to her as a "blonde-haired biker chick".
"Don't hold back the laughter it causes gas. Let it go…the laughter I mean", Haggard told the crowd. After one great lead, Haggard quipped proudly, "This is country music, ladies and gentlemen, remember?" Applause.
Thirty Again
The biggest applause came for "Folsom Prison Blues", "Me and Bobby McGee", and "Okie from Muskogee".
There was total silence and some wet eyes as Haggard sang "Wish I Could Be 30 Again".  The remarkable thing about that song is that he recorded it in 1987 – 25  years ago! The year he turned 50!
"Wish I could be thirty again,
Wish time didn't wrinkle my skin,

They say life starts at fifty,we've been lied to, my friend,
And I wish I could just be thirty again." – Merle Haggard, 1987
When Merle Haggard and Kris Kristofferson said good-night shortly after 9 pm, it was obvious they weren't doing an encore. You could see them get into a big recreational vehicle parked by the lake at the Amphitheatre.
Yet the crowd stayed in their seats. Very few got up to leave. For a long time. Savoring what we just saw.
The band began to jam without them.
https://carycitizenarchive.com/wp-content/uploads/2012/08/merle-kris.jpg
350
600
Matt Young
https://carycitizenarchive.com/wp-content/uploads/2020/03/cc-archive-logo-450-v3.png
Matt Young
2012-08-12 18:07:22
2012-08-12 18:07:22
Merle & Kris: "This is Country Music, Ladies and Gentlemen"