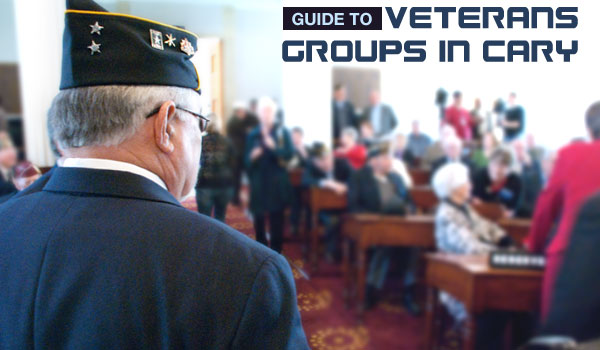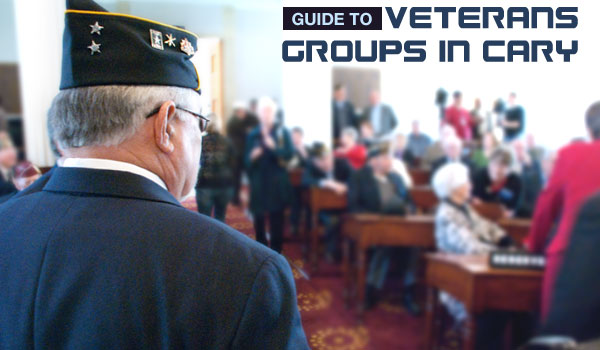 Story by Brian Schmid. Photo by Hal Goodtree.
Cary, NC – There are many Veterans Groups throughout the nation, and it can be very difficult to keep them straight. Acronyms like MOAA and VFW tend to make civilian's heads spin, and who can blame them? It seems like they are all nearly carbon copies of each other. In reality though, each group has different entry requirements and slightly different purposes.
Cary has many Veterans Groups, and with this article, you'll be able to tell them apart at every patriotic event!
The American Legion
The American Legion was chartered by Congress in 1919 as a Veteran's Service Organization. Today, the American Legion is the nation's largest wartime veterans service organization, and does a huge amount for local communities. American Legion baseball is a huge athletic program, and you almost definitely know someone connected to this organization directly or indirectly. They also sponsor Boys and Girls State and Nation, which are leadership development programs for high schoolers, and offer many other services to the local community and to veterans.
TO JOIN: To join the American Legion, you must either be serving or have served in an era of war in the armed services.
The local Post is American Legion Post 67
Veterans of Foreign Wars
The VFW traces its roots to 1899, when veterans of the Spanish-American war began to band together to gain rights and benefits for military service. Since then, the VFW has been one of the Veteran's major collective voices on Capitol Hill. They also contribute much to the local community: volunteering, funding college scholarships and teaching flag code.
TO JOIN: To join the Veterans of Foreign Wars you must be a U.S. Citizen who has served in an overseas conflict in the armed forces.
The local VFW is Sloan-Franklin Post 7383, and if you would like to learn more about the organization, you should visit their website.
Military Officer's Association of America
The MOAA is the nation's largest organization of Military Officers, it was founded in 1929 with the goal of providing assistance and advice to military officers of all services. Since then, it's goals have expanded to include helping the community through scholarships, assisting disabled veterans and promoting community activities.
TO JOIN: To join the MOAA, you must have either been or currently are a commissioned or warrant officer in one of the seven uniformed services of the U.S.
The local chapter is the Triangle Chapter MOAA.
American Veterans (AMVETS)
AMVETS was founded after World War II as a veteran's service organization, and like many of the others, has branched out to help support both their members and the community. AMVETS awards scholarships to  ROTC students, high school seniors, and veterans pursuing higher education, and also support programs within the community including the Special Olympics and Scouting. They also monetarily support work being done on national monuments.
TO JOIN: To Join AMVETS  you must have honorably served or be currently serving in the U.S. Armed Forces.
The nearest post is Post 635 in Raleigh. If you would like to learn more about AMVETS, visit their website.
Other Reading
The National Council for Aging Care's Guide on Military Veteran Benefit Options.
It's on the Hat
All of these organizations promote programs that help both their members and other veterans and active duty military personnel. Many lobby politically for the service members or retirees they represent, and all of them give back to the community in enormous ways.
And while it's very easy to confuse them, remember, there is generally one foolproof way to tell them apart: the name of the organization is written on their hats.
https://carycitizenarchive.com/wp-content/uploads/2012/08/veterans-groups-cary-nc.jpg
350
600
Brian Schmid
https://carycitizenarchive.com/wp-content/uploads/2020/03/cc-archive-logo-450-v3.png
Brian Schmid
2012-08-13 15:07:04
2019-12-07 12:36:37
Veterans Groups in Cary