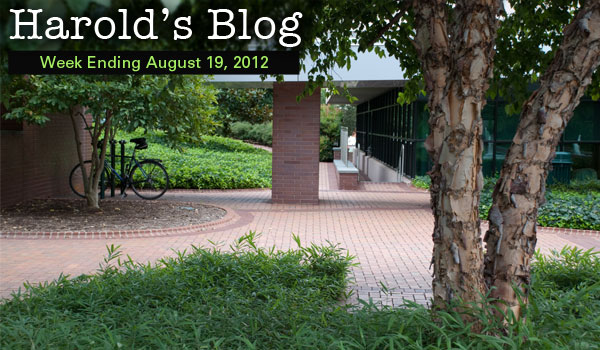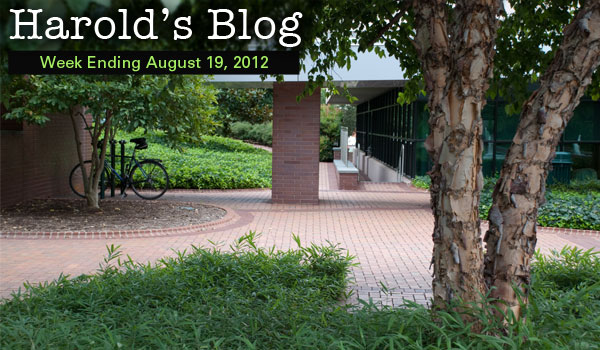 From the blog of Cary Mayor Harold Weinbrecht. Photo by Hal Goodtree.
Cary, North Carolina – This week was slower than normal but still kept me busy.
Monday – Camp High Hopes
On Monday I visited Camp High Hopes in Cary which was being held at West Cary Middle School.
Camp High Hopes is a fully subsidized summer camp for at 180 risk youth, in grades K through 10, facing personal struggles in their environment. Children participate in a variety of activities including swimming, gym games, academic enrichment, arts and crafts, assemblies, skill development, clinics and field trips. They are taught important life skills like swimming and leadership.
It is important to understand that the majority of these kids live in areas where there is a lot of gang activity; without these camps that would probably be their major influence. Some of these kids are not exposed to English except at these camps. Who knows how many lives are being changed with Camp High Hopes. God bless those that volunteer and give to Camp High Hopes.
If you would like to get involved with Camp High Hopes or We Build People, which funds them, visit YMCAWeBuildPeople.org.
Tuesday – Walmart Replacing Food Lion?
Tuesday I met with the town manager to go over several current issues. Some of the items were very interesting such as a Wal-Mart food store replacing the Food Lion in the Northwoods shopping center.
There is also interest expressed by several developers to rezone the land off Walnut Street adjacent to the soccer park to include residential. This land is currently zoned for Office. The council continues to struggle with requests to build multi-family residential or let properties remain vacant waiting for office.
Other topics of discussion included food trucks, folding Transportation Development Fees into the Land Use Plan, Red Light cameras, the Parks Master Plan, the upcoming council retreat in January (where we set direction for the year), and an issue with a downtown retention pond.
Wednesday – CAMPO
Wednesday I represented the town at the monthly CAMPO (Capital Area Metropolitan Planning Organization) TAC (Transportation Advisory Committee) meeting. All votes at this meeting were unanimous and non-controversial. There were several informational topics that were very interesting.
A presentation on the Incident Management Program provided interesting facts including:
In the last 30 years the vehicle miles traveled increased 95.5% while road miles increased 5.8%.
Congestion costs $87 billion a year in gas, lost productivity, etc
55% of all congestion is related to something that can be changed through traffic management (for example signal timing).
Secondary crashes (crashes that occur because of another crash) make up 20% of fatal crashes
Every minute of a primary crash increases the probability of a secondary crash by 2.8%.
Every minute of a primary crash creates 3 to 4 minutes of delay.
Emergency personnel are so focused on the primary crash that they don't realize that they may be creating a secondary crash.
The region needs a coordinated effort and set of standards to handle traffic incidents
CAMPO Staff will be bringing recommendations forward in the near future
Other CAMPO topics included a report on pedestrian safety. There is a new campaign being launched called "Watch 4 Me, NC" which is intended to educate pedestrians and drivers. This is significant since only 18% of drivers yield to pedestrians.
CAMPO Staff also updated members on the Metropolitan Transportation Plan. If nothing is done then traffic will get 600% worse by 2040. If all road plans were built (unlimited funds) then traffic would get over 200% worse.
In the reports portion of the CAMPO meeting, NCDOT reported that it started a pilot program of the "Bus On Shoulder" in July in Durham.  It has mostly been used in the afternoon and there have been no incidents. They will probably expand the program once the pilot is over. NCDOT also reported that 17 bridges are under construction in the CAMPO area. These are bridges that are being replaced. There are also several bridges under maintenance.
Thursday – Police, Developers and Fracking
On Thursday I met with an assessor who was evaluating the Cary Police Department for a gold level of service. Of course I had nothing but great things to say about our department which I believe to be the best in the state. Some of the questions included budgetary questions, citizen interaction questions, and what the department means to the town. The entire interview only lasted a few minutes.
Thursday evening I substituted as a member of the Planning and Development council subcommittee which makes recommendations to the entire council. There were three items and only two of those were for discussion.
We recommended council grant a waiver to a developer to hook up to the reclaimed water system. The reason is that the line is over a mile away. The developer will build the reclaimed system within the development and hook it up once the line reaches his subdivision.
Our second item was to receive the report from the task force on fracking. It is an extensive report that covered economic development of fracking, environmental protection issues, direct impacts fracking would have on Town-provided services, and the overall impacts to citizens. All items discussed during the Planning and Development committee were put on consent because we were in unanimous agreement with the staff recommendations.
Saturday – Honoring Town Clerk Sue Rowland
Saturday I joined five of six council members in Winston Salem to honor our town clerk Sue Rowland who received Clerk of the Year at the NC Municipal Clerks Association banquet. I am honored and privileged not only to work with Sue Rowland but to have known her for so many years. Cary is a much better place because of all the work she has done. God bless her!
Emails
Emails from staff this week included notification that Olympian Diana Gee will host a Table Tennis clinic at Bond Park Community Center in Cary on Saturday, September 1st as part of the North American Table Tennis Championships. The clinic will be offered from 9:00 am – 10:00 am and then the same clinic will be offered again from 1:00 pm – 2:00 pm.
Diana Gee is a two-time Olympian and Cary resident. She is a four-time Pan Am Games gold medalist and a four-time U.S. Olympic Festival gold medalist. In 2009, Diana was inducted into the USA Table Tennis Hall of Fame. She has won more US National Championship titles than any other woman in the history of American table tennis and she worked with the US Olympic Committee at the 1997 World University Games in Sicily, Italy. In 2008, Diana acted as U.S. Olympic Ambassador for athletes competing in the Beijing Games.
Emails from citizens this week included several for and against backyard chickens, a complaint about the wording for our Hometown Spirit Award, a request for memorial event for veterans, a concern about traffic around schools, and a concern about traffic at the new I540 and US64.
Looking Ahead
Next week will be a busy week for me including a work session to appoint board and commission members, a council meeting that incorporates the swearing in of Ed Yerha, and a trip to New York to visit my daughter.
Get in Touch
Well that is all for this week. My next post will be on Sunday August 26th. Please feel free to email me with a comment. Email all Town of Cary questions or comments toHarold.Weinbrecht@townofcary.org. Email personal comments to augustanat@mindspring.com.
https://carycitizenarchive.com/wp-content/uploads/2012/08/cary-mayor-harold-weinbrecht-0819.jpg
350
600
Harold Weinbrecht
https://carycitizenarchive.com/wp-content/uploads/2020/03/cc-archive-logo-450-v3.png
Harold Weinbrecht
2012-08-20 16:29:32
2019-12-07 18:37:45
Harold's Blog: Walmart Replacing Food Lion?