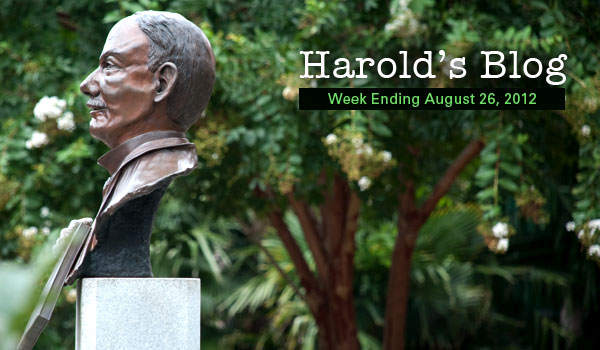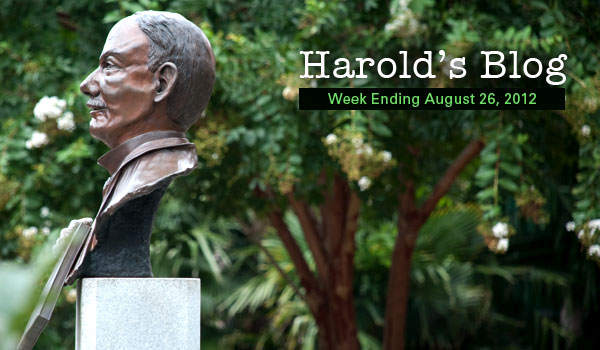 From the blog of Cary Mayor Harold Weinbrecht. Photo by Hal Goodtree.
Cary, NC – This week was marked by a new council member and a national recognition for the town.
Monday – Money Mag
On Monday Money Magazine announced that Cary was listed as one of the best places to live in America. Cary was the top municipality of populations over 100,000 in the southeast and the only one of that size in North Carolina. I am very proud that Cary is once again recognized nationally and, in my humble opinion, Cary IS the best place to live in America. Here is what Money Magazine said about Cary:
The past 10 years have seen dramatic population growth in Cary, with newcomers attracted to its pleasant weather, safe streets (the League of American Cyclists has praised its accommodations for cyclists), and educational opportunities (the three biggest universities and research facilities in North Carolina are located close by). It's also a slice of heaven for sports lovers: Besides tons of college sports, Cary is home to the U.S.A. Baseball National Training Complex. Schools, however, haven't quite kept up with Cary's growth. While several new ones have opened recently, there are still reports of overcrowding.
Tuesday Work Session
Tuesday I called all council members for questions and concerns for Thursday's council meeting. In my discussion council members wondered if and how we are going to move forward on the backyard chicken ordinance. Later in the day I met with staff to go over the agenda. My prediction of the end of the meeting was 10 PM.
Tuesday evening council held a work session on two subjects. The first one was on potential retreat topics that included:
Economic Development:

Using Incentives such as Business Improvement Districts and synthetic TIFs (Tax Incremental Financing)
Fees, Rules and Regulations
Eliminating Disincentives and removing hurdles
Infill Development

New Development
Redevelopment

Customer Service

Downtown

July 2012 Charrette Results and Implications

Town Square
Park
Library
Farmers' Market

Financial Options For Implementation
Bond Referendum 2012 : Timing and Phasing Plan
Cary Community Plan: Public Engagement Program
Spotlight on Successes in Phoenix and Aquastar

Making Rezoning simpler for citizens
The second work session was on board and commission appointments. Council liaisons made recommendations for every board and commission and they were approved unanimously for September 6th ratification.
Wednesday – Meeting with Town Manager
Wednesday I held my weekly meeting with the town manager. We discussed a variety of topics which included a CDBG audit, 9th Grade centers, downtown redevelopment, and synthetic TIFs. Most of our discussion was on TIFs (a public financing method that is used for subsidizing redevelopment, infrastructure, and other community-improvement projects). It is possible this could be a tool in the redevelopment of downtown and other areas.
Thursday Council Meeting
Thursday started with group pictures for the council since we were swearing in Ed Yerha as the newest council member. We took a set of pictures outside next to the Page-Walker and then several in the Ceremonial Office. It will be interesting to see which one the staff picks.
The council meeting started with Ed Yerha taking the oath of office. After he was seated we recognized our town clerk, Sue Rowland, as clerk of the year. Then we recognized our town crier from Markham, Canada (one of our sister cities). He presented me with pins, a CD, gifts, and a new flag from Markham. Markham has a new flag because they changed from a town to a city.
The remainder of the council meeting took a long time and included six public hearings. Two discussion items that followed the public hearings generated a lot of discussion. The first item, the Fumagali rezoning, was unanimously approved. It allowed a rezoning at the southwest corner of Green Level Church Road and Courtland View Lane Intersection. This rezoning had a valid protest petition which required at least six out of seven council members to vote affirmatively. Based on the discussion, the council felt the developer met the concerns of the citizens protesting with numerous conditions.
The second discussion item was on backyard chicken ordinance. Council voted to approve this by a 4 to 3 margin. I voted against the ordinance citing the lack of protection and recourse for those who do not want to live next to chickens. It is my personal belief that this will become an enforcement issue and generate complaints. I hope I am wrong.
The council meeting ended at a little past 11:30 PM. My earlier prediction of 10:00 PM was not even close.
Emails
In email notifications this week the NCDOT announced a public hearing for the proposed grade separation of Morrisville Parkway and rail realignment. This meeting is scheduled between 5 and 7 PM at the Morrisville Town Hall Council Chambers.
Most of the emails from citizens were for and against chickens. I sincerely hope these folks are involved in other town issues (such as the bond referendum) as they were in lobbying council members about chickens. Other emails received included a complaint about a neighbor stopping up a storm drain, a request to eliminate smoking in parks and on greenways, and a request to change preliminary staff plans for Carpenter Park.
New York Bound
At the start of next week I will be in New York (actually left Saturday morning so this was written Friday night). Other than a couple of meetings it should be a light week. The potential highlight is an interview on NPR's national morning show. We will see if that actually happens.
Well that is all for this week. My next post will be on Sunday September 2nd. Please feel free to email me with a comment. Email all Town of Cary questions or comments to Harold.Weinbrecht@townofcary.org. Email personal comments to augustanat@mindspring.com.
https://carycitizenarchive.com/wp-content/uploads/2012/08/cary-mayor-harold-weinbrecht-0826.jpg
350
600
Harold Weinbrecht
https://carycitizenarchive.com/wp-content/uploads/2020/03/cc-archive-logo-450-v3.png
Harold Weinbrecht
2012-08-27 17:16:04
2016-01-09 11:58:32
Harold's Blog: Money Mag Honors Cary