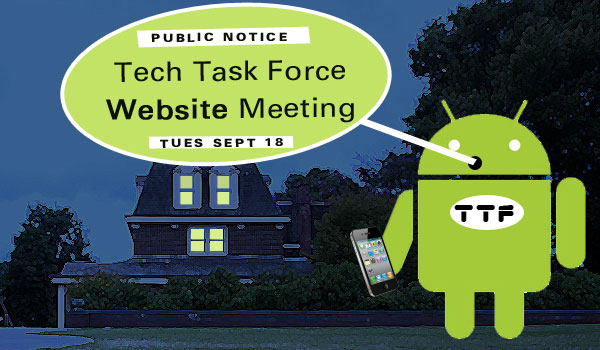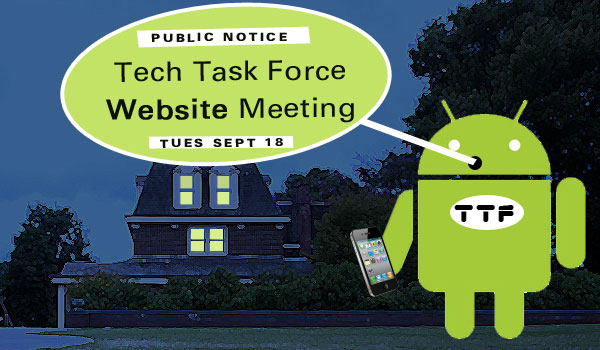 Story and picture by Hal Goodtree.
Cary, NC – When it comes to government, the term "sunshine" is akin to "openness." Technology has revolutionized openness in society. In that spirit, the Tech Task Force is launching a first for Cary – it's own website. You are invited to a meeting on Tuesday evening at Page-Walker about the new website for Cary's Tech Task Force.
Tech Task Force Website Meeting on Tuesday
For nearly two months, a Town Council-initiated Technology Task Force (TTF) has been meeting to discuss the future of technology, community and communication in Cary.
I'm a member of the group. We've been talking about mobile apps, social media, security, open APIs and websites.
This Tuesday, September 18 from 6-8 PM, a special subcommittee of the TTF will be meeting about launching its own website. The public is invited.
TTF  Website
I'm the chairperson of this particular Sub-committee, joined by Task Force members Eleanor Thorne and Laura Hamlyn. Our precise mission:
The purpose of the Technology Task Force (TTF) Website Sub-committee is to execute a WordPress website to promote community awareness and engagement with the work of TTF.
This new website will publicize the work of the entire Tech Task Force including the new mobile apps were considering, social media channels, video programming and engagement tactics. The TTF Website will be open for comments.
Welcome to the Revolution
No other town commission or board in Cary has its own website. No other commission or board in Cary has ever had its own website.
This is a revolution.
The problem is that open meeting and sunshine laws are 25 years behind the times. Official meetings must be open to all and publicized 48 hours in advance. So far, so good.
But in a way, a website with comments could be construed as a meeting, so it might be considered forbidden under current laws.
The Tech Task Force has always believed that we live in a 24/7 world. Current laws restrict our ability to do our work and engage the public.
Experts Weigh-In
The TTF has heard from a parade of municipal government experts, lawyers and even a newspaper executive that we can't have our own website and can't have comments.
"It's a meeting!" they say.
"It's a website," we say. "It promotes more engagement, not less. It won't replace what we already have, it will just augment it."
In the end, remarkably, common sense prevailed. Town of Cary will host the TTF website. My subcommittee will build it out and set up all the Task Force members as users. You, the public, will be able to subscribe to the latest stories, post comments and ask questions.
Who Knows If It's Legal?
The expert opinions presented to the TTF are not to be discounted. Cary is leading the way, hopefully not to the Big House in Raleigh.
If towns say the law prohibit them from using current media technology to engage citizens, the law needs to be updated.
More sunshine, not less. That's the goal.
It feels like Cary is becoming the Technology Town once again.
Event Details
Tech Task Force Website Meeting
Tuesday, September 18, 2012
6-8 PM
Page-Walker Center
119 Ambassador Loop
Downtown Cary, NC
The public is invited to attend.
https://carycitizenarchive.com/wp-content/uploads/2012/09/cary-ttf-website.jpg
350
600
Hal Goodtree
https://carycitizenarchive.com/wp-content/uploads/2020/03/cc-archive-logo-450-v3.png
Hal Goodtree
2012-09-16 15:30:05
2012-09-16 18:18:42
Tech Task Force Website Meeting Tuesday