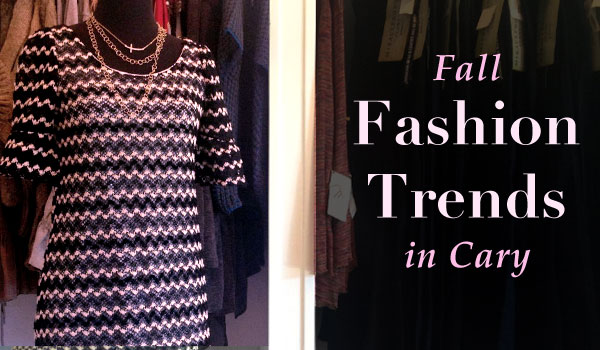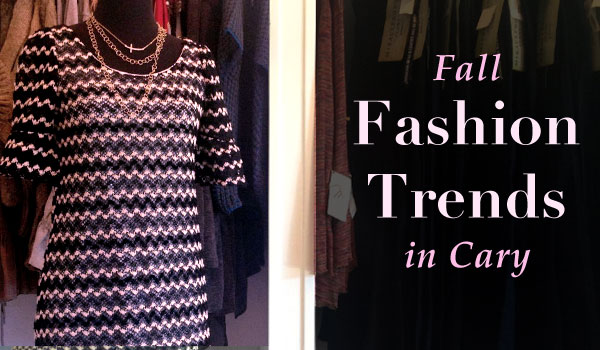 Story and photos by Lindsey Chester.
Cary, NC – Fall comes late here in the Triangle. As temps are finally dipping into the 70's and 80's, local boutiques are bringing in their fall fashions. With the dip in temps, comes an uptick in new store offerings. Here's your guide to Fall Fashion Trends in Cary.
Fall Fashion Ticks Up in Cary
The economy must be picking up in our area after many seasons of store closings. In my recent travels, I found new boutiques in Cary and others who have expanded.
I visited four Cary retailers to see what was trending in the stores.
One Word: Tribal
What I found in my trip around Cary can be summed up in one word: Tribal.
Spice-toned prints give the customer the look of Fall, but in lighter weight fabrics they can wear now in tunics. The same pieces can easily transition to colder weather when layered over pants and long sleeved T, or worn under drapey swing shaped jackets.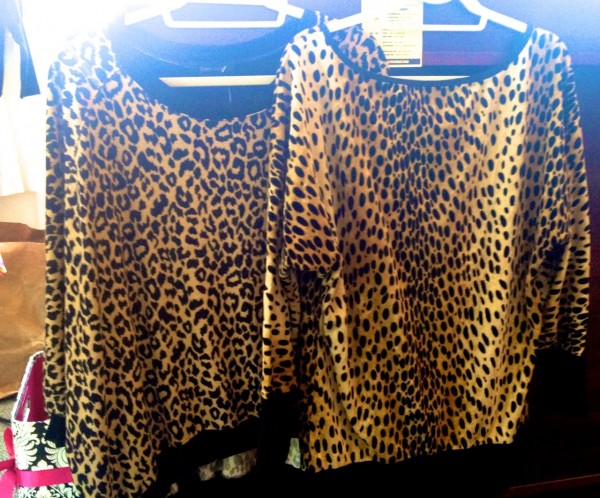 Favorite colors included orange, gold, jewel-toned purples and emerald green (you remember that 1980's favorite?).
My Girlfriend's Closet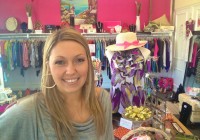 Downtown Cary's newest addition is My Girlfriend's Closet, a store that started in Downtown Apex and recently expanded to 100 Parkthrough Street off West Chatham.
Owner Lois Cozart is also relocating her Apex store to new digs. Her daughter Ashley Hendricks manages the daily operations here in Cary. My Girlfriend's Closet is an upscale resale shop whose newest policy includes buying consigner's clothes outright, which allows Ashley to be a little more choosy about what she decides to show in her boutique.
Ashley says looks that are important for her customers this season include wrap sweaters, animal prints (anything cheetah) and metallics.
Key shapes are tunics, and especially dolmen sleeves and fly-away jackets, a look carried over from last fall and spring. The 1980's Flash Dance off the shoulder tunic continues to be strong.
Swagger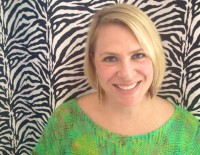 For ten years, Swagger has been located in Lochmere Pavillion and last August expanded their space when a nearby shop was vacant.
The expansion allowed them to double in size and they began offering women's clothing to complement their gifts and accessories.
Owner Mandy Becker showed me around highlighting tribal jewelry in key colors of orange and turquoise that are perfect season spanners.
Here, the tribal look was in full swing in dresses and flowy light weight tunic shapes that she is pairing with boots and skinny jeans. Her core customer will be buying jeans from Henry & Belle and Miracle Body.
Mandy receives clothing shipments several times per week and orders only a few pieces per style to keep not only her store fresh, but her customers' purchases unique in the area.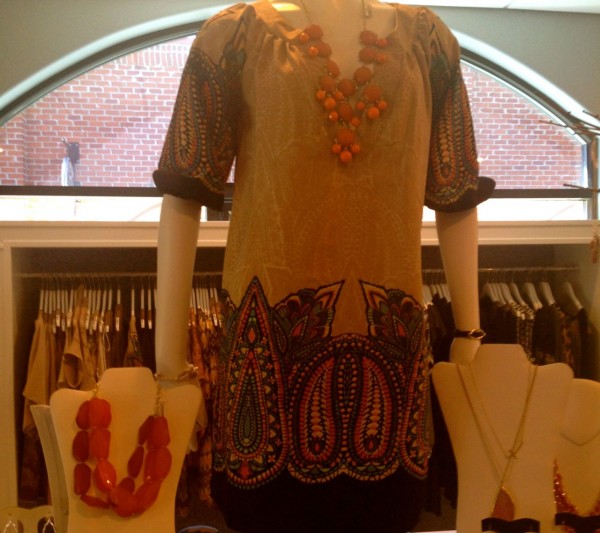 Short sleeved sweaters are selling with the slightly cooler weather and she will continue to get fall merchandise through out the season. Pencil skirts, leather (real and faux) is an important accent and black and white graphic combinations continue from summer into fall.
Mandy's affordable and trendy clothing mix allows Moms and their teen daughters to both shop in the store, each finding styles to fit their body type and lifestyle. A key crossover style is the tunic shape that can fit many body types.
Skinny, Colored Jeans
A second big trend that has definitely caught on is skinny colored jeans. Mandy said the skinny jean is THE important silhouette, in dark finishes, and colors.
Swagger carries Henry & Belle's 2 fits- "Signature" with a higher waist which doesn't ride down is great for those of us a little older, who still want to be trendy. The "Ideal" fit has the lower waist and tighter leg for the younger customer.
Later in the fall, the colored jeans or "jeggings", will give way to colored corduroy jeans (remember Levi's cords back in the day? They're back only with stretch)
Purple Polka Dot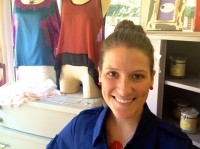 At the Purple Polka Dot in Downtown Cary, you can be trendy for under $50. You can even buy a jacket. Kristen Gurganus prides herself on keeping the price points of her clothing affordable as many of her clients ride over from NC State. She has an adorable little jacket in a black and cream stripe that actually hits that price-point and now that the evenings are cooler, that item is flying out the door.
Kristen's biggest trend? Game Day apparel. Whether you cheer for State, the Tar Heels, the Pirates, the Mountaineers or the Gamecocks, Purple Polka Dot has you covered in accessories or a brightly colored dress to wear when you tail gate. The store expanded into fashion last spring from the original mix of home furnishings and accessories.
Big hits include her colored jeans in a stretch twill and sateen.
Kristen emphasized that layering is a great way to update your wardrobe as the weather gets colder to increase the wearability of short sleeved items purchased now. A chunky sweater has started to sell. And maxi length dresses are good for her younger customer.
Peachy Keen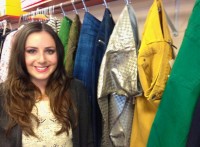 Cary's newest boutique, Peachy Keen, opened in early September. The store is actually an expansion of an existing business, Joint Venture Jewelers, who have moved from the Arboretum into the Harrison Point Shopping Center on the corner of NW Maynard. Joint Venture owner's Donna and Lee Hankin have gone into business with daughters Jen and Karly.
Karly, a recent grad from Savannah College of Art And Design is the design director, Jen is the marketing maven and Mom consults to be sure that a range of women can buy from the store. The new location allows lots of space for the original business in estate jewelry, and plenty of room for on-trend affordable fashion.
Peachy Keen aims to have something in store for the moms and their daughters. By hitting $100 price points and a range of fits, a youthful customer can find the less pricey items with the trendier fit, and the more mature woman can find a flattering cowl neck blouse that skims rather than hugs the body.
The store carries several jeans brands with that same philosophy. Colored denim from Rich & Skinny is designed by the original designer for 7 Seven Jeans and Citizen, these fit smaller and have a lot of jegging type looks ranging in price from $124-$210. Kut From the Cloth is a premium denim line for a more womanly body with curves, and these run about $88 pair. Silver is a line with an in-between slightly relaxed fit that runs about $80-$95/ pair.
Karly had the tribal print looks, but has also keyed into a decidedly vintage vibe. Lots of leather, lace, crochet and embroidery could be seen adding feminine details to dresses, tunics and jackets.  The Amanda Uprichard line features silks and dresses paired with slips for a pulled together layered outfit. BiYa is designed by the same woman and has lots of hand sewn embroidery and lace details for a distinctly vintage feel.
Wrap Up
Each of the stores fills a niche in Cary whether it's price point, fit, or style. Something for everyone across a range of sizes and ages.
The expansions are signs that retail in Cary is looking decidedly upbeat.
Bottom line for Fall Fashion: keep it tribal, girls!
Look for more fashion feature stories in CaryCitizen, including Fall Flair Accessories and Holiday Must Haves.
————————————————————————————————————
Lindsey Chester spent more than a decade as a women's wear designer in New York's Garment Center for lines including Oxford, Norton McNaughton, Leslie Fay and Donnkenney.
https://carycitizenarchive.com/wp-content/uploads/2012/09/fall-fashion-trends-cary.jpg
350
600
Lindsey Chester
https://carycitizenarchive.com/wp-content/uploads/2020/03/cc-archive-logo-450-v3.png
Lindsey Chester
2012-09-20 15:15:26
2015-12-28 14:26:21
Fall Fashion Trends in Cary