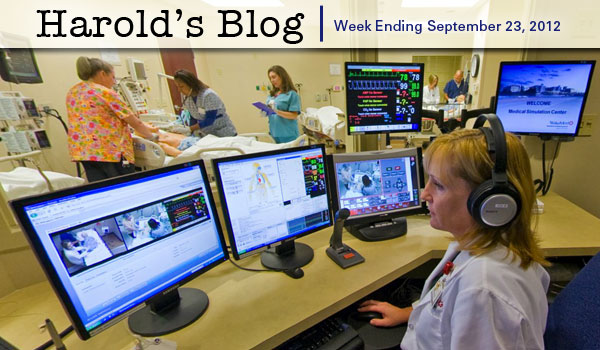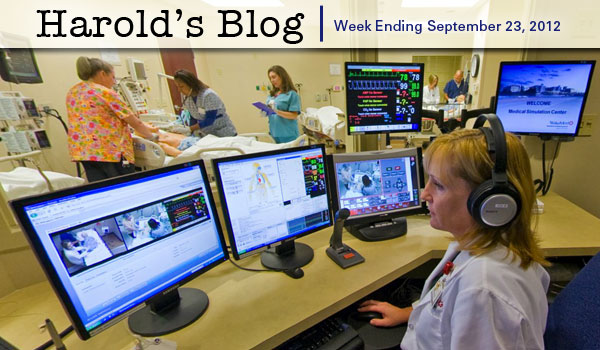 From the blog of Cary Mayor Harold Weinbrecht. Photos from WakeMed.
Cary, NC – This week consisted of a Mayors Association meeting, ethics training and a brainstorming session.
Monday: Health Care Simulators
Monday I, along with 9 of the 12 Wake County Mayors, met at WakeMed Hospital for a tour of their Center for Innovative Learning. Funded by The Duke Endowment, the WakeMed Center for Innovative Learning is designed to facilitate realistic training and education for all levels of health care providers via simulators.
The simulators, of all ages and sizes, are realistic duplicates of humans. That is, they cry, have hearts, lungs, blood, and other stuff just like we do. It gives health care providers valuable skills and refreshers before they work or continue to work on you or me.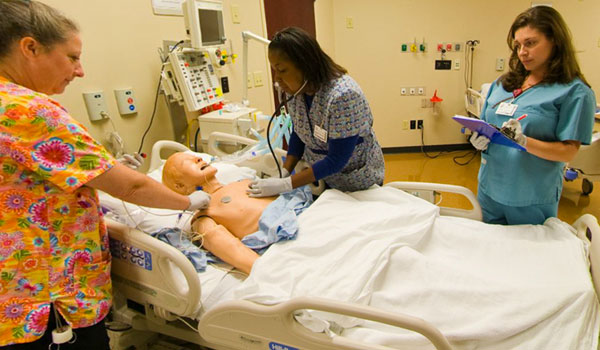 Medical personnel from all over the region come to train with these simulators and are confronted with various possible scenarios which can be changed real time.
After the tour we were given dinner and a presentation of WakeMed's new eICU (electronic Intensive Cary Unit) which is designed to enhance existing high quality ICU care. How does it work? In addition to the physicians and nurses, critically ill patients are also monitored by physicians and nurses in a different location, the eICU Service Center. By using computers, cameras, microphones and sophisticated software, these offsite providers are a "second set of eyes". The benefit is a constant monitoring by humans in addition to the constant monitoring by computers.
The mayors concluded this visit after about two and a half hours.
Tuesday: Ethics Webinar
Tuesday I attended an Ethics Webinar with council members Adcock, Frantz, and Yerha. Under North Carolina law members of governing boards are required to receive at least two clock hours of ethics training within twelve months after each election or reelection (including appointments) to office.
The training covered laws and principles that govern conflicts of interest and ethical standards of conduct at the local government level. I was impressed by how well our council is trained on the law. We already knew the law questions. We did have a couple of good discussions on the ethics questions.
One interesting aspect of the law that most people might not be aware of and may seem in conflict with doing ethically the right thing was our requirement to vote. Each council member should vote on all items unless: it involves your official conduct, your personal financial interest, or has a readily identifiable financial impact on you. So the fact that I work for SAS does not allow me to be recused when a matter comes before the council involving SAS.
Wednesday: Cary Matters
Wednesday I joined council member Frantz to tape the October episode of Cary Matters. The main topic was about how our recycling has expanded. In our Q&A we explain the new chicken ordinance. Our taping took about 45 minutes.
Thursday: Cary Band
My first meeting Thursday was with a member of Cary Band. They perform on behalf of the town several times a year. The town provides them with $1000 annual which is not nearly enough to cover their expenses which include renting practice space from the town. Hopefully, we can find a way that will help them continue to provide this great amenity to the town. God bless them for spending their time and money performing for the citizens of Cary.
Thursday: Brainstorming on Advisory Boards
Later Thursday the council participated in a brainstorming session on advisory boards and commissions. The purpose was to come to an agreement on what we need from advisory boards from a perspective of information. Our session lasted two hours and may require a follow up session.
Saturday: Save a Life 5K
Saturday morning I attended the third annual SAVE A LIFE 5K. I would have run but was recovering from a toe procedure which I had done Friday morning. SAVE A LIFE was formed in order to raise awareness about the problem of teen suicide, to educate the community, and to remove barriers that separate at risk teens from help. I gave brief remarks before the start of the race. Here is an excerpt:
"…In North Carolina, suicide is one of the top three leading causes of death for ages 10-24…. to the teens with us today, I remember being a teen almost four decades ago. I remember it was hard. The important thing is to make sure to express you feelings. Talk, text, blog, and tweet, but whatever you do make sure your feelings are heard. Share them with a friend, family member, but please contact someone …"
If you want to learn more about SAVE A LIFE visit http://www.helpingsavealife.com/.
Staff Emails
Emails from staff this week included two traffic notifications. The first was that a section of Kelly Road from U.S. 64 to Jenks Road in Wake County will close on Wednesday, September 19th for one week, weather permitting. During the closure, Kelly Road will remain open to local residents. All other motorists will use the signed detour on U.S. 64, Green Level Church Road and Jenks Road. This temporary closure is necessary for the completion of the Kelly Road/U.S. 64 interchange and improvements to the Green Level Church/Kelly Road intersection. Kelly road will re-open with access to the new interchange and bridge over U.S. 64, on Wednesday September 26th.
The second notification was that from 7 p.m. to 11 p.m. on September 24-28, the intersection of North Harrison Avenue at West Chatham Street will be closed while contractors working on behalf of the Town of Cary complete milling and paving. A signed detour will route drivers around the work zone using Chatham Street, Harrison Avenue, Chapel Hill Road, Academy Street and Park Street; some delays are expected. The work is weather permitting and necessary as part of the FY 2012 Street Improvements Project.
The council also received email from the town attorney's office regarding the Bowden case at the Court of Appeals that stated:
"The Bowden hearing concluded at about 11 today after a 1 hour hearing …. We and the 1000 cities that supported the Town in this appeal await the court's decision which will probably not be issued for several months. A recording of the hearing should be available in the next few days. …."
I think it is significant to note that the decision on this case could potentially impact cities across the country.
Citizen Emails
Emails from citizens included a request to ban retail sale of animals (we don't have authority to do this type of ban). Other emails included a complaint about the new chicken ordinance, a complaint about reserving field space, a complaint about the LDO amendment to prevent electronic gaming machines in certain areas, and a complaint that Cary is growing too fast (we are growing at less than 3%).
Next week includes a regularly scheduled council meeting and a meeting with the editor of the Cary News.
Get in Touch
Well that is all for this week. My next post will be on Sunday September 30th. Please feel free to email me with a comment. Email all Town of Cary questions or comments to Harold.Weinbrecht@townofcary.org. Email personal comments to augustanat@mindspring.com.
https://carycitizenarchive.com/wp-content/uploads/2012/09/cary-mayor-weinbrecht-0923.jpg
350
600
Harold Weinbrecht
https://carycitizenarchive.com/wp-content/uploads/2020/03/cc-archive-logo-450-v3.png
Harold Weinbrecht
2012-09-24 16:15:13
2016-01-09 11:58:32
Harold's Blog: Brainstorming, Cary Band & Ethics Training