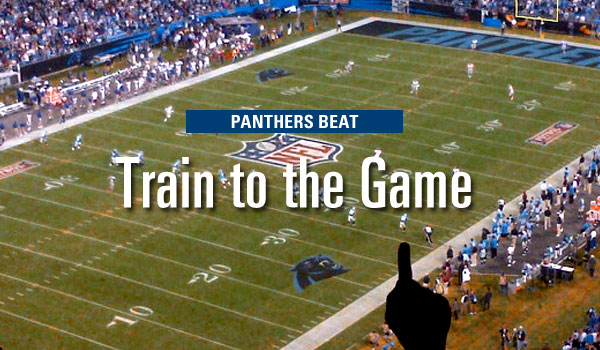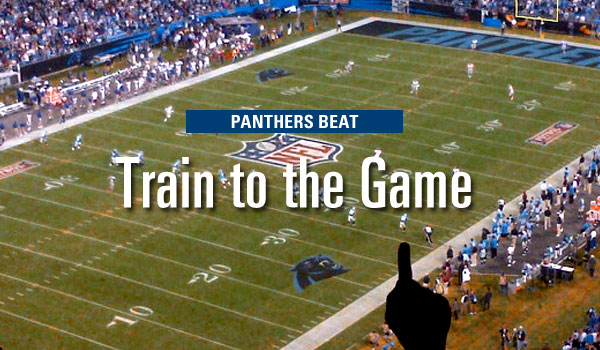 Story and photos by Matt Young.
Cary, NC – I love football. But I hate driving to football games. That's why I decided to take the train from Cary to see the Panthers play the New York Giants last week in Charlotte.
The Amtrak Epiphany
Driving for hours is boring. Parking is a hassle. Gas is expensive. I might want to have an adult beverage after the game. My legs get cramped. Gas station bathrooms are gross. And so on.
Back in the spring, right after Cary Train Day, I called up a couple of buddies suggesting that we try taking the Amtrak from Cary to Charlotte to see our Panthers play the World Champ N.Y. Giants on Thursday, September 20 in Charlotte.
At first, they were hemming and hawing and suspicious. You would have thought I had changed something in their cages. But after some hard selling, they reluctantly agreed.
I got three tickets to leave early Thursday morning and return Friday afternoon.
Thursday Morning
Turns out it was a brilliant idea.
It had been a long time since I had taken the train. Years ago, I used to commute by train when I had to work in Philadelphia and New York.
This was a new experience – much more service-oriented than what I had remembered.
The train was on time. The people in the Cary Depot are friendly. The depot is spotless. And there was plenty of parking and seating in the station.
I walked up to the window to check-in to the smiling face of the ticking agent on duty. He asked to see my ID. I slid it under the window through the security slot. I looked up. We both had a good laugh when I realized the glass window above the slit was slid open. This took literally 1 minute.
We boarded the Piedmont train with its cars named after North Carolina native plants and animals and settled down to a table.
The ride was uneventful. That's good.
There's plenty of seating on board. The cars are clean. Free coffee and bottled water. We played some cards and caught up on e-mail.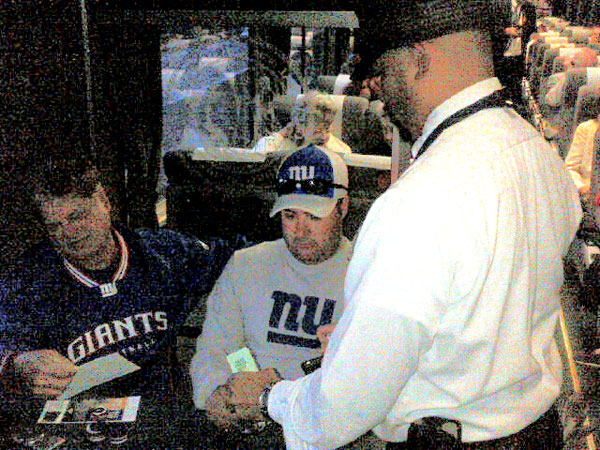 Even my jaded friends (they are from New York) told me that my idea was "brilliant".
We arrived in Charlotte just a healthy walk (or a very short cab ride) from the stadium.
Side Track on Charlotte
By the way, downtown Charlotte is beautiful. There are wide brick sidewalks and lots of new businesses.
The locals are friendly and even congratulated my two friends – who were wearing Giants jerseys – for last years' Super Bowl win as we walked the streets (try THAT in Philadelphia!). Even after the game (in which the Panthers got crushed) the fans in the stadium were more than gracious to them.
Before the game we tried out a brew pub in Charlotte called Rock Bottom. The staff was very friendly. The bartender even convinced me to have their famous German apple pie with my beer (later I had chicken-fried chicken). Try it if you ever are in Charlotte. They serve their own brewed-on-premises amazing beers and their cuisine is…comfort food.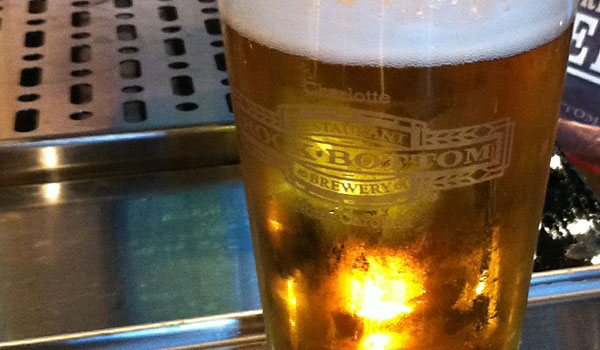 Panthers Derailed
Bank of America Stadium had more of the opposing team's fans in the seats than I had ever seen. A sea of blue and red. It looked like the Carolina Panthers themselves were outnumbered on the field as well.
Manning had a career night even while the Giants' starting RB, Ahmad Bradshaw and their number two receiver, UNC's Hakeem Nicks were both out with injuries. The Giants' defense also seemed to have solved for sophomore self-proclaimed Superman Cam Newton, forcing 5 turnovers.
The Giants took a 20-0 halftime lead and outgained the Panthers with 303-125 yards cruising to an eventual 36-7 win.
Hopefully the Panthers, who had just come off of a big win against the once mighty Saints, will rebound after this one. They'll have their chance next Sunday against a very good Falcons team in Atlanta.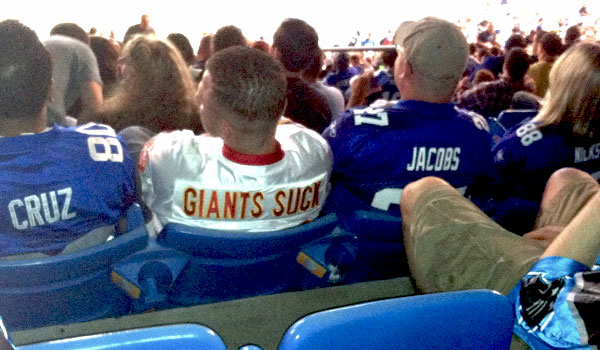 Train to the Game
Try it – it sounds like it would also be a great idea for families going to see our Panthers play (see my opening paragraph for reasons).  And you get to ride on a train to boot. Let us know about your train adventures if you do!
Tickets for the train from Cary NC to points everywhere in the U.S. (including Charlotte) are available at Amtrak.com.
https://carycitizenarchive.com/wp-content/uploads/2012/09/panthers-vs-ny-giants.jpg
350
600
Matt Young
https://carycitizenarchive.com/wp-content/uploads/2020/03/cc-archive-logo-450-v3.png
Matt Young
2012-09-24 14:46:49
2019-12-07 18:37:52
Panthers Beat: Train to the Game