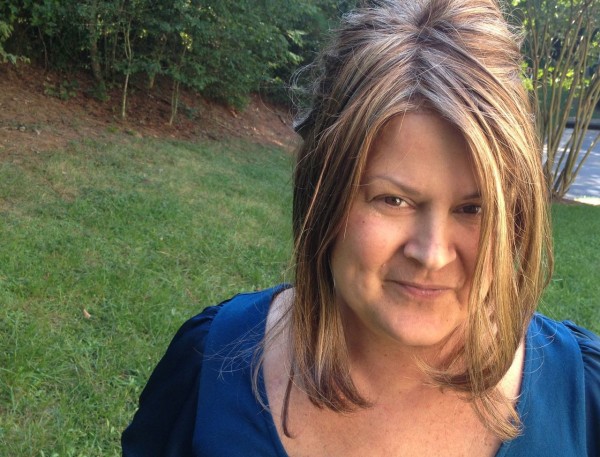 story and photo by Lindsey Chester
Cary, NC- Maria Price needs a kidney. Last December, Maria found out she has Goodpasture Syndrome, and auto-immune disorder described as one in a million,  that attacks the kidneys and can spread to the lungs. She does dialysis every night at home, which helps keep her blood clear of the disease, but is not a permanent solution. She is lower than number 600 on the organ donor list – so a voluntary kidney donor is her only hope to receive a viable kidney.
Here's Her Story
Until last December, Maria worked at Sam's Club in Morrisville and was an active member in the Morrisville Chamber of Commerce, serving as an ambassador to welcome new businesses to the area.
Routine Physical Led To Testing
During a routine physical after Christmas, her doctor found that her blood pressure was elevated, and that her feet were swollen. He prescribed some blood pressure medication, and did some additional blood work before sending her home. When the blood tests came back, her hemoglobin (red blood cells) were very low scoring a 6 out of a possible 9 or 10. Renal failure was suspected and he advised she be admitted to the hospital right away. He even asked her if she had been experiencing dizziness or extreme fatigue, to which she answered an emphatic "NO", she felt fine.
When she was admitted to WakeMed Hospital in Cary , they conducted 2 blood transfusions, completely replacing her plasma. She was seen by a nephrologist who ordered a kidney biopsy. This procedure involves inserting a needle in the patients back to remove some kidney tissue which is sent off for tests.
Two days later the diagnosis came back with Goodpasture Syndrome. Treatment was recommended to start immediately which included chemo therapy to kill off the disease, steroids and blood pressure medication to get her blood pressure down to normal. At every meal Maria had to begin to take pills to help do the work that her kidneys were not. She also has to watch her fluid intake and keep that to only 40oz per day, because her kidneys can not process more liquid than that.
At the hospital she had a catheter port installed in her chest to allow a plasma ferosis treatment. This treatment takes out the antibodies from the blood which are formed from Goodpasture disease as it fights your own good cells. The plasma is removed and replaced with new clean plasma. This was done during the month of January.
Once she was stabilized, she was allowed to go home and began a series of dialysis treatments three times a week to keep her body free of the poisons that can build up as you lose kidney function.
Home Dialysis Every Night
Usually patients go into hospitals to conduct dialysis and the treatment can be very debilitating. Maria opted to switch home dialysis treatment. To do that, a perinatal catheter was installed in her abdomin and every night she must hook up to the dialysis machine that replaces her plasma while she sleeps. Its not a comfortable way to sleep, but it saves her the hours spent during the day in a hospital that can be very debilitating and sometimes leads to additional infection and health problems for long term dialysis patients.
Of course a patient cannot continue dialysis forever. The process is very hard on the body and very expensive. Ultimately a kidney must be found to replace her two that are no longer doing their work. Her number on the transplant list makes it look unlikely that a trauma patient will result in a kidney match for Maria. Her close relatives are not a match for her. So she must rely on the kindness of strangers her hear her story and decide to make this donation.
Steps To Donate
The steps to donating a kidney actually are quite simple. A donor candidate can contact UNC donor coordinator Michael James at 919-966-3079 and ask to be tested as a match. Maria's blood type is A+, the first qualification for a potential donor is a blood match of either A+ or O+ (O is the universal donor blood type).
A potential donor gives a blood sample that is then mixed with some of Maria's blood to see if it is compatible. If it is a match then the candidate goes through some additional health screenings to be sure they have no other risk factors that can cancel out their ability to donate. Some of these factors include a history of diabetes or cancer, or other diseases that can effect the health of your kidneys.
The operation to remove a kidney requires in-patient stay, usually overnight for the donor. The operation takes 2-3 hours. The silver lining for the donor is that Maria's insurance covers all of the medical costs. When Maria asked her physician about this, he replied that the cost of the operation is actually small compared with the long term costs of her current dialysis and other care that keeps her alive.
Contact Her Doctor
If you think you or someone you know would be interested in donating, or being tested, please call Maria's UNC donor coordinator Michael James at 919-966-3079 or email. He is also available to answer any questions about the procedure.
Nature Gives Us A Spare
Humans have two kidneys, but we only need one to function normally. Nature gave us a spare. Unfortunately for Maria, she is out of spares, and needs the help of someone who has a spare to share.
https://carycitizenarchive.com/wp-content/uploads/2012/09/Maria-e1348837120388.jpg
457
600
Lindsey Chester
https://carycitizenarchive.com/wp-content/uploads/2020/03/cc-archive-logo-450-v3.png
Lindsey Chester
2012-10-01 14:05:06
2012-10-01 14:05:06
Health: Maria Has Goodpasture Syndrome and Needs a Kidney