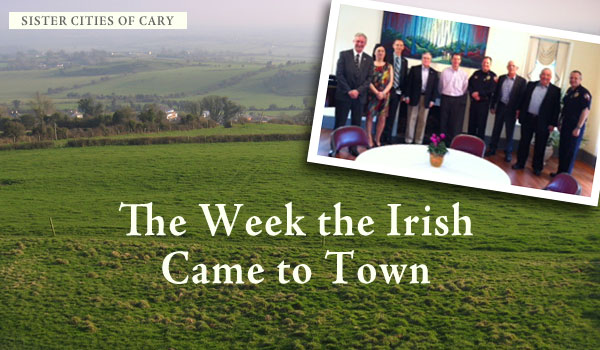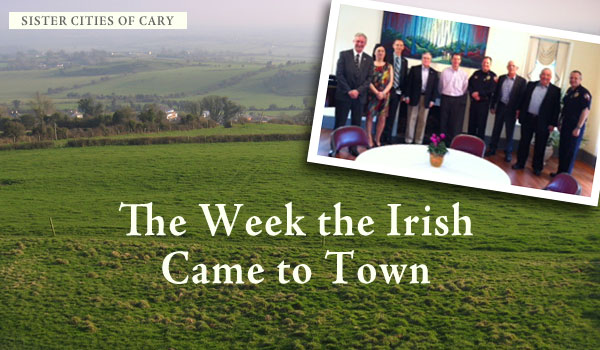 Cary, NC – Ever wonder what Sister Cities of Cary does? Well, last week, it was economic development, hosting a business delegation from County Meath, Ireland. The following is an account of the week from Sister Cities Treasurer Ian Henshaw.
7 Guests, 19 Meetings and 551 miles over 7 Days
By Ian Henshaw, Sister Cities of Cary.
Sunday, October 7, 2012
I am restarting my routine after hosting a delegation of 7 from Cary's Sister City of County Meath, Ireland.  I am physically exhausted after a great week where almost everything went to plan and I am very satisfied that we accomplished our task.
County Meath is looking to develop an environment conducive to the development of 'live, work, play' science parks.  Our guests were ecstatic about the doors that were opened for them and were overwhelmed by the friendliness and hospitality of the citizens of Cary.  Many linkages are now proposed to further strengthen our sister city relationship.
The Week Before
7 days ago I was printing out copies of our 27 page detail agenda, making calls to confirm appointments, to settle guest lists and to finalize logistics, assembling gifts, delivering gift bags, and taking care of many personal items so that I could put my life on hold for a week.
Many preceding months of planning had taken our guest's extensive "wish list" and crafted a jam-packed itinerary.  In reality the itinerary was still not complete or unchanging as it was being printed.
Just a week before we added a full day at the beginning of the visit.  The social event guest lists were still in flux and several of the 'transport' items were still TBD.
My past delegation hosting experience shows that these details usually work themselves out over the week, so I also spent time calming nerves at the same time I was scrambling to get details resolved.
My final e-mail to Ireland was to 'remember to bring lots of business cards as you will be meeting many, many people'.
Visitors from County Meath
Visiting us from County Meath were an elite group of community leaders:
Sean Reilly – McGarrell Reilly
Raymond Reilly – McGarrell Reilly
Brian Fitzgerald – Meath County Council, South East Meath Chamber
Noel Leonard – Meath County Council
Tracy McElhinney – Meath County Council
Gerry O'Conner – Meath County Council
Joe Fahy – Meath Director of Services
Appointments over the week
The week was focused on presenting our visitors with an overview of our experience with regional development centers like RTP. Here's what we did:
Program at RTP HQ "Beyond the U.S. – Using Ireland to Drive International Growth"
RTP Foundation
First Flight Venture Center
Southern Growth Policy Board
NCSU Centennial Campus
Piedmont Triad Research Park (in Winston-Salem)
Wake Tech Community College
Cary Innovation Center
Cary Chamber of Commerce
Town of Cary department presentations, facilities tour, and downtown development presentation
Cary Chamber Economic Development meeting (Program given by our visitors)
Social Events
Of course, as much business is done over dinner as at a conference table. We had a packed social calendar.
Dinner hosted by Dixon Hughes Goodman, LLP
Dinner hosted by the Cary Chamber of Commerce
Dinner hosted by the 2011 Solheim Cup visit participants
Cary Chamber Member Appreciation Party
SAS Pro-Am Pairings Party
SAS hospitality booth at the SAS Championship
Romeo and Juliet at Koka Booth hosted by Sister Cities Association of Cary
End-of-Visit Celebration
I was up at 5am every day and did not return home until somewhere between 10pm – 2am after the famous and obligatory 'after meeting meeting'.
Fun Observations
Heard many, many times during the visit: "A rising tide lifts all ships".
I kept joking to our visitors that we were very concerned that they may go hungry at some point during their visit which is why we scheduled dinner immediately following all receptions.
The Irish tell "American" jokes.  (all in god fun, of course)
Hollister was the only shopping that was absolutely required by several of our visitors (for their kids).
Yuengling was the beer of choice over the week.
Singing the Same Hymn
The biggest change we made to the itinerary was to collapse the Friday afternoon schedule to allow our visitors a chance to meet to discuss what they had learned and to put together an action plan for when they returned to Ireland so that the momentum built over the week would not leak away once they returned home.
Our visitors were amazed by the commonality of purpose and cohesiveness of our business, academic and government bodies.  As they summed it up, we all "sing the same hymn off the same sheet".  Probably their biggest takeaway.
"Vision and co-operation over many years have resulted in Cary in being the finest place to live, work and play in the Western world." – Brian Fitzgerald
Many Thanks
My thanks to the many Cary volunteers, elected officials, Cary Chamber staff, business people and Town staff who worked to make this visit a success.  I was not alone in the organizing and planning of this visit and I especially thank Jack Smith, Howard Johnson, Sandy Jordan, Jeff Ulma, Mícheál and Kathy Lynch and Karen and Ken George for going above and beyond to make our complicated itinerary possible.
Our guests are now at the airport and are beginning their journey back to their homes in Ireland.
After a short nap, I put on the kettle for a pot of scalding hot tea – time to restart my routine.
———————————————————————————————————–
News coverage on CaryCitizen is sponsored in part by HumSub, presenting Diwali 2012 on Saturday, October 20.
https://carycitizenarchive.com/wp-content/uploads/2012/10/sister-cities-cary.jpg
350
600
Community Contributor
https://carycitizenarchive.com/wp-content/uploads/2020/03/cc-archive-logo-450-v3.png
Community Contributor
2012-10-10 10:18:05
2012-10-10 10:18:05
The Week the Irish Came to Town