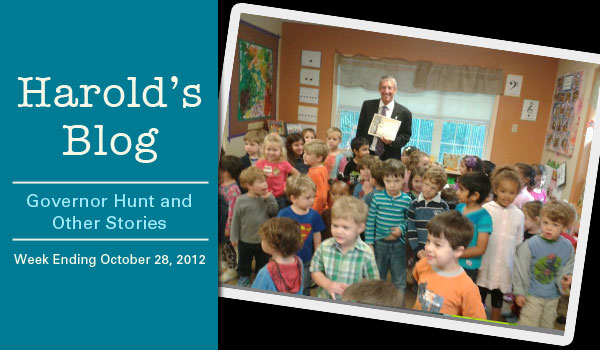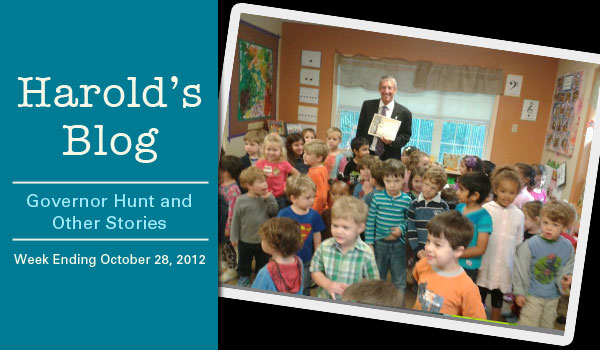 From the blog of Cary Mayor Harold Weinbrecht. 
Cary, NC – This week turned out to be busier than I thought with election events adding to my schedule.
Monday
Monday I started by preparing for Thursday's regularly scheduled council meeting by calling council members for questions or concerns about the agenda. I was able to contact most of the council members and the issues were minor. Later in the day I met with staff and the Mayor Pro-Tem to go over the agenda. In addition to the Mayor Pro-Tem and me, this meeting usually has a minimum of the town manager, the assistant town manager, the town attorney, the town clerk, the director of planning, the director of engineering, and our budget director. As we went over the agenda we identified the Herndon Burt rezoning case as one that might draw public input. My prediction for the Thursday's meeting end was 10:30.
Tuesday
Tuesday I joined council members Smith and Bush to tour the Inside Wade development near the PNC arena. This type of development is being proposed at the Wake Med site off Cary Town Boulevard. My take was that this was a very high end development even though it was dense. It had a range of product types including 3200 square foot single family homes, small single family homes, large 2200 square foot condos, and small condos. And there was a variety of models for each product. The developers and designers paid careful attention to walkability and recreation. In addition to the pool and recreation center they created several mini parks. In my opinion it created a very relaxing atmosphere even though we were right next to the interstate. I noticed the residents taking advantage of the walkways, pocket parks, and other amenities. The development seemed to be populated mostly by young adults and singles.
Wednesday
Wednesday I attended a fundraiser for former Cary Council member and friend Erv Portman who is running for State Senate. The event was well attended and included some big names such as former Governor Jim Hunt, Congressman Price, Mayors McFarlane and Holcombe, and several state legislators.
In my brief conversation with former Governor Hunt, he said that he used to live in Cary in a trailer park in 1960 near US 1. I assume he meant the one off Walnut Street. He said he cast his first votes ever while being a resident there and they were for Jack Kennedy and Terry Sanford. Wow! There is some history.
The event went very well and I had the honor and privilege of introducing Erv Portman. I enthusiastically endorse Erv and think he will do great things for this state.
http://www.youtube.com/watch?v=UrEB6LK3Fi4&feature=plcp
Thursday
Thursday's first meeting was a follow-up work session on what we need from our advisory boards and commissions. From our discussion it was clear that there will be a bigger emphasis on communications and technology in the future.
Thursday's council meeting was a long one. The Public Hearing for the Herndon Burt property took approximately two hours. This was one of five public hearings. A sixth public hearing was a quasi-judicial public hearing appealing a staff decision to require the developer to fill in a creek crossing to maintain road connectivity. I believe this was a no-brainer for the council as we unanimously approved the waiver to not require the connectivity. Other decisions included the approval of two rezonings.  The first was the Hyde property on Green Level Church Road. This approval came after the adjacent neighborhood removed their protest and recommended the council approve. The second was a rezoning of a property, which will likely be the relocation of Stone School Supply, at the corner of Chapel Hill and Trinity Roads. In other decisions the council decided that renaming of an undeveloped extension of Highcroft Road should come back with options for council to consider. The council meeting ended at 11:15.
Friday
Friday I had the privilege of being a celebrity reader at the Grove School of Cary. I read to a large group of children from a little over a year old to pre-kindergarten. They were amazingly sweet kids and one actually came up and gave me a hug. After the reading I toured the facility which is a premium version of a child care facility. Some of the interesting facts were that classrooms had a smart board in addition to exposing kids to computers. They also had their own greenhouse and planted crops which they would eventually prepare and eat. I had a great time and thank the staff for their wonderful hospitality.
Saturday
Saturday I attended a political "get out the vote" event for Indian-Americans at Bond Park. I was joined by Mayor Holcombe and several candidates for office. Morrisville has about 25% foreign born citizens and Cary has roughly 18%. We are truly a diverse region and it is very encouraging to see these folks interested in taking their citizenship seriously and voting.
Sunday
Sunday I had the pleasure of attending the annual awards ceremony of the Cary Chapter of Teen Corps. Teen Corps is a service organization who local chapter has volunteered over 1100 hours this year. I had the privilege of giving a few remarks and handing out awards. A special moment in my presentation was the awarding of the Presidential Volunteer Service Award which is a lifetime award that requires more than 4000 hours of volunteer service. Diane Donnelly has volunteer 5165 hours (so far). She has been a great asset to our community and is one of the reasons Cary is such a great place to live.
Emails from Staff
In emails from staff Cary was named a 2012 North Carolina Outstanding Traffic Safe Community by AAA Carolinas Foundation for Traffic Safety.
Staff also sent out the quarterly report which included the following notable items:
As of October 1, 2012, the Town of Cary's population is estimated at 142,910, an increase of 2,704 people (+1.93%) in the last year (since the October 1, 2011 estimate).  Cary's population has increased by 7,646 people (+5.65%) since the last U.S. Census on April 01, 2010.
Cary grew by 115 acres this past quarter through annexation of Town owned land bringing the size of Cary to 35,886- acres (56.07 square miles).
Cary issued 204 single family permits in July-August 2012, trailing Raleigh's 239 permits. After Cary, the next highest total was 93 in Wake Forest.
Our three major sports venues are estimated to generate over $6 million in economic impact this year.
Design for the expansion of Cary's water plant is 75% complete.  The project will expand the facility's treatment capacity from 40 to 56 million gallons per day.
Final construction plans have been completed and the bid awarded for the downtown.
Chatham Street improvements are scheduled to be completed concurrent with theater in the winter of 2013.
The first step in the construction of a private hotel in downtown Cary was approved on October 15, 2012.  The hotel will have 45 rooms and be located at Academy and park Street. Work is expected to start in the middle of 2013.
The Jones House is being restored under the Secretary of Interior Standards for Historic Structures and is anticipated to be leased to a private operator of a coffee shop by the spring of 2012.
All eight of the major construction contracts of the Western Wake Regional Wastewater Management facilities are now in the construction phase.
We have received a hybrid trash truck through a grant from Triangle J COG Blue Skies and are in on-going evaluation mode.  Cary is the first municipality in NC and the 5th in the U.S. to evaluate this technology.
Fire Station 8 construction is approximately 35% complete. Target date for completed construction is April 17, 2013.
Project PHOENIX crime statistics show an overall decrease in crime of 16%, crimes include murder, rape, robbery, burglary, larceny (except shoplifting), aggravated assault, arson, motor vehicle theft, sex offense, simple assault, drug violation, vandalism, weapons offense, and disorderly conduct were down 28%.
Mailbag
Emails from citizens this week included a complaint about the downtown movie theater cost overrun, suggestions to support and oppose several rezonings, a request to open a dead end road, and a complaint about my votes were creating sprawl.
Next Week
Next week should be a light week with a few meetings and the Cary Band Day competition.
Get in Touch
Well that is all for this week. My next post will be on Sunday November 4th. Please feel free to email me with a comment. Email all Town of Cary questions or comments to Harold.Weinbrecht@townofcary.org. Email personal comments to augustanat@mindspring.com.
https://carycitizenarchive.com/wp-content/uploads/2012/10/cary-mayor-weinbrecht-1028.jpg
350
600
Harold Weinbrecht
https://carycitizenarchive.com/wp-content/uploads/2020/03/cc-archive-logo-450-v3.png
Harold Weinbrecht
2012-10-29 16:15:32
2016-01-09 11:58:33
Harold's Blog: Governor Hunt and Other Stories