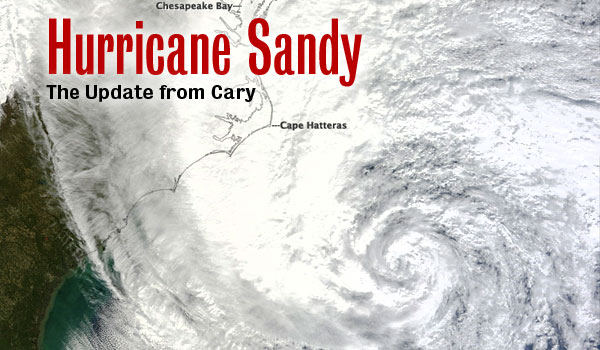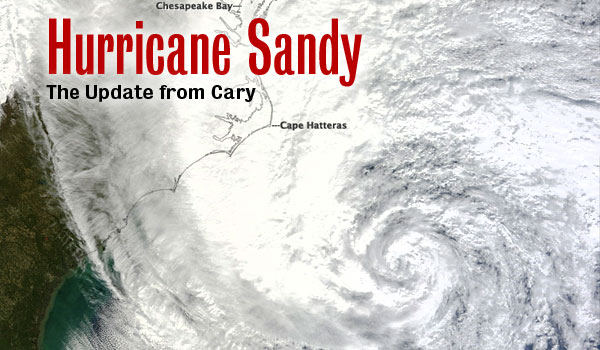 Story by Hal Goodtree. Satellite photo by NASA.
Cary, NC – Sometimes, the weatherman makes a big deal about a storm that never materializes. This was not one of those times. Here's an update on Hurricane Sandy from the perspective of Cary, NC.
Hurricane Sandy: The Big Picture
Hurricane Sandy plowed ashore last night in Coastal New Jersey. Winds and low pressure whipped a tidal surge into New York City to the north.
Manhattan is a mess. An explosion at a power sub-station on 14th Street knocked out power to much of lower Manhattan. Battery Park was under water including the 911 Memorial.
Subways and tunnels were flooded with water and more than 600,000 people lost power.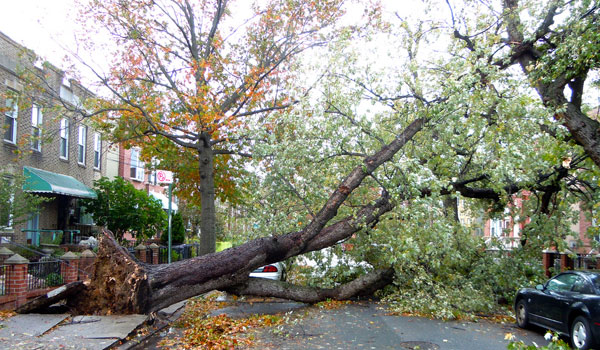 Photo by Karl in Astoria, Queens.
In Breezy Point, Queens, fire engulfed 80 buildings during the night. Miraculously, no fatalities were reported.
Severe damage marks the coastline of New Jersey and New England. The storm continues to lumber to the northeast, headed to Canada. So far, 66 fatalities have been reported related to the storm.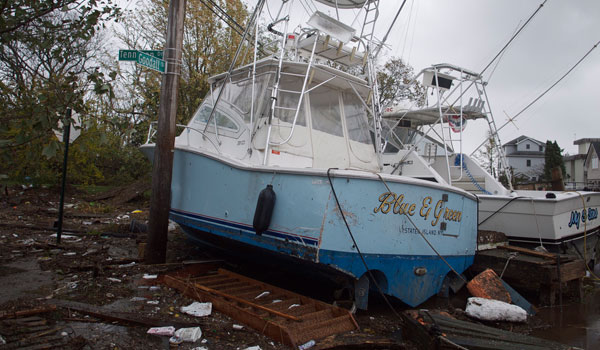 Photo by Rob Gross in Staten Island, NY.
Hurricane Sandy: North Carolina
On Monday, the storm grazed the Outer Banks of North Carolina, damaging parts of Highway 12.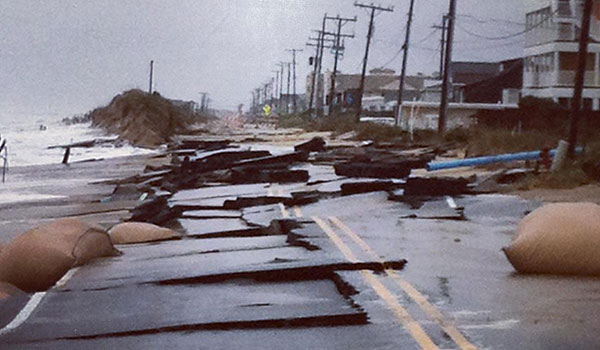 Photo by dedhed1950 near Kitty Hawk, NC.
Also Monday, the tall ship HMS Bounty was abandoned in high seas off the coast of Hatteras. 14 were rescued, 1 person is dead and another missing.
Sandy is a large storm, and the outer band of winds is supposed to bring up to a foot of snow to the Appalachians on Tuesday evening.
Here in Cary
While Hurricane Sandy largely passed by Cary, many of us have friends and family in New York.
The Cary High School Band received notice on Tuesday that their website would go dark – the server company in New York City was preparing for a loss of emergency power. Webmaster at CaryBand.org passed along this email from their web hosting provider:
Note from Squarespace to hosting customers including CaryBand.org:
Downtime Expected Due to Sandy
Everyone, I have some unfortunate news to share.
Our primary data center, Peer1, in Lower Manhattan lost power yesterday at about 4:30PM local time. At that time, we smoothly made the transition to generator power and took comfort over the fact that we had enough fuel to last three to four days. (Peer1 stayed online during the last 3 major natural disasters in the area, including a blackout that lasted for days.)
At 8:30PM yesterday, we received reports that the lobby in the data center's building was beginning to take on water. By 10:30PM, as is sadly the case in most of Lower Manhattan, Peer1's basement had experienced serious flooding. At 5AM, we learned our data center's fuel pumps and fuel tanks were completely flooded and unable to deliver any more fuel. At 8AM, they reported that the generators would be able to run for a maximum of four more hours.
Unfortunately, this means that Squarespace will be offline soon (our estimate being at 12PM today). Be assured that while this will impact our availability, there is no chance of data loss or any other permanent effects. We have simply run out of power, backup power, and cannot access our fuel in a flooded basement.
Our teams have been working tirelessly on contingency plans. We are working to bring the Squarespace systems back online as soon as possible. As you have probably read, all bridges and tunnels into and out of Manhattan are closed and large portions of the city remain without power. We will do everything in our power to get Squarespace running as soon as possible, and we will remain online for as long as it is safe.
Squarespace support will remain available 24/7 during this downtime. We will post updates to Twitter via @squarespacehelp and urge you to follow us there.
Our hearts go out to the many people who have lost their lives in this terrible tragedy and also to those who continue to suffer through the consequences of this historic storm.
Thank you for your understanding.
As of post time, CaryBand.org website was still up, so maybe all worked for the best.
By the way: Cary Band Day is this Saturday, November 3, 2012. It is scheduled to go as usual in Downtown Cary.
Do Something: American Red Cross
Many private and public organizations are on the scene or mobilizing forces to begin the cleanup. If you'd like to help, consider donating to your favorite relief organization or visit American Red Cross.
https://carycitizenarchive.com/wp-content/uploads/2012/10/hurricane-sandy-1.jpg
350
600
Hal Goodtree
https://carycitizenarchive.com/wp-content/uploads/2020/03/cc-archive-logo-450-v3.png
Hal Goodtree
2012-10-30 14:45:20
2012-10-30 18:05:45
Hurricane Sandy: The Update from Cary