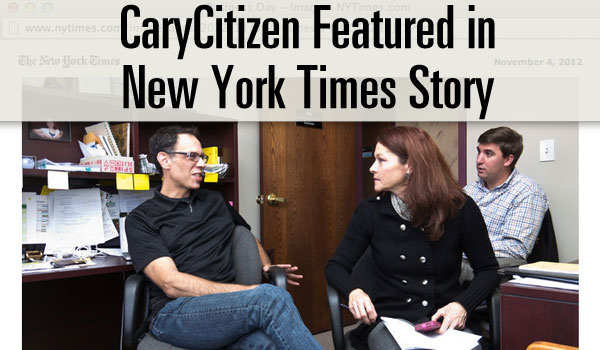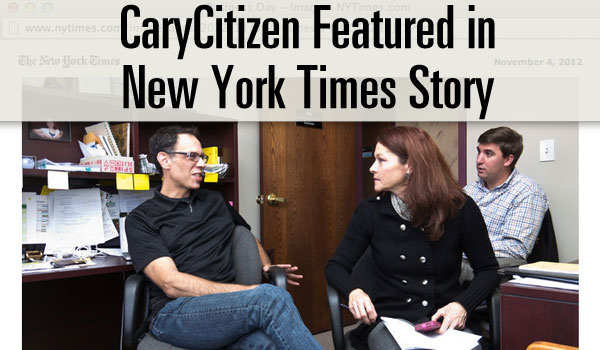 Photo by Brooke Meyer for The New York Times.
Cary, NC – It's a good day when you wake up and find your picture in the Business section of The New York Times. That's what happened to CaryCitizen this past Sunday.
Google Casts a Big Shadow on Smaller Web Sites
The story, Google Casts a Big Shadow on Smaller Web Sites, was written by Steve Lohr and Claire Cain Miller. It appeared on the front page of the Sunday Times Business section.
"Claire called me over a year ago," said CaryCitizen Publisher Hal Goodtree. "The story had been in the works for a while."
The article detailed the enormous power and influence Google wields, especially in the area of new media.
"The relationship between Google and Web sites, publishers and advertisers often seems lopsided, if not unfair." – NY Times
Why CaryCitizen?
"Many local advertisers have trouble understanding what we do," said Goodtree. "But in the world of media, we're well-known as one of the more successful hyperlocals in the country."
In February of 2011, CaryCitizen was stripped of its place in Google News along with most other "blogs" across the U.S. "We clearly fit their definition of news and had been accredited since September of 2009," Goodtree said.
He wrote to Google and began combing bulletin boards set up by hyperlocal publishers. "It happened to everybody," Goodtree said, "but no one had received an explanation."
On August 1, 2011, Goodtree got an email from Google:
We recently reviewed your site again and have decided to add it to Google News once more. We apologize for any previous inconvenience and appreciate your patience. – email from Google News to CaryCitizen on 8/1/2011
The news that CaryCitizen had been reinstated – and received an apology from Google – swept the hyperlocal scene. "Everybody knew about it," Goodtree confirmed. One by one, other hyperlocals were returned to Google News.
"That's how The New York Times found us," said Goodtree, "on a bulletin board for Google News publishers."
Quick We Need a Picture
"Last week, I got an email from the photo editor of the Business Section," said Goodtree. "He wanted to send a photographer to take our picture."
"I told him we had a crack staff of photographers and asked if he would he like us to take the picture," Goodtree continued. Brooke Meyer took the picture at Cary Innovation Center. His photo credit appears in the Times.
Legit
"Media has power, even small media like CaryCitizen," said Goodtree. "But when The New York Times talks about you, it's a big deal. It does have a legitimizing effect."
News sources including the Huffington Post, Techmeme, The Pittsburgh Gazette and The Sydney (Australia) Morning Herald all picked up the story.
Associate Publisher Lindsey Chester and Media Manager Jimmy Orban were also in the Times photograph.
"We got emails and comments from friends all around the country," said Goodtree. "It's pretty cool."
https://carycitizenarchive.com/wp-content/uploads/2012/11/ny-times-carycitizen.jpg
350
600
Staff
https://carycitizenarchive.com/wp-content/uploads/2020/03/cc-archive-logo-450-v3.png
Staff
2012-11-05 10:46:03
2012-11-05 10:46:03
CaryCitizen Featured in New York Times Story