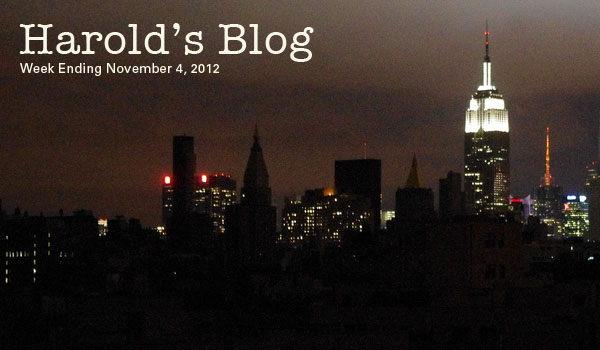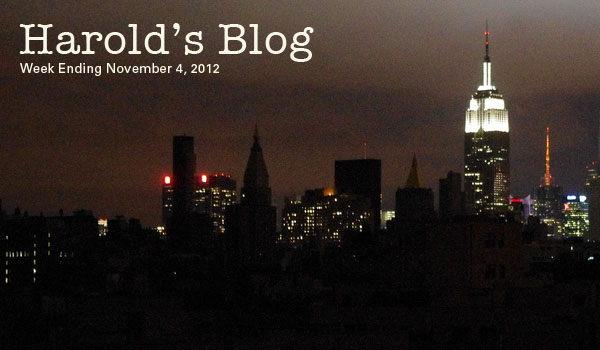 From the blog of Cary Mayor Harold Weinbrecht. Photo by David Shankbone.
Cary, NC – This week was supposed to be slow, calm week with very few meetings and events. Instead events in New York created a stressful time for my family and of course thousands of others. My thoughts and prayers go out to the friends and relatives of those that lost love ones, property and those that continue to suffer as a result of this storm.
Trust for Public Land
My week began on Tuesday when I, along with the town manager, met with a representative for the Trust for Public Land. The Trust for Public Land conserves land for parks, gardens, and other natural places, with a goal of ensuring livable communities for future generations. They are a national leader in city park creation, state and local conservation funding, and using GIS for conservation planning. The purpose of this meeting was to follow up on an idea presented several months ago to partner with Chatham County on a joint school and park site. At that time we asked them to wait until Cary and Chatham County had a joint land use plan. Since that plan was approved a few months ago they were meeting with us again. At this meeting we asked them to provide more information and options for consideration. They will also be reaching out to other elected officials.
Later Tuesday I met with the town manager to go over several issues. We talked at length about the downtown theater and the process for estimating the cost of the project. We also talked about staff-council communications and several other issues.
My Daughter in Manhattan
[Begin personal story]
Wednesday my wife and I found out that my daughter who resides in lower Manhattan was evacuated. Her entire 17 story dorm building was evacuated to the Pace University auditorium. They had no hot water, very little food or water, and slept on a cold floor. With the situation in lower Manhattan looking dire, we tried to find her a way home. There were so many people locally that were contacting friends in New York to help. And I was amazed at how many strangers helped my daughter during this time. From a lady who invited my daughter into her home, a cabby that waived a fare, and to a very kind gentleman from SAS who waited for hours to drive my daughter home. God bless each and every one of them.
Since that time I have watched the death and destruction unfold on TV and I realize how blessed my daughter was to have survived. The positive is that the folks in the Northeast have recovered from tragedies before and their resolve will help them do it again.
[End personal story]
Cary Band Day
Saturday I had the pleasure to welcome everyone to the 54th annual Cary Band Day parade. It was a good time and it was nice to see local bands as well as bands from far away as Virginia march. Unfortunately not all Cary bands march in this parade. It would be special if we could get all the Cary bands to participate: Cary, Green Hope, Middle Creek, and Panther Creek. If you are a band booster to one of these schools that did not participate PLEASE convince them to do so.
Saturday night I had the privilege to join the first Cary High school band director, Jimmy Burns, and former Cary mayor Koka Booth in the reviewing section to watch bands compete. After the competition I had the honor of participating in the award ceremony including giving the trophy to the grand champion.
Sunday in the Park with Bill
Sunday my daughter (refugee from Manhattan) and I attended a political rally with Bill Clinton. It was a who's who in the Democratic Party. Headliners included Governor Purdue, former Governor Hunt, Senator Kay Hagan, Congressman David Price, State Senator Blue, Mayor McFarlane, and many others. With these heavyweights I was relegated to the preferred mosh pit with the NC Secretary of State, NC Treasurer, and other dignitaries. Bill Clinton gave a great talk and injected a lot of humor. I was very impressed with his delivery and not using Teleprompters or notes. It is clear he has given this talk before. I also liked his style of using facts and figures which is more my style.
Emails from Staff
Emails from staff this week included plans in review as of October 25th. Plans added during the last month include:
37 senior units at Waldonwood at Cary Parkway and US 1.
A new cafeteria and 3-story classroom building along with improvements to existing athletics facility at Cary High School
A 16,500 square foot medical office building on Carpenter Fire Station Road.
294 apartments, 305,800 square foot of retail, restaurants, theater, and 140 room hotel at Parkside Town Commons located at Highway 55 and O'Kelly Chapel Road.
Mailbag
Emails from citizens this week include a complaint that I have a "cavalier money attitude", a request for traffic information at Cary Parkway and Evans, a complaint about a builder destroying landscaping, and several requests for meetings.
Next Week
Next week should be a slow week with just a few events and meetings. The highlight of course is Election Day on Tuesday, November 6th.
Get in Touch
Well that is all for this week. My next post will be on Sunday November 11th. Please feel free to email me with a comment. Email all Town of Cary questions or comments to Harold.Weinbrecht@townofcary.org. Email personal comments to augustanat@mindspring.com.
https://carycitizenarchive.com/wp-content/uploads/2012/11/cary-mayor-harold-weinbrecht-1104.jpg
350
600
Harold Weinbrecht
https://carycitizenarchive.com/wp-content/uploads/2020/03/cc-archive-logo-450-v3.png
Harold Weinbrecht
2012-11-05 16:15:24
2019-12-07 17:01:22
Harold's Blog: Sandy in Cary