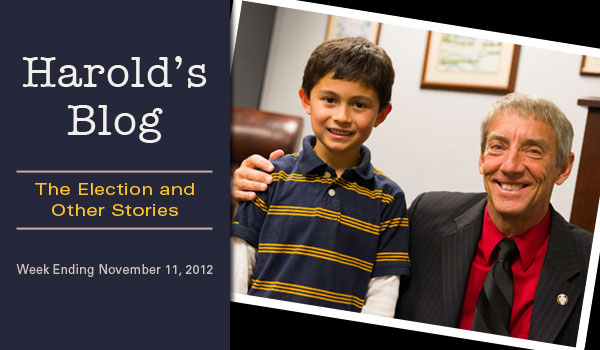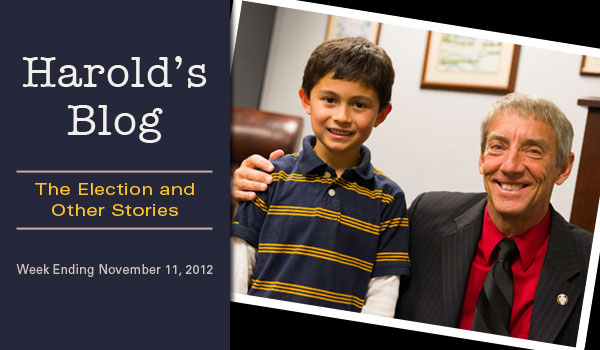 From the blog of Cary Mayor Harold Weinbrecht. Photo of Nash Brown with the Mayor.
Cary, NC – The week was dominated by pre-election hype and by the post-election withdrawal.
Monday: Student Interview
Monday I had the pleasure of being interviewed by a young man and his dad. His elementary school project was to do a timeline of someone's life and he chose mine.
He asked a series of questions and I provided information the best I could. Afterwards I gave him a tour of the council chambers and other offices.
It was very encouraging to see someone that young interested in public officials.
Tuesday: Election Day
Tuesday was Election Day. Since I live less than a half a mile from my precinct I decided to go with my normal routine of getting up between 5 and 5:30, doing weights and crunches, get dressed, and then heading out to vote.
I arrived at 6:40 and to my surprise there was a line of about 50 people outside the poll. I have been at every election at this precinct since it was created and have never seen that kind of line at 6:40. So this was definitely an historic day. I was able to cast my ballot after about 45 minutes which wasn't that bad.
Tuesday evening I stumped my home precinct for former councilman and my friend Erv Portman. Erv lost his bid for the NC Senate that night and with it North Carolina lost an opportunity to witness a great public servant in action.
I first met Erv when I appointed him to the Planning and Zoning Board after I was first elected on council. Over the years he was proven to be wise in his decision making. He led the charge to cut the Operations budget in 2008 because of the recession. While we didn't agree on all issues he always respected everyone's point of view.
It is my hope that he will use this time to rest and recuperate after over 10 years in public service. And that he will come back in serve in another capacity. God bless him for what he has done for Cary and this county.
Wednesday: Property Owners
Wednesday I met with property owners that surround the proposed rezoning for a multi-family development on Old Apex Road near Chatham Street. Since they have a valid protest petition, which will require six council members for approval, I wanted to understand their concerns.
They intend to continue to work with the developer for a solution that will work for all. I am very hopeful this will happen.
Wednesday I also had a brief telephone meeting with the town manager to go over issues. We discussed a request for future town participation in a regional event. We also discussed an ongoing multi-town issue.
Thursday: Answering Questions
Thursday I joined senior golfers and their spouses at a dinner. After dinner I basically held a mini town hall. Questions included traffic and intersection questions for High House – Davis Drive and Cary Parkway – High House, financial questions about the bond and re-evaluation, red-light cameras, and more. I answered questions for about 30 minutes before we adjourned.
A good time was had by all and I hope they invite me back.
Sunday: Children's Day
Sunday I had the privilege of welcoming everyone to the Children's Day celebration sponsored by Heritage India Association. Here is an excerpt from my comments:
"… As these kids explore Indian Heritage, know that what you are doing for them today is shaping all of our futures. Dancing, fashion shows, and art competitions are on the agenda, and while they'll be fun and exciting, these activities will also help in building leadership skills, boosting self-confidence, and encouraging socialization. All skills that our leaders of tomorrow need, and all skills that these children will build upon today. …"
Emails
Emails from citizens this week were mostly invitations.
Complaints included not requiring sprinklers, a repaving issue with a contractor, and construction noise at a development on Davis Drive and High House Roads.
Next Week
Next week will include a couple of long nights. Monday I will join those who are honoring veterans at the Golden Corral. Tuesday we will have a long work session and Thursday a long council meeting.
Get in Touch
Well that is all for this week. My next post will be on Sunday November 18th. Please feel free to email me with a comment. Email all Town of Cary questions or comments to Harold.Weinbrecht@townofcary.org. Email personal comments to augustanat@mindspring.com.
https://carycitizenarchive.com/wp-content/uploads/2012/11/cary-mayor-harold-weinbrecht-1111.jpg
350
600
Harold Weinbrecht
https://carycitizenarchive.com/wp-content/uploads/2020/03/cc-archive-logo-450-v3.png
Harold Weinbrecht
2012-11-12 16:22:09
2016-01-09 11:58:33
Harold's Blog: The Election and Other Stories