Review by Lindsey Chester, all photos by Brooke Meyer
Cary, NC – Cary Players have once again chosen a holiday chestnut to warm the heart. With it's theme of Family Love, A Christmas Story is a perfect entertainment choice to bring your family out to kick off your holiday season.
Everyone wants something this time of year – gifts, toys, happiness, or a good meal. In A Christmas Story, each character must put aside those wants to be happy.
Ralphie, the main character, played superbly by young actor Joseph Gaitens, wants a Red Red Ryder air rifle. His friends want sleds and swords and chemistry sets. Classmate Esther Jane wants Ralphie to like her. His Mom wants everyone to be happy. The Old Man his dad, wants to win a contest- any contest, and to eat a decent turkey dinner. His teacher, Miss Shields wants the kids to write well and leave good margins!
Director Dan Martschenko has done a marvelous job casting the leads for Cary Players' first full-scale production of this play in the Cary Arts Center.
Great Casting
The grownup Ralphie narrates  (Matt Schedler) in a melodious and somewhat sarcastic style that I thoroughly enjoyed.  He opens the play as he reminisces about growing up in Indiana on Lake Michigan. The audience is transported to a simpler time. An era of fake swords and cowboy outfits.  Ralphie dreams of the Red Ryder air rifle- the theme that runs throughout the show.
Family Central
Ralphie's family is central to all the action. His warm-hearted and forgiving Mother, Amber Ivie, is a lovely backdrop to the over-the-top, constantly cursing father, called The Old Man (Bill La Frankie). Ralphie's brother Randy, a bit of an unlikeable whiner is played by Austin Harger. As Christmas approaches, Ralphie and his friends ponder what gifts they will buy their family and what they hope themselves to find under the tree. Ralphie hatches a plan to convince his parents to purchase the air rifle, and that he won't "shoot his eye out".
Ralphie's friends Flick (Nick Larkins) and Schawrtz (Will Hager) are great counterparts to the enterprising Ralphie. They offered much comic relief and the youngsters who played them did a superb job.
Favorite moments
There are several unexpected sequences of Ralphie's daydreams used throughout to great effect.  In one such instance Ralphie and his friends are lost in the swamps of Indiana. The Red Ryder air rifle in his possession helps to rescue them. He takes aim against fierce beasts, directs everyone through the wood with the the compass and even tells them the time with the clock. All hilarious with great costumes.
In another funny scene, Ralphie's teacher, Miss Shields, is turned into a witch after she refuses to see the brilliance of his Christmas essay. Red Ryder the Cowboy appears several times played superbly by Cary Players veteran, Tracy Fulghum,  who's hilarious in chaps and red cowboy hat. He gives Ralphie all kinds of tough guy advice.
Another hilarious bit are the Bumpus Hounds, the neighbors' pack of unruly dogs, who torment the Old Man daily but are only heard off-stage until the final scene when they make their scene stealing appearance.
Set Reaches New Heights
The design crew makes astounding use of the stage in the Cary Arts Center, and actually built an abbreviated  second floor for lead character Ralphie's bedroom. Other set design highlights include the wall of Goldblatt's department store and a car that was built reminiscent of "Chitty Chitty Bang Bang". The recreation of a 1940's home is quite cozy and convincing complete with kitchen cabinets and front door and off stage "furnace" that is always causgin the Old Man heartburn.
Ralphie and the audience learn that its not what you get at Christmas as much as the love you share during the season that matters. That message never gets old.
A Christmas Story has a very limited engagement at the Cary Arts Center (which is having a very busy season!). If you want to catch the show, tickets are available for the Sunday Matinee and the Monday evening performance.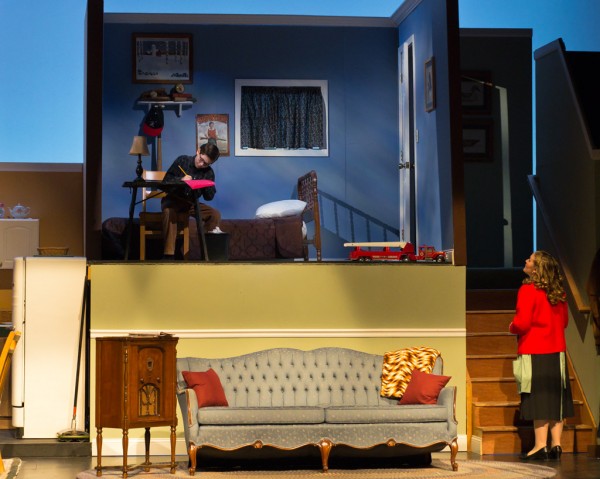 Event Info
A Christmas Story
presented by the Cary Players
Monday Dec 3, 2012
7:30pm
Cary Arts Center
101 Dry Ave.
Downtown Cary NC
https://carycitizenarchive.com/wp-content/uploads/2012/11/ralphie-rifle.jpg
332
548
Lindsey Chester
https://carycitizenarchive.com/wp-content/uploads/2020/03/cc-archive-logo-450-v3.png
Lindsey Chester
2012-12-02 19:07:14
2012-12-04 10:54:45
Theater: Warm Your Heart with a Christmas Classic