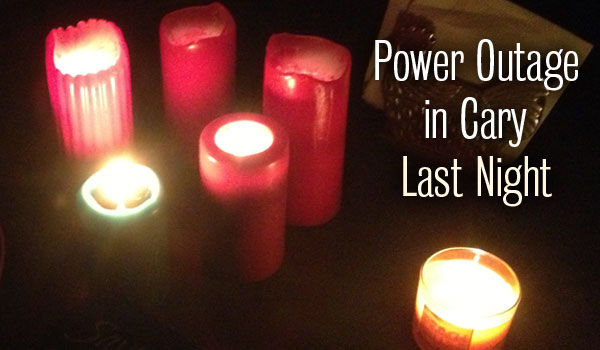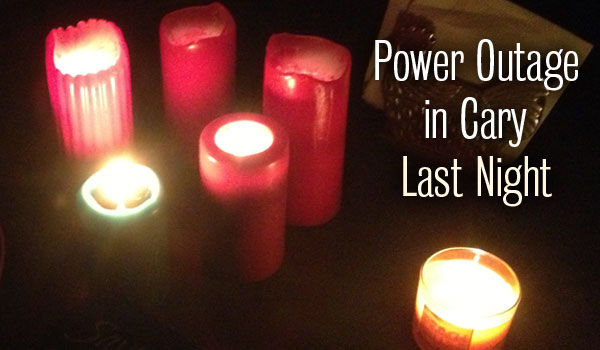 Story and candlelight iPhone picture by Hal Goodtree.
Cary, NC – I was at the Tech Task Force meeting in downtown last night. Naturally, everybody was on their laptops, cell phones and iPads during the entire meeting. Around 8:40 PM, Twitter and Facebook exploded with news of a power outage in central-west Cary.
Outage Hits 3,000 in Cary
"Let me see the map," I said to Lori Bush, who was sitting next to me. She already had the Progress Energy Bing Map overlay of the outage area.
Yep, my house was dark. Lori's, too. And several other members of the TTF.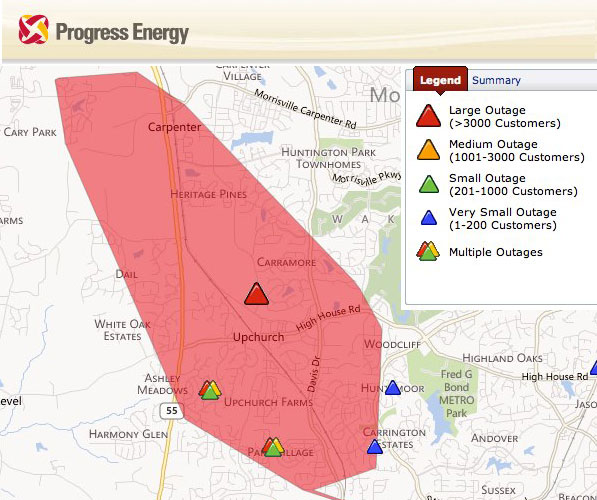 At first, we heard it was a road construction mishap, but that turned out to be false. Progress Energy reported equipment failure.
At's it's peak, the blackout was reported to have affected about 3,000 people.
Driving home from Town Hall, one side of Cary Parkway near my house had lights; the other didn't.
I turned into my neighborhood.
Lots of Candles
Lindsey had gotten home with our younger daughter around 8:30. They'd just popped an frozen pizza in the oven. Poof! – out went the lights.
By the time I got home around 10 PM, the house was awash in candles. I never knew we had so many candles. Younger daughter had taken a bath by candlelight. The temperature outside was about 34 degrees and falling.
I had a vodka and some saltines.
Power Restored
Our power was restored around 11:45 PM. The heat came back on and we blew out the candles.
Other neighborhoods remained dark for much of the night. By daybreak, power had been mostly restored. Green Hope High School started the day without power, but the lights came on around 9:40 AM.
Davis Drive Middle and Elementary were also reported to have had intermittent power early in the class day.
Around 11:00 AM, Progress Energy tweeted that power was fully restored.
Thanks for your patience, Cary. The outages last night & this morning were due to an equipment failure. Now fully restored.
Town of Cary was also active on Twitter, answering questions and relaying information. Progress Energy gave them a tip of the hat:
Many thanks to TownofCary for all the great updates & sharing our outage info and map! http://ow.ly/fGhDz
For me, the blackout lasted about an hour. Made me think about my friends and relatives in New York and New Jersey.
I turned out the lights downstairs and went to bed.
——————————————————————————————-——————-——————-——————-
News coverage on CaryCitizen is sponsored in part by Once Upon a Child in Cary, buyers and sellers of gently used cloths, toys and equipment.
https://carycitizenarchive.com/wp-content/uploads/2012/11/power-outage-cary.jpg
350
600
Hal Goodtree
https://carycitizenarchive.com/wp-content/uploads/2020/03/cc-archive-logo-450-v3.png
Hal Goodtree
2012-11-29 15:48:46
2012-11-29 15:48:46
Power Outage in Cary Last Night