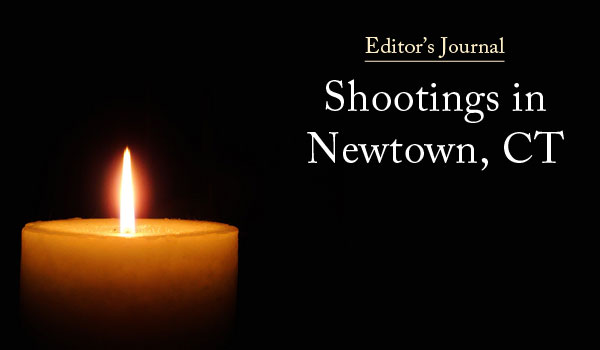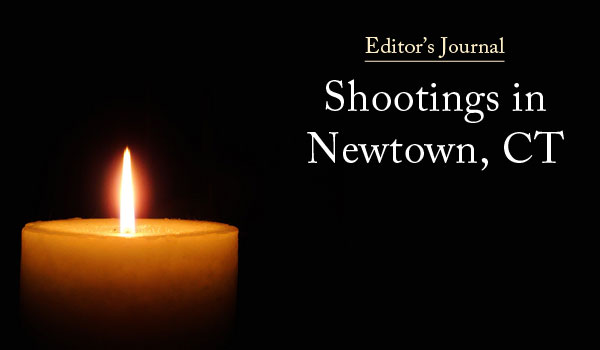 Cary, NC – This is not a story I wanted to write. Our mission is to talk about Cary. But the shootings on Friday at Sandy Hook Elementary in Newtown, CT have touched everyone across the U.S., in every big city and small town.
Shootings in Newtown, CT
As most everyone in America now knows (and just about everybody else on the planet with an internet connection or a cell phone), a young man named Adam Lanza killed his mother and entered a nearby school, killing 20 children and 6 adults.
The news moved faster than the facts and no one knows the whole story at this time.
Why?
Humans want to know why – why do people do senseless things? Why did a post-grad student light up a Batman movie? Why did another individual shoot a Congresswoman?
Why did Adam Lanza kill 6 and 7 year olds?
This need to know "why" is a basic human instinct. We want to know how we can protect ourselves, our families and our own town.
There is no answer to the why question, at least not yet. There may never be an answer.
What Can We Do?
The next thing people want to know is what they can do.
My friends on Facebook and Twitter have been talking about "gun control" and "gun rights," two different sides of the same issue. Yet we know that the majority of guns used in massacres are legally purchased. We may need to tighten up guns laws, but that probably won't stop mass murderers.
Still, we can heal one wound if the NRA leads the discussion on the issues of permits, magazine capacity, ammunition and weaponry. For too long, the NRA has made all this a partisan issue. It's become an American issue. It's time to step up to the plate.
Other friends have talked about mental illness. Surely, we can (and should) do more for the mentally ill. But de-stigmatizing mental illness is part of the problem. Can we change that? As long as shame is associated with mental illnesses, families will hide their loved ones from scrutiny and sometimes even help.
Memorials and Charities
Memorials and charities have sprung up around the nation. Regarding charities, most are legit, but cynical profiteers always pop up in the wake of every tragedy.  Be careful where you send your money.
The Town of Newtown posted a link to a Sandy Hook Elementary Support Fund to aid families of the victims. Mashable posted a list of Sandy Hook Elementary related charities, and Patch.com has listed local efforts like bringing in therapy dogs and organizing a concert.
Newtown Youth and Family Services offers outreach including emergency therapy services. Newton Volunteer Ambulance Corps provides EMS to the community.
Saturday Night Live took a break from comedy last night to air a moving rendition of Silent Night sung by the New York City Children's Chorus in memory of the victims.
Facebook Scams
Facebook pages about the tragedy have proliferated like weeds. Beware.
One of the largest, with over 100,000 fans, was registered back in August. How is that possible?
Might be innocuous, or even heartfelt. Or not. Either way, the owner of the page (not listed) now has access to more than 100,000 people.
Do not under any circumstances donate via a link on Facebook. Go to the links up above in this story or to a trusted source and make sure your funds go to a legitimate organization.
Sad Christmas
Coming in the midst of the holiday season, the tragedy at Sandy Hook Elementary throws a bittersweet cast on what is usually the "happiest time of the year." The President of the United States is traveling to Newtown this evening. It is the fourth time in his Presidency that he has had to make such a trip.
Here in Cary, we'll hug our children, perhaps make a donation or construct a personal memorial. It's insufficient, but it's the best we can do.
————————————————————————-
Photo by Shawn Carpenter.
https://carycitizenarchive.com/wp-content/uploads/2012/12/newton-ct-sandy-hook.jpg
350
600
Hal Goodtree
https://carycitizenarchive.com/wp-content/uploads/2020/03/cc-archive-logo-450-v3.png
Hal Goodtree
2012-12-16 15:16:39
2019-12-08 10:09:35
Editor's Journal: Shootings in Newtown, CT