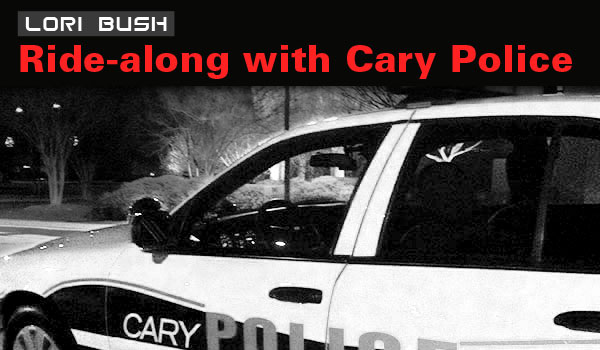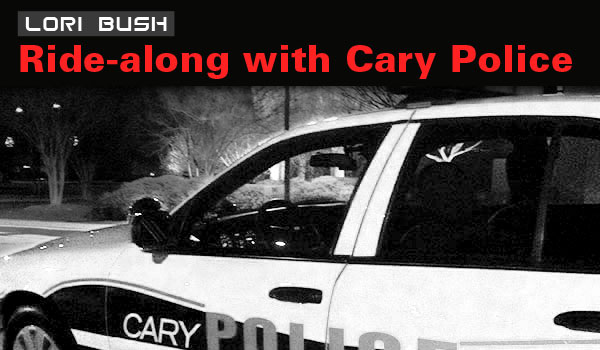 Story by Lori Bush. Republished from her blog. Photos by Lori Bush except as noted.
Cary, NC – Last week I got the chance to ride up front and "shot gun" in what is often referred to as a ride along with a Cary Police officer.  For me, it was an opportunity to get a behind-the-scenes look at the day (or in this case, evening) of a Cary Police Officer.  I came away with more than that. I left my evening with a real appreciation for the hard work of our officers, and the entire Police Department, and what they do to keep Cary one of the safest places to live.
A Tour
My evening started with the GRAND tour of the Police department by Lieutenant Jerry McCormick.  We started in the 9-1-1 Communications Center where, you guessed it, your 911 calls are sent.
They've seen a HUGE increase in the number of calls to the center when calls started to require a 10-digit phone number.  (Raise your hand if you have recently dialed 911 by mistake – instead of 919.  My hand is up!)  The most important thing to do is to STAY ON THE LINE if you make that mistake.  That allows the 911 operators to make sure that it was REALLY a mistake and clear the call. Otherwise, you should probably expect a call back from the operator – and just remember that takes time away from them to answer an emergency call.  So stay on the line if you make that mistake.
I was impressed watching the staff manage the calls, with the TVs showing the news on the screens at the front of the room, while they answered calls at their stations.  In front of them was a mapping system allowing them to see the locations of the Fire trucks and other emergency vehicles to more accurately and efficiently deploy the right vehicles to the needed locations, saving vital response time.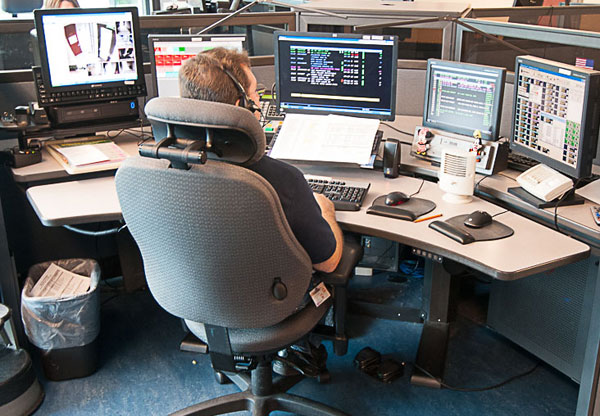 Photo from Town of Cary
Also during the tour we saw the Citizens Assisting Police (CAP) team members. I wasn't aware of this program till then – but it's one of several community services run by the Police Department.  These volunteers help out the Cary PD in a number of ways, whether it's providing additional security at events, helping with clerical duties or providing other services.  They don't carry guns or make arrests, but they are a great resource for the department.  If you are interested, you have to first complete the Citizens Police Academy.
We continued the tour in the interview rooms and finished by checking out the new Cary Police Cars and Motorcycles. The new Dodge Chargers are pretty slick looking – and they are more fuel-efficient which helps our tax dollars and us.
The Ride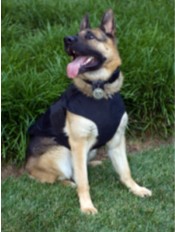 My host for the rest of the evening was Sergeant Jeremy Burgin. (That's not him, but his dog, Max.)  Sergeant Burgin has spent many years on the Cary Police force, much of his time in the K9 Unit with his dog, Max.  They were Cary's first K9 team (Max is retired and living with him and his family), and I loved hearing "Max stories."  Max has been a true Cary hero – finding missing and wanted people, sniffing out drugs and serving our community. Cary now has three K9 teams as part of the police department.
Our first "find" of the evening was a driver who had the misfortune of making an illegal U-Turn RIGHT IN FRONT of our police car.  You can imagine the look on their face when they saw the police lights and sirens in their rear-view mirror.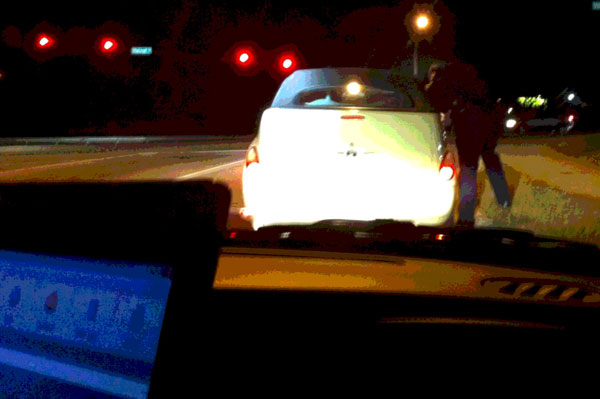 Missing Storm Grates
After that we headed to areas that have recently been hit with a series of robberies involving the storm water grates.  These grates are HEAVY – they have to be a few hundred pounds, and are in place to keep us all from falling into the storm drains along our curbs and gutters.  But apparently these grates are the latest item to steal for scrap metal and their removal is posing a real safety issue.  You can only imagine if a cyclist, dog walker or child were to fall into the gutter or drains because of these missing grates.  And, they are expensive.  So far, more than 30 have been stolen since July.  We drove through several of the areas hardest hit by these crime sprees – but we didn't see any grate thiefs.
If you have any information regarding these grates – make sure to call Crime Stoppers.
The In-Car System
I've always wondered about the computer system that is in the Police Car. From the outside, it looks pretty crammed full of technology – and it is!  There are systems to record the officer via video and audio, a computer system that gives the officer a view of what is happening around town, and the ability to hone in on an area, to see "hot spots" of activity.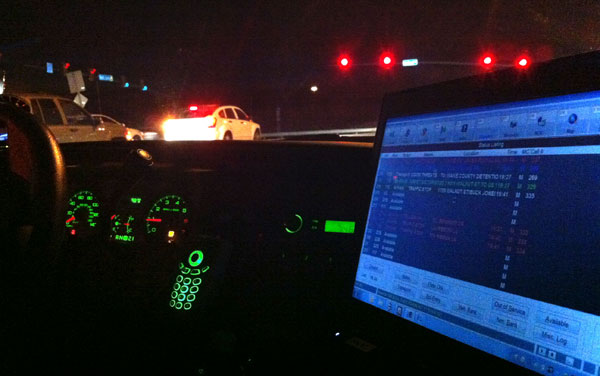 The idea of identifying "hot spots" isn't a new one – I remember reading about it and the "broken window theory" in "Leadership" by Rudy Giuliani.  Research has shown that by identifying and responding to crime hot spots, you can reduce the crime in not only that area, but also the surrounding areas.  It's interesting to see that hot spots aren't just about the type of service calls (they can be crime related, or not) but also around the time of the calls, and the day, as well as location (such as retail, neighborhood, etc.)
The different layers on the mapping system in the vehicle allowed us to see everything from violations, to gang members or known sexual offenders.  (All of this is public record and can be found on the Crime Data mapping page.)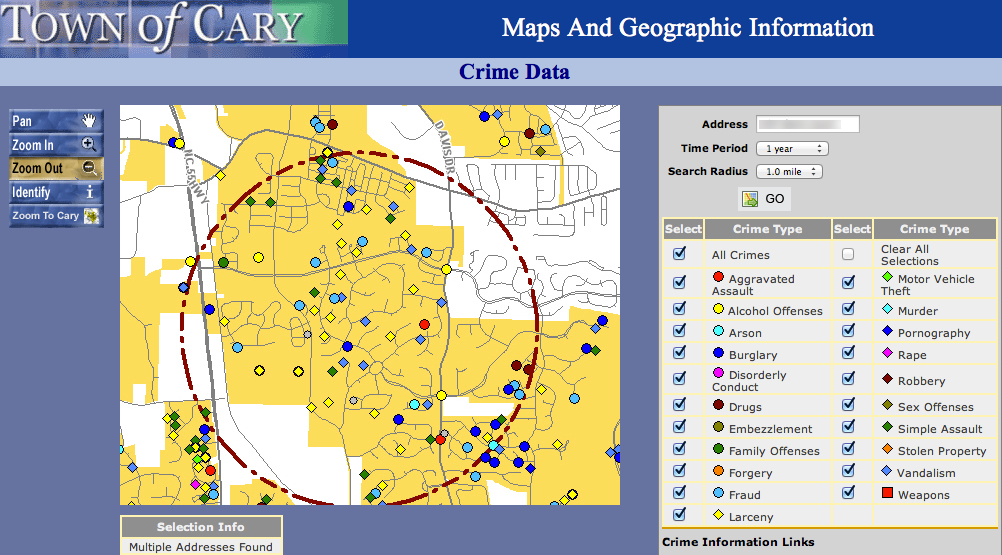 Final Violations
We drove all over Cary – on the lookout for any signs of disturbance.  It was Cary on a Thursday night, so there wasn't much going on.  We happened upon a driver that must've mistaken a curb for a bumpy left turn – missing the intersection by a significant amount.  (I think they call that "impaired driving.")  The driver was OK, but shaken, and shockingly missed the ravine and many many trees along the way.
After that, we saw one final issue.  What Sgt. Burgin referred to as a "popeye" – a vehicle with only a single headlight on.  Most of us don't notice when that happens – so I thought it was a great service to let the driver know, write it up and send them on their way.
Overall, it was a quiet Thursday evening driving around Cary.  And that's a good thing. 
https://carycitizenarchive.com/wp-content/uploads/2013/01/cary-police-1.jpg
350
600
Lori Bush
https://carycitizenarchive.com/wp-content/uploads/2020/03/cc-archive-logo-450-v3.png
Lori Bush
2013-01-09 14:03:53
2016-01-09 11:39:04
Lori Bush: Ride-Along with Cary Police