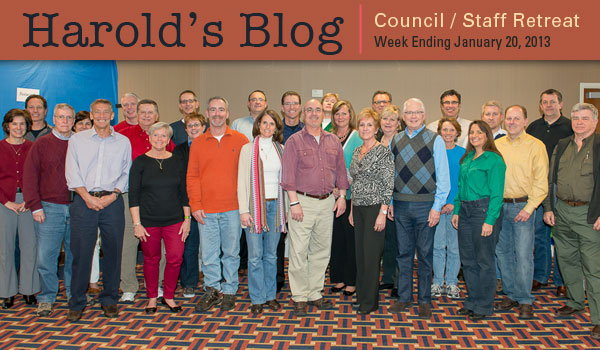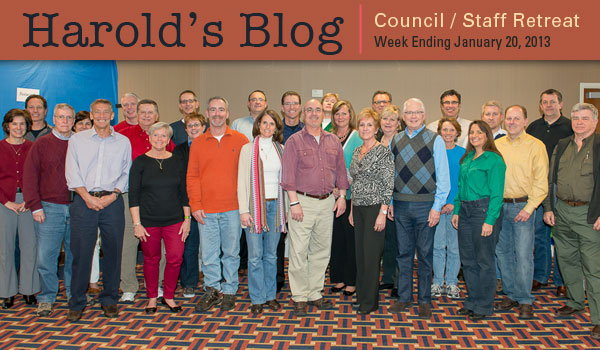 From the blog of Cary Mayor Harold Weinbrecht.
Cary, N.C. – This week's calendar was kept clear for the most part as the council and staff prepared for the annual retreat.
Regional Planning
My first meeting of the week was CAMPO (Capital Area Metropolitan Planning Organization) on Wednesday afternoon. There were several points of interest from this meeting:
New officers were elected: The Chair is Mayor Ronnie Williams of Garner and the Vice Chair is Mayor Dick Sears of Holly Springs
Ed Johnson, one of the key members of the CAMPO staff, is retiring after 40 years. He will delay his retirement until a decision has been made on the Wake Transit Plan. He wants a decision one way or another.
Regional Transportation Alliance is recommending Express lanes (includes HOV, HOT, etc). NCDOT Division 5 supports this and is investigating for I440 which is expected to be 4 lanes by 2016. According to information, it is easier to have the lanes and not use then as express than add them later. Thus the importance of designing with express lanes.
The Raleigh metropolitan area is one of two areas on the east coast without two interstates (the two digit interstates). There is a recommendation that Highway 64 become Interstate 44. I thought that was interesting.
A decision to use the Federal Locally Administered Projects Program (LAPP) funding for the Morrisville Parkway Interchange with I540 was tabled until the February meeting. Several mayors and CAMPO staff wanted a commitment in writing from the NCDOT Turnpike authority.
The meeting lasted a little over an hour.
Town Council/Staff Retreat
Thursday evening the Cary Town Council headed to New Bern for the annual council/staff retreat. This is a time where council and staff have all day intense sessions to set the direction of the town for the next few months. Interestingly there was no media there. Only two people, involved with development projects, were in the audience. Here are my notes and observations from each session:
Automated Water Meter System (Aquastar)
Cary has over 63,000 water meters. The new automated system will collect over 500 million data points a year.
Originally estimated to save $2.4 million now estimates are $10.2 million due to paying cash rather than using debt resulting in less interest expense.
The customer web portal is schedule to be available in March. This will allow customers to view hour by hour usage of their water. Council members were able to use the beta version to review our own accounts. I am proud to report that I have no leaks!
The customer web portal will be very robust and will include information such as temperatures to help manage water usage. In addition, each customer will be able to set thresholds and alerts for water usage which will interface with current media devices: smart phones, IPads, etc.
There were 1200 households in Cary using more than a thousand gallons a day in the month of December. Since December is not an irrigation month that probably means there are that many leaks. Wow! The web portal will allow many customers to quickly find problem areas.
Planning, Zoning, and Development Process (multiple sessions)
Council decided to make the Mixed Use Process the same as the Zoning Process. This means council will hold public hearings first and the Planning and Zoning Board will not hold public hearings first for Mixed Use Developments.
Comprehensive Plan Amendments and Rezonings should remain concurrent.
Administrative approval thresholds should be reviewed.
Council needs to decide whether Concept plans, which are not enforceable, should be allowed for information purposes.
Comprehensive Plan Amendments should include creation information for that area of the plan.
We will look for ways to make the process more transparent to help citizens more. One consideration includes holding staff facilitated public information sessions.
Cary's Aging Population
Retirement age citizens are Cary's fastest growing population
2000 Cary citizens turn retirement age every year
Retirement aged Cary citizens have needs for outdoor spaces, buildings, transportation, housing, social participation, civic participation and employment, respect and inclusion, better communication and information, and community and health services.
This change in demographics will have a significant impact on how we plan for the future.
Council expressed interest in creating a retirement aged issues council.
APFs (Adequate Public Facilities Ordinance) and TDFs (Transportation Development Fees)
A recent Supreme Court ruling has created a need to repeal the APFs. These were fees charged to developers to mitigate traffic impacts created by their development.
Cary does have explicit authority to charge TDFs. To minimize the loss of the APFs council will likely increase TDFs.
A new process without APFs will need to be created. In the interim council is only allowed to increase TDFs by a maximum of 9%. A new study and set of criteria will probably allow further increases when the new process is approved.
The development community is concerned mostly about delays for projects already in the pipeline. They believe that the interim process will cause delays, cost time and maybe customers. Council and staff are looking for solutions to minimize the burden of this change.
Council is scheduled to repeal the APF ordinance and increase TDFs at this Thursday's meeting. It was decided that we should table it for two weeks.
The New Normal
Cary has about 10,000 acres left for development. Surrounding municipalities have more Greenfield development and will experience more growth.
Cary's future development will be more infill and redevelopment. This will have an impact on our development processes of the future.
Economists say we may not get back to pre-recession levels of housing. The past few years of housing growth is the new normal
Cary's five year average in building permit fees, water development fees, sewer development fees and transportation development fees are much less than 2007.
Cary's growth percentage is decreasing because our actual population is higher and our developable land is decreasing.
Cary's sales tax revenue (about 20% of total revenue) is gradually increasing based on the five year average but is lower than 2007.
Cary's investment earnings (on fund balances for general and utility) are down $18 million dollars from 2008 which is about 9 cents on the tax rate. The good news is that the town has already adjusted operations accordingly.
Cary's refinancing of debt has saved millions.
According to a consultant Cary has done a phenomenal job in managing the reduction in revenues.
We have become extremely efficient with our staff. For example, there were four crews that mowed medians and parks five years ago. They still have four crews today but have stretched mowing frequency.
Project Phoenix
Program for apartment complexes
PHOENIX stands for Promoting Healthy Occupancy through Education Networking and Information eXchange
Participation criteria: Drug and Crime Free, manager must attend workshop, manager must coordinate one social event a year, and property must meet basic CPTED principles
Youth are given opportunities to participate in a variety of town programs in addition to program from participating businesses: White Tiger, Rail Hawks, USA Baseball, and the Triangle Aquatic Center.
42 out of 57 apartment complexes now participate
Some complexes were creating multiple police visits a day and now there are hardly any in a week.
The Wrenn Drive area went from over 200 crimes a year to about 150.
During the past year crimes in participating apartment complexes have dropped 6%.
From Quarter 3 in 2011 to Quarter 3 2012 all crimes in participating complexes have dropped 16% and selected crimes dropped 28%.
Successes include removing drug dealers and criminals from the property, identifying unauthorized occupants, and enhancing public-private partnerships.
This was a great retreat with a lot of information, discussion, and decisions in a short amount of time. The retreat ended between 3:30 and 4:00 on Saturday. Then we gathered for a group picture (tradition started last year) and headed home.
Emails from Staff
In emails from staff this week we were notified of the judge's decision on the red-light cameras case. As I have mentioned previously these cameras, which have been removed, were installed to increase safety. Most of the money collected went to the contractor providing the service and any remaining proceeds went to the Wake County Schools. Cary made absolutely no money (which is a legal requirement). Regarding the yellow light timing it is important to know that NCDOT sets the limits, not Cary. The information about the decision was received while at the retreat. Here is the response from the attorney's office:
"After a 3 day trial, Judge Paul Ridgeway heard closing arguments from both parties and then issued his ruling in favor of the Town. The judge commended the Plaintiffs for bringing the case and commended the Town for its thoughtful defense of the case. The Town was very ably represented by Elizabeth Martineau, and she was assisted along the way by many town staff members from the Engineering and Police Departments.

Judge Ridgeway noted that the method used for calculating yellow light times is widely accepted throughout the world, and found that that Town's red light cameras were installed in full conformance with the law.  All of the Plaintiffs' claims for relief were denied. We are pleased with the judge's ruling and the thoughtful consideration he gave to the case."
I am very glad that common sense prevailed in this case.
Mailbag
Emails from citizens include a complaint that Cary is growing too fast. That is a perception which many have. It is important to know that Cary grew at less than 2 percent this past year and has been around 2 percent in the last couple of years. It should also be stressed that Cary has about 10,000 acres of developable land left. So future growth will be slower and will be mostly redevelopment and infill.
There were also several emails requesting the town not demolish the water tower next to Cary High school. The engineering department has responded with:
"The Town will be considering options for keeping the tank and alternatives for the class of 20XX tradition as we move forward. Our next steps will be to hire a consultant for the elevated water storage tank work. After the design team is assembled we will develop a project approach, schedule and communication plan. It will be several months before we can collect the necessary information and community feedback to make a decision."
To put it simply, nothing is going to happen in the near future.
Other emails from citizens include a request for a downtown brewpub (the town has been trying to attract one), questions about the Jones house on Academy Street, and a request to change town ordinances to not allow big piles of dirt at construction sites.
This Week
This week will be a busy one for me. It will include a meeting with the mayors of Wake County, a dinner and meeting with Cary's state legislators, a presentation of the state of the town to my largest audience, and a council meeting.
Get in Touch
Well that is all for this week. My next post will be on Sunday January 27th. Please feel free to email me with a comment. Email all Town of Cary questions or comments to Harold.Weinbrecht@townofcary.org. Email personal comments to augustanat@mindspring.com.
https://carycitizenarchive.com/wp-content/uploads/2013/01/cary-mayor-harold-weinbrecht-0120.jpg
350
600
Harold Weinbrecht
https://carycitizenarchive.com/wp-content/uploads/2020/03/cc-archive-logo-450-v3.png
Harold Weinbrecht
2013-01-21 18:02:09
2016-01-09 11:58:34
Harold's Blog: Council/Staff Retreat