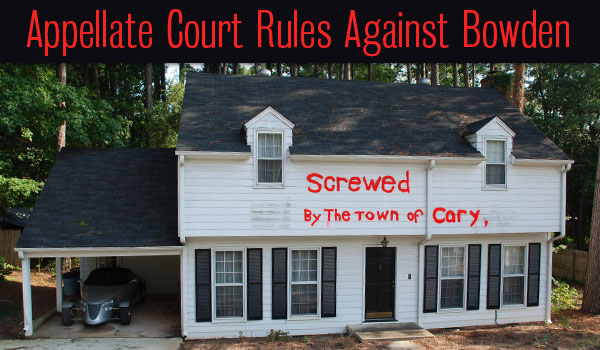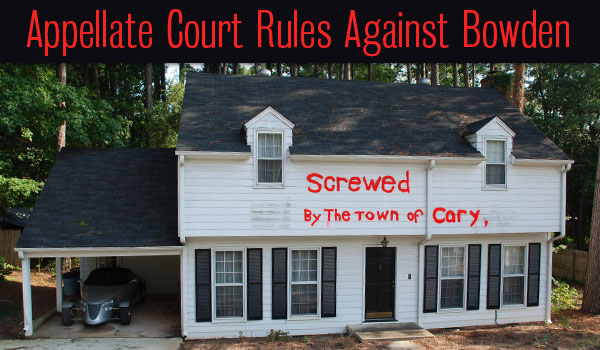 Story from staff reports. File photo by Hal Goodtree.
Cary, NC – In August of 2008, David Bowden painted the front of his house on Maynard Avenue with bright orange letters proclaiming the message "Screwed by The Town of Cary." Today, the Fourth Circuit Court of Appeals ruled in favor of Cary, overturning a lower court ruling that had been in favor of Mr. Bowden.
Reasonable Restrictions
The Appellate Court found that Town of Cary had placed reasonable restrictions on signs that could be applied in the Bowden case.
From the Fourth Circuit Ruling:
In this case, the Town has supplied definitions of public art and holiday decorations, and if they lack the clarity Bowden would insist on, it is because the concepts do not lend themselves to easy definition. Because laws are "condemned to the use of words, we can never expect mathematical certainty from our language."

Nevertheless, the vagueness doctrine does not prevent governments from regulating vague concepts—it only requires that they provide some guidance for citizens to understand the reach of a law's application.

The Town has done its best to do just that through definitions "set out in terms that the ordinary person exercising ordinary common sense can sufficiently understand and comply with."
Defies Common Sense
The Court went on to say:
It defies common sense to argue—as Bowden does—that it is unclear under the Sign Ordinance whether the sign "Screwed by the Town of Cary" qualifies as "public art" or "holiday decorations." Bowden cannot reasonably contend that his sign was "intended to beautify" or was an "observance" of a holiday.
Overturns Award of Attorney Fees
Mr. Bowden passed away on June 1, 2011. But the case has been pursued by his heirs. A lower court ruling had required Town of Cary to pay Mr. Bowden's attorney fees. Today's ruling overturns the award of attorney fees to the estate of Mr. Bowden.
Mr. Bowden's estate may now choose to petition the United States Supreme Court. However, the Supreme Court only accepts a small number of cases for review.
For now, it looks like the "Screwed By" saga may be at an end.
https://carycitizenarchive.com/wp-content/uploads/2013/01/bowden-appeal-cary-nc.jpg
350
600
Staff
https://carycitizenarchive.com/wp-content/uploads/2020/03/cc-archive-logo-450-v3.png
Staff
2013-01-22 15:45:23
2019-12-08 10:09:43
Appellate Court Rules Against Bowden