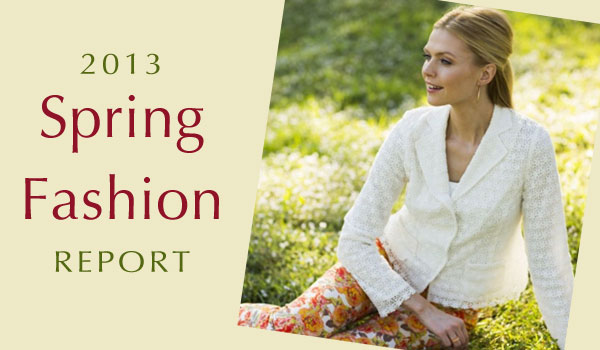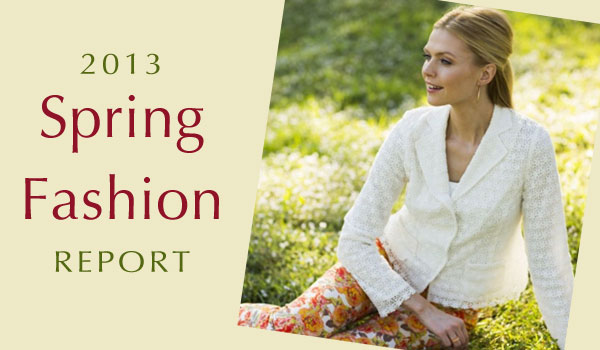 Story by Lindsey Chester, photos courtesy Belk.
Cary , NC – Here's my report from the front row at the 2013 Belk Spring Fashion Preview!
Spring Fashion 2013
It was a January morning with predictions of snow and school closings, but I was headed to the Belk store at Crabtree Valley Mall. Arlene Goldstein, Vice President of Trend Merchandising and Fashion Direction for Belk, was making her last stop to present Spring 2013 Fashion trends.
Her whirlwind tour took her from New York to Birmingham, Charlotte and Nashville, with Raleigh as the final stop. Alrene did not disappoint, and showed the fashionistas in the crowd how wearable her three main trends for Spring will be.
Fashion (R)Evolution
Fashion this season is an Evolution, not a Revolution. The trends we will see have been building over time.
Color will continue to be brighter, happier and women's wear is on a feminine trend. Gone are the menswear inspired suits of the past in favor of more lace trim and pretty details. Clothes are closer to the body, more structured, not oversized. Jeans are trim for both men and women. I'm happy to report that waistlines are moving up to a more natural and comfortable area- no more muffin-topped jeans!
The nice news is the trends aren't just for the young and skinny, there's something for everyone. Belk calls the season "Oh so Pretty Spring 2013" and it is. Feminine, luxurious and just plain PRETTY with a capital P!
Here's what's coming into stores starting this month with a season typically called Resort, carrying on through the summer.
Three Big Trends for Spring 2013
Belk is showing three big trends for Spring 2013.
Lady Luxe
Sharp + Chic
Passport
1. Lady Luxe
Think about lace, and shift dresses. Wake up to the full potential of pretty with ribbon, ruffles and beautiful beading. Glorious greens surface as a key color family, while pinks and corals continue to make news.
Here are the key components of the Lady Luxe look.
White
Looks here included white used head to toe for the freshest take on early Spring ever. Arlene advised "as soon as the weather allows, try this one out". White accessories from shoes to handbags and jewelry will look fresh.
The Jacket – Outfit Completer
The return of the jacket as the outfit completer. Arlene emphasized a spring jacket as one of the must have items, if you are only going to buy a few things this season, make one a new spring jacket. With so many takes on this piece including lace, floral prints and tailored- the jacket will replace the knitted cardigan as the go to outfit maker.
Lace Lace Lace – in all permutations from crochet to laser cut designs and big use of eyelet, knitted and woven. Colored lace or white layered over a color for a veiled effect, all looked new. Lace is not for just for special occassions, but will be seen in the daytime – and can be workplace or casual.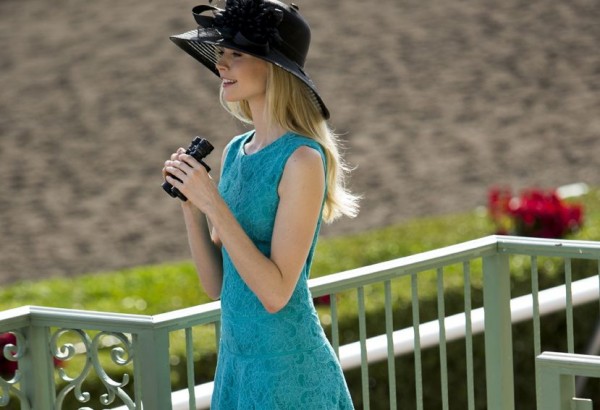 Prints!
We are in a print cycle – from beautiful florals (cabbage roses anyone?) to pattern mixing (remember Carol Little) there was a little flashback here for me to the 80's without the shoulder pads. Arlene said there's not a lot of newness in silhouettes, but mostly in color and patterns.
Sparkle for Day
Shine also continues. What you have seen the last few seasons for the Holidays, now retools for spring – sparkle for day, lace and jewel trims.
This trend will appear during our true Spring weather,  by Mid-March everyone will be ready for some lace and softer looks. Great for Easter.
2. Sharp + Chic
Think tailored and crisp with just a quick nod to the early Jackie O 60's. The return of the suit, but not menswear inspired. Matched suiting in which each piece can stand on its own to be used in your wardrobe as separates. This will help consumers get more mileage from their spring purchases.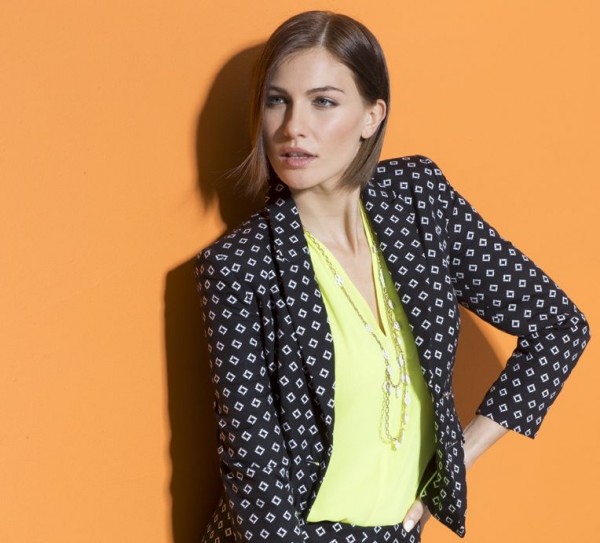 Geometric
Geometric lines, sculptural shapes and sleek proportions will give fashion a fresh feel with textiles taking an innovative turn. Some shapes include: bold sleeves, exaggerated peplums,  and split level layers.
Black & White Pops
Here patterns and materials are innovative. High tech fabrications continue and have become more main stream. Clothes are ultra light. Expect lots of black and white combinations, frequently with a pop of unexpected color (try a black and white suiting with a lime tee like the photo above).
Wear Now
This trend is excellent right now and very wearable now.  Arlene called this trend a "palette cleanser".  It sets you up for spring, but is OK to wear when the weather can still be a little cool. It clears out the glitz of holiday, and the warm fuzzies of fall in favor of something cleaner, trimmer and more spring forward-looking.
3. Passport
When you think  of summer and voyages, "Passport " is the trend for you. Shapes are looser and flowy- not body hugging, but body-grazing. This trend will turn up more as the weather warms with it's rich hues and tribal influence.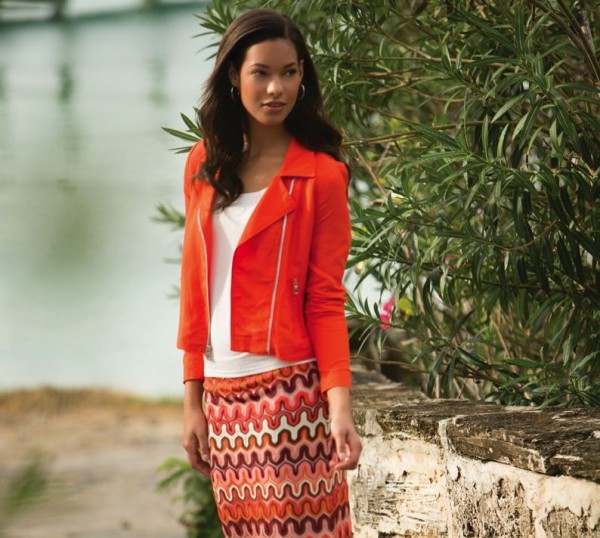 Tribal Prints
Great looks include long patterned skirts and print tunics that continue their popularity from last season.The influence can be felt from casual to dressy depending on fabrication. Accents include feathers, cork, fringe and organic materials. Tassels, feathers and fringe add dramatic mixed media details that are both modern and crafty. Not a synthetic look.
Bold
Lots of bold colors will lead us into true summer. The newest looks (like the prints pictured here) was in mixing levels of colors within one pattern or look. Darks colors mixed with pale and an accent of bright. Above with the bright red Motorcycle jacket adds a new twist to the Tribal silhouette with a more modern "completer piece."
Arlene's Top 10
Here are Arlene's top items every girl should have in her wardrobe for Spring 2013.
Bold Print dress
Silky Top
Spring Jacket – the all important outfit completer
Statement Necklace
Sassy Skirt
Fancy Pant – patterns of a different shape
Fashion Wedge Shoe
Novelty Knit (try a peplum silhouette)
Something Lace
New Tote Bag
These trends are meant for everyone. First because they are pretty and flattering, and second because each feeling encompasses many different silhouettes from flowing long skirts to tailored pants. By adding just a few pieces you will have an updated look, without breaking the bank.
Look for future trend reports this season where CaryCitizen will head out to stores to see what our area retailers have picked up that fits your look and budget.
————————————————————————————————————
Lindsey Chester is a former women's wear designer for lines including Oxford, Norton McNaughton, Leslie Fay and Donnkenney.
https://carycitizenarchive.com/wp-content/uploads/2013/01/2013-spring-fashion-report.jpg
350
600
Lindsey Chester
https://carycitizenarchive.com/wp-content/uploads/2020/03/cc-archive-logo-450-v3.png
Lindsey Chester
2013-01-25 10:21:34
2013-03-25 13:16:48
2013 Spring Fashion Report