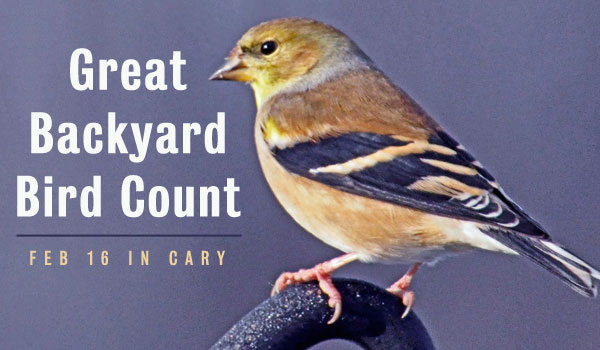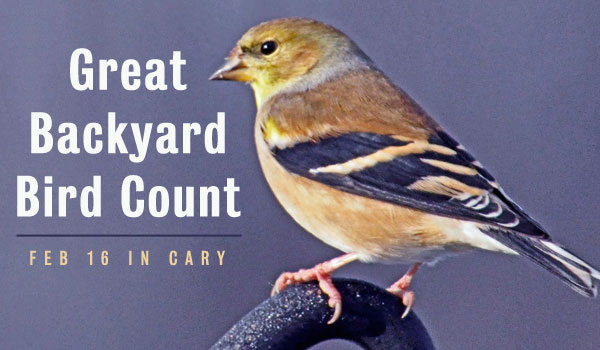 Story from staff reports. Photo of American Goldfinch in winter by Rodney Campbell.
Cary, NC – The Great Backyard Bird Count is an annual event in which volunteers count and track all the birds they see during a 3 day period. This year, you can be a part of the fun at Cary's Kids Together Playground on February 16.
Bird Count Goes Global
For the first time ever, the Great Backyard Bird Count is going global. During February 15-18, people around the world are invited to join in the annual event, a joint project of the Cornell Lab of Ornithology and National Audubon Society.
Participants take part at home, in schoolyards, at local parks or wildlife refuges, simply counting the highest number of each species they see during an outing or a sitting, then entering their tally on the Great Backyard Bird Count.

 "Bird counts are taking place all across the country, but our event is one of the few designed for children to enjoy.  It's easy, it's educational and it's fun," said Kids Together President Marla Dorrel.  "The results we submit will become part of a national database used by conservationists, so we're helping the cause of science, too," she added.
Bird Count in Cary
If you want to take part in the great bird count in a group, come to Kids Together Park. Participants will meet at the entrance plaza near the shelter at 9:00 a.m.  Latecomers may join in when they arrive.
Birding walks will continue until 10:00 a.m., followed by refreshments of fruit and seeds, encouraging participants to "eat like a bird."  Binoculars and bird guide books are welcome, but not required.
The accessible design of Kids Together Playground makes participation and mobility easy for everyone; wheelchair-friendly birding opportunities abound. The event is free and open to all.
This will be the fifth year that Kids Together has participated in the Great Backyard Bird Count.  Over the past four years, a total of 29 different bird species have been seen from Kids Together Playground and Marla Dorrel Park. (The full list appears at the end of this release.)
In the event of heavy rain, snow or ice, the event will not be held.  For information, contact Marla Dorrel at 481-3180 or email kidstogether@nc.rr.com.
Birds Seen in Past Bird Counts
Can you identify any of these feathered fellows? Maybe you've seen them in your own backyard.
American Crow
American Goldfinch
American Robin
Belted Kingfisher
Black Vulture
Blue Jay
Brown Thrasher
Canada Goose
Carolina Chickadee
Common Grackle
Dark-eyed Junco
Eastern Towhee
Golden-crowned Kinglet
Hairy Woodpecker
House Finch
Mourning Dove
Northern Cardinal
Northern Flicker
Northern Harrier
Northern Mockingbird
Red-bellied Woodpecker
Red-tailed Hawk
Ruby-crowned Kinglet
Tufted Titmouse
Turkey Vulture
White-breasted Nuthatch
White-throated Sparrow
Yellow-bellied Sapsucker
Yellow-rumped Warbler
Event Details
Great Backyard Bird Count
Saturday February 16, 2013
9:00 – 10:00 AM
Kids Together Playground
Marla Dorrel Park
111 Thurston Drive
Cary, NC
Map
https://carycitizenarchive.com/wp-content/uploads/2013/02/backyard-bird-count-cary.jpg
350
600
Community Contributor
https://carycitizenarchive.com/wp-content/uploads/2020/03/cc-archive-logo-450-v3.png
Community Contributor
2013-02-10 12:01:23
2013-02-10 12:01:23
Great Backyard Bird Count: Feb 16 in Cary