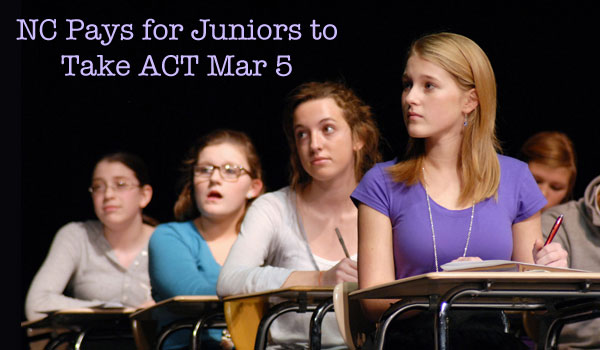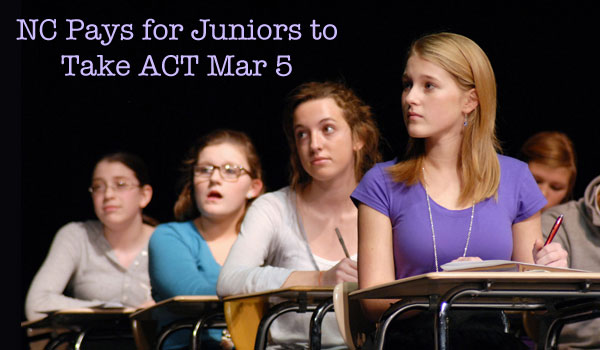 Story by Christine M. Hall, Ed.D., president of CMH College Consulting in Cary. Photo by Christine Zrust.

Cary, NC- On March 5, 2013, all North Carolina Public School Juniors will take the ACT test at their home school. And the state of North Carolina is paying for it!
This is one of the two admissions exams required to gain entrance to college – the other is the SAT.  The ACT is accepted by ALL four-year colleges and universities in the US and last year, the number of students taking the ACT out-numbered those taking the SAT. The ACT narrowly surpassed the SAT, by fewer than 2,000 test-takers out of about 1.65 million who took each exam.
Wake County and the state of NC began requiring the test for all high school juniors in March of 2012 as part of their strategic plan to make all students college and career ready.
Only 8 Other States Require ACT
For NC students, this is a unique opportunity available only to eight other states in the nation. The ACT is only offered six times a year on a Saturday, however, NC students will get an extra chance to not only take the test during the school day, but they will also have the advantage of taking that test in a familiar setting – their home school. Additionally, the test normally costs $35 without the Writing section, and $50.50 with the Writing. NC students are not required to pay this fee and may submit these scores to colleges.
While it has become a popular belief that you should take the ACT/SAT as often as possible, this is not the case. Many colleges still require you to submit all your test scores, thus you never want to go into a test unprepared. It is important to note that the ACT is not an aptitude test. Unlike the SAT, it measures the content that students have gained in their high school coursework.
Practice Before Taking
With less than a month to go before the test date, students still have time to prepare for the test. With little or no money, students have numerous options. You don't need to hire a tutor, or enroll your child in expensive Prep courses to be prepared. The ACT offers free practice test questions, as well as tips on taking the test. It is advised that if students do nothing else to prepare, they at least review this before exam day so that they are familiar with the test format.
Students can also go onto CFNC.org for additional free test prep or purchase test prep books from the ACT or other publishers. Finally, students should check with their individual school to determine if other test prep options are being offered at their site.
This is just another way that North Carolina is leading the way to help students gain access to college.
https://carycitizenarchive.com/wp-content/uploads/2013/02/nc-act-test.jpg
350
600
Community Contributor
https://carycitizenarchive.com/wp-content/uploads/2020/03/cc-archive-logo-450-v3.png
Community Contributor
2013-02-26 08:45:05
2013-02-26 08:45:08
Education: NC Pays for Juniors to Take ACT Mar 5