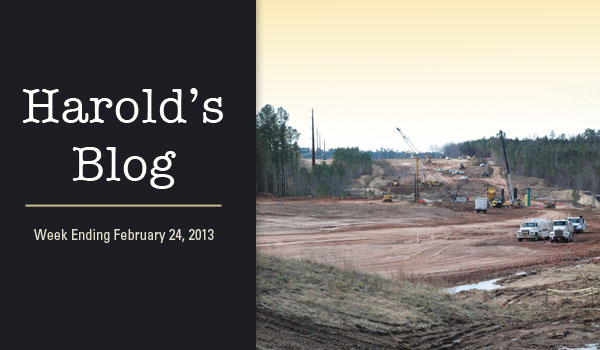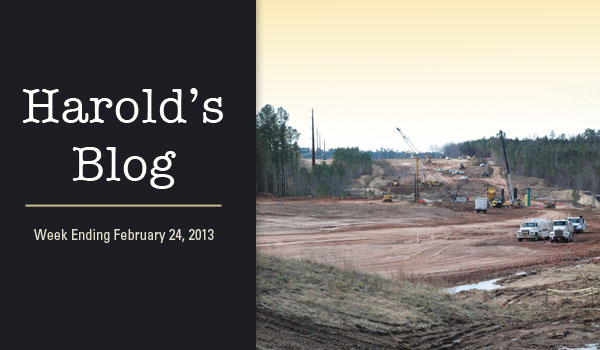 From the blog of Cary Mayor Harold Weinbrecht. Photo by Hal Goodtree.
Cary, NC – This week was tough on me as I struggled to meet my obligations while fighting a bad cold.
Monday Mayors
Monday the Mayors Association met at the Peak City Grill in Apex. Several mayors were absent including me. The main topic for discussion for the mayors was complying with new ethics requirements because they are members of CAMPO. They discussed asking the legislature to change the ethics requirements for the future.
Tuesday: I-540
Tuesday I met with staff members, town management, and Mayor Pro-Tem Adcock to discuss the Morrisville Parkway project at I540 which is being considered for land acquisition funding by CAMPO (Capital Area Metropolitan Planning Organization's Transportation Advisory Committee).
It was important that the Mayor Pro-Tem and I be current with all information about this project before representing Cary the next day.
Congressman Holding
Wednesday morning I headed over to the Chamber of Commerce to hear Congressman Holding speak. Once again he pledged to help bring jobs but pointed out that we had to keep him up to date on our wishes and concerns. The Congressman also answered many questions from the board which focused on politics.
There were several interesting points such as in 2008 and 2012 more 20 – 29 year olds voted than senior citizens. That was a surprise to me. He said it was the job of his party to communicate better with this younger generation. I was happy to have Congressman Holding visiting Cary and look forward to working with him on various issues.
CAMPO
Wednesday afternoon I attended the CAMPO (Capital Area Metropolitan Planning Organization) meeting representing Cary. One item of particular interest was the LAPP (Locally Administered Projects Program).
At the January CAMPO meeting there was discussion about whether Cary's $2 million Morrisville Parkway/I540 project should be included because of uncertainly with NCDOT Turnpike authority's funding process. The item was tabled in January because NCDOT Turnpike authority needed to create that process.
At Wednesday's meeting General Trogdon, NCDOT's Chief Operating Officer, presented a draft process (created with a lot of Cary staff help) which determined how funding will be provided. On this particular project there is no money unallocated from the turnpike authority. Therefore, since this project met the CAMPO criteria and rose to the top of the list, it is essential that CAMPO fund it or this interchange will be delayed indefinitely.
The vote on this issue will be at the March CAMPO meeting. We expect resistance since other municipalities will benefit if Cary does not get its $2 million share.
NC Mayors
On Friday I participated in the NC Metropolitan Mayors Coalition teleconference meeting. This coalition is made up of 28 mayors. The mission is as follows:
The North Carolina Metropolitan Mayors Coalition, a group of mayors committed to the growth of North Carolina's cities, deals with national and state issues affecting local governments. Founded in 2001, the coalition promotes the interchange of ideas and experiences among municipal officials for the continued development of urban areas. In addition, the Coalition works with state officials to encourage the expansion of urban areas as livable environmentally sound and economically viable.
Here is a summary of the meeting on Friday:
The coalition mayors will be meeting with the Governor on March 5th at a 1:30 reception.
Also invited to the reception are those that hold State Offices as Secretary.
The mayors will hold a press conference after the meeting with state officers
The coalition went over items that have been introduced in the legislature. Some the items include:
Amending the constitution to not allow eminent domain for public "benefit" and instead allow for public "use"
Eliminating the ETJ (Extra Territorial Jurisdiction).
Political signs: Letting municipality sign rules supersede state.
There was also discussion of upcoming items in the legislature:
Powell Bill: Base on gas consumption rather than population.
NC uses Powell bill money and transfers it to the General Fund. Most states do the opposite. The Legislature is looking to change this.
Highway funds to be distributed to more congested areas.
The coalition mentioned that town hall day was March 27th.
There was a request to try and improve relationships with the League.
The teleconference lasted about an hour and had most of the members participating.
Staff Announcements
Town staff sent out several announcements via email this week. Now through March 15, 2013, drivers should be aware of intermittent lane closures at the intersection of Academy Street and Dry Avenue as contractors working on behalf of the Town of Cary complete traffic signal upgrades. These periodic lane closures can happen weekdays from 7 a.m.-4 p.m.; minor delays are expected and no detours will be posted.
Also, after carefully reviewing weather reports for the next 10 days, NC Forest Service officials working with the Town of Cary have determined conditions may be favorable to conduct its annual prescribed burn at Hemlock Bluffs Nature Preserve on or around February 20-22, and February 26. It is NC Forest Service policy to conduct prescribed burns in winter, and no burns are scheduled after March.
Sunshine Week
Sunshine Week is March 10 – 16. Sunshine Week is a national initiative to open a dialogue about the importance of open government and freedom of information. It is a good public relations opportunity to empower citizens to play an active role in their government, which can make their lives better and our community stronger.
The Town's 2013 Sunshine Week activities for Town staff include: sessions on the new Records Retention and Disposition Schedule; a video on sensitive information; a variety of intranet resources; and Cary's own version of "March Madness" with an open government theme.
Elected officials and Town of Cary key records managers are also invited to the statewide Sunshine Day Event on March 11 at the McKimmon Center in Raleigh sponsored by the NC Open Government Coalition and the NC State University Student Media.
In addition, the March episode of Cary Matters will include information on the State's Sunshine Laws and will ask our citizens to let us know how we can serve them better.
Mailbag
Emails from citizens this week include a complaint about buffers around the town dump site, several comments about last week's journal, and a complaint about safety and signage at the intersection near Lowes at Highway 54 and Maynard Road.
This Coming Week
This week will be extremely busy for me especially with ceremonial duties and speaking engagements. In addition, there will be a regularly scheduled council meeting.
Get in Touch
Well that is all for this week. My next post will be on Sunday March 3rd. Please feel free to email me with a comment. Email all Town of Cary questions or comments to Harold.Weinbrecht@townofcary.org. Email personal comments to augustanat@mindspring.com.
https://carycitizenarchive.com/wp-content/uploads/2013/02/cary-mayor-harold-weinbrecht-0225.jpg
350
600
Harold Weinbrecht
https://carycitizenarchive.com/wp-content/uploads/2020/03/cc-archive-logo-450-v3.png
Harold Weinbrecht
2013-02-25 15:22:41
2016-01-09 11:58:35
Harold's Blog: February 24, 2013