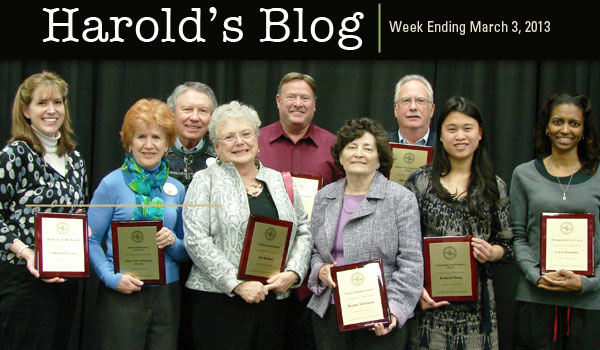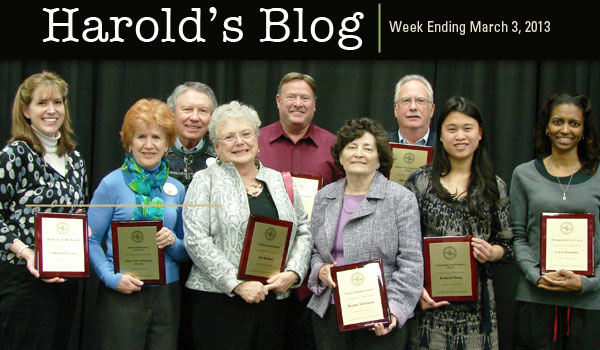 From the blog of Cary Mayor Harold Weinbrecht. Photos from Mayor Weinbrecht.
Cary, NC – This was a busy week dominated by events.
Monday – Town Council Prep
Monday started with calls to council members which is typical on weeks with regularly scheduled council meetings. I was able to contact all council members except one. There were no major questions or items of concern for staff.
Later in the day I met with staff members who included management, directors, legal, and administration. We discussed the agenda and agreed to make two adjustments. Based on our review I anticipated our meeting on Wednesday to go until 8 PM.
Monday Night – Parks & Rec Volunteers
Monday night I attended the Parks, Recreation, and Cultural Resources Annual Volunteer Banquet with council members Smith, Bush, Yerha, and Frantz. There were several hundred volunteers in attendance and we were treated to a BBQ dinner. The night's theme was M&M which stood for Marvelous and Magnificent. Our PRCR volunteers and staff are truly M&Ms.
I made a few remarks before the guest speaker gave inspiring words about how volunteerism makes a difference in lives. Then I had the joy of joining other council members in presenting the 2013 awards.
We all had a great time and the event ended after about two hours.
Tuesday – Goodbye Electric Signs
Tuesday I met with the town manager for our regularly scheduled weekly meeting. We discussed the Jones House and upcoming changes in the downtown area.
We also discussed the town's electronic messaging signs. These signs have been an ongoing problem since they were installed. Heck I remember sending letters to the editor about them before I was mayor.
The current situation is that only four out of twelve actually work. Based on my understanding there is proprietary hardware which makes it difficult to find parts. In addition there is proprietary software and that software company is no longer in business. Add to that the technology changes and the evolution of social media over the years and the signs have little value.
Therefore, staff will recommend that council remove these signs.
Wednesday – State Ethics Training
Wednesday started with an informational meeting on state ethics rules with the town attorney and the town clerk. I was also joined by Mayor Pro-Tem Adcock. Because Mayor Pro-Tem Adcock and I are voting members of the Capital Area Metropolitan Planning Organization's Transportation Advisory Committee we fall under state ethics rules and are required to take training.
I took the course and had a few questions that I wanted to discuss with the town attorney and town clerk which was the reason for the meeting.
It is important to know that all council members following ethical guidelines established by the town and these state guidelines are in addition to those guidelines.
Council Meeting
CAP Team
The regularly scheduled council meeting followed and lasted a little longer than normal. Several presentations were made. The CAP team (Citizens Assisting Police) presented a check representing savings to the town for all the work the CAP team members provide. This year it was well over $100,000.
Recognitions & Proclamations
There was also an award presentation from the Director of State of North Carolina Center for Geographic Information and Analysis recognizing the town for its visionary use in technology. And I declared a proclamation recognizing March 10th through March 16th as Sunshine Week.
Sunshine Week is a national initiative to open a dialogue about the importance of open government and freedom of information. In addition, Sunshine Week is a good public relations opportunity to empower citizens to play an active role in their government, which can make their lives better and our community stronger.
Public Hearings
There were seven public hearings. The budget public hearing had several speakers asking that the town spend money to improve the skateboard park.
The public hearing on the removal of the Cary Parkway Extension created a discussion involving all council members. Although the planned road now goes to nowhere (since Raleigh removed their portion from their transportation plan) council member Robinson believes it should remain on our plan in case Raleigh adds theirs back in the future. We will make a decision on this once the Planning and Zoning Board provides their recommendation. One of the public hearings was a quasi-judicial hearing which questioned connectivity and buffer requirements for Waltonwood retirement community.
The only other significant discussion involved the condemnation for a new sewer project related to the Copperleaf subdivision. The town was proposing to condemn the 643 square feet for $75,000. The property owner's representative stated that it was worth about $200,000. Since there are 43,560 square feet in an acre that would mean they were asking for about $13.5 million an acre for that property. Council member Frantz quickly did the math during the meeting and pointed that out. The council voted unanimously to condemn the 643 square feet for $75,000. The council meeting ended at around 10 PM.
Thursday at NC State
Thursday I headed over to NC State's campus to speak to the college democrats.
My talk was on my job and role as a mayor. I explained that North Carolina is a "Dillon's Rule" state which means we can only act with authority given to us by the legislature. I also talked about Cary's council and how we work together despite party affiliation. I answered questions about how I got involved in politics, local campaigns, and current local issues.
We stopped after about an hour and took a few pictures. It was good to see interest in local government from these students.
Friday – Read Across America
Friday morning I had the joy of participating in Read Across America at Cary Elementary School. In honor of Dr. Seuss's birthday I read McElligot's Pool to a wonderful class of bright young girls and boys.
Participating in events like this is one of my favorite things as Mayor.
Friday Night – Mills Park Middle
Friday night I participated in Mills Park Middle School's March Madness which is a fundraiser put on by the PTSA. There were several hundred in attendance and they were treated to all kinds of talented displays and performances. There were performances by the choir, the jazz band, and theatrics. The evening ended with the girls and boys basketball teams playing the faculty.
I fun time was had by all and I was blessed to be a small part of it.
Saturday Morning Train
Saturday morning I gave welcoming comments to the annual meeting of the North Carolina Train Hosts Association. This group assists passengers with travel questions and information during time spent at the train station. They also ride the trains and provide information as the train approaches stations.
There were over 100 of these hosts at the meeting held at Page-Walker Arts and History Center. My welcoming comments focused on downtown revitalization.
Saturday Eagle Scouts
Later Saturday I had the honor and privilege of participating in three Eagle Scout ceremonies for seven Eagle Scouts. Cary is blessed to have such fine young men that have committed themselves to being better citizens and making their community a better place.
The ceremonies were fantastic and one ceremony actually had a Golden Eagle. I have never seen a Golden Eagle and so posing for a picture with it was fantastic.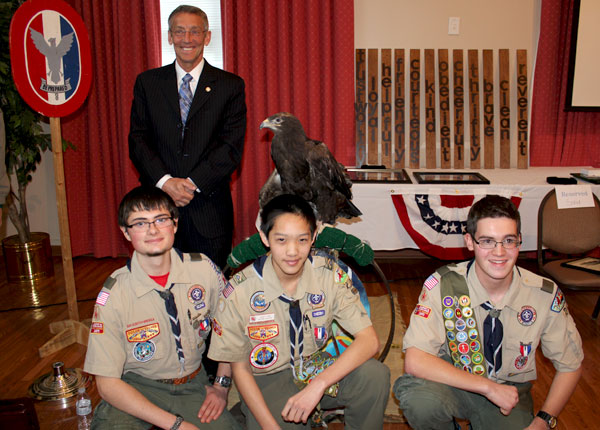 Congratulations to all the new Eagle Scouts: Andy Yeh, Jared Everson, Barry Bowman, Matthew Parker, Connor Wagner, Braiden Quinlan, and Nathan Wintermute.
Emails from Staff
Emails from staff this week included a notice of a waterline installation project. The project will install at 12-inch waterline to replace existing small diameter waterlines on Walnut Street from Kildaire Farm Road to Maynard Road. In conjunction with this project, contractors working on behalf of the Town of Cary will also install new sidewalk along Walnut Street from Kildaire Farm Road to Ralph Drive. Construction costs for the entire project, including waterline and sidewalk installation, is about $1.3 million.
Staff also sent out a list of plans under review for February that includes:
An expansion at Glenaire
A distribution center for Blue Bell Creameries on Nelson Road
45 Single Family homes and 27 townhomes in the Fryars Gate subdivision
150 townhomes on Carpenter Fire Station Road
20 Single Family homes on Yates Store Road
294 apartments on Highway 55 at Parkside Town Commons
131 Single Family homes on New Hope Church Road as part of Amberly
A reclaimed water line at SAS
Waverly Place parking improvements on Kildaire Farm Road
75 Single Family lots on Green Level Church Road at the Williams Tract
Mailbag
Emails from citizens this week include complaints about LoMo Food trucks not being allowed in a subdivision (that is an HOA issue), a request to ban fracking (state legislative issue and the town has made requests and recommendations), requests to oppose the Keisler proposal to allow office, requests for proclamations, concerns about the Cary Town Center Mall, a concern about the Triangle Aquatic Center from the Raleigh Swim Association, budget recommendations, a concern about fluoride in drinking water, a request about Earth Hour, and several requests to participate in ceremonies and meetings.
This Week
This week should be much slower than this week. It will include a meeting with a group of pastors, remarks to a youth leadership group, and substituting for council members at an Operations Meeting where topics include removal of Dynamic Message Signs.
Get in Touch
Well that is all for this week. My next post will be on Sunday March 10th. Please feel free to email me with a comment. Email all Town of Cary questions or comments to Harold.Weinbrecht@townofcary.org. Email personal comments to augustanat@mindspring.com.
https://carycitizenarchive.com/wp-content/uploads/2013/03/cary-mayor-blog-mar4.jpg
350
600
Harold Weinbrecht
https://carycitizenarchive.com/wp-content/uploads/2020/03/cc-archive-logo-450-v3.png
Harold Weinbrecht
2013-03-04 17:55:57
2016-01-09 11:58:35
Harold's Blog: March 4, 2013