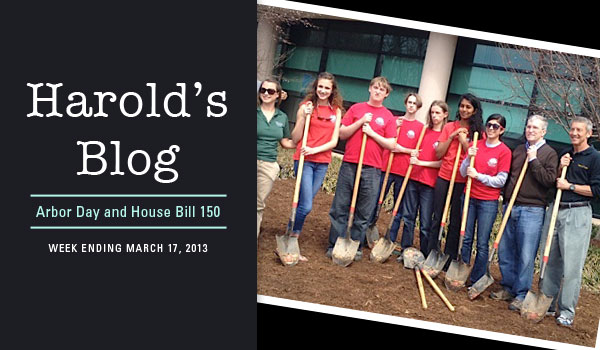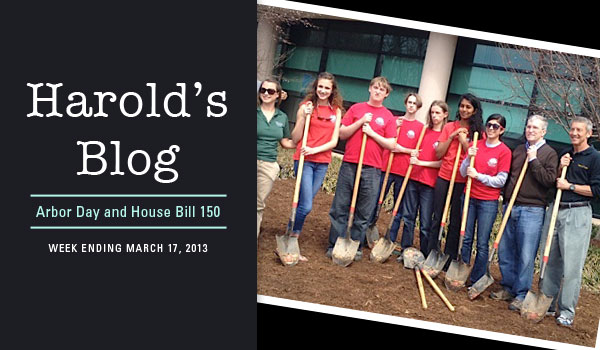 From the blog of Cary Mayor Harold Weinbrecht. Photo by Dori Pelz-Sherman.
Cary, NC – This week was a typical council meeting week.
Consent Agenda
Monday started with calls to council members to see if they had issues or concerns about Thursday's upcoming agenda. One item was requested to be pulled from the consent agenda for discussion. Consent agenda items are approved without discussion.
This particular item was a Land Use Plan Amendment for property, located adjacent to US1 and Kildaire Farm Road, to allow and office and institutional use. Since this property is zoned low density residential it would have to come back for a council decision even if the Land Use Plan were approved. Nevertheless, the residents adjacent do not trust that they will be protected. Therefore we decided to pull it for discussion to allow them to speak at Public Speaks Out. Other than the pulled consent item there was nothing exciting on the agenda. The agenda included a few presentations and a quasi-judicial hearing. My estimation was that the meeting would end around 8 PM.
House Bill 150
Later Monday I met with the town attorney to be briefed on a variety of issues including current and past law suits. Our town attorney's office is doing a great job representing us and we are seeing the results of their efforts in several recent actions. In addition to law suits, we talked about the quasi-judicial process and House Bill 150.
House Bill 150 would eliminate Cary's ability to impose aesthetic controls over single and two family dwellings in all zoning districts (with limited exceptions), unless these controls are agreed to by the developer. Basically, the bill would eliminate Cary's ability to shape the look and feel of our community. This could cause irreparable damage not only to Cary but to communities around the state.
Unfortunately, the state homebuilders association and their allies in the North Carolina Legislature have enough votes to make this happen. So it will be up to the municipalities to try and figure out a way to protect their communities.
One mayor said he would recommend stopping all annexation until the legislation is changed. Hopefully, someone will step forward and provide some common sense to what is being proposed.
If you feel so inclined I would recommend contacting to local representatives: Tom Murry at Tom.Murry@ncleg.net or Nelson Dollar at Nelson.Dollar@ncleg.net.
Tuesday I met with the town manager and the staff liaison to the legislature. We talked about several legislative issues including House Bill 150. I also discussed a proposal on quasi-judicial hearings.
Cary School of Gov
Wednesday I joined council members Smith and Bush in welcoming the newest class of the Cary School of Government. The class provides the community with an opportunity to learn how municipal government functions, what services are provided, and how citizens can become involved.
Students get a behind-the-scenes look at Town government structure, culture and decision-making.
The Town staff chooses a small group of citizens for a mix that represents a cross-section of Cary by age, gender, length of residency and area of town. Through discussion and hands-on activities, students obtain greater awareness of the breadth and depth of Town planning and operations.
Homeowners Association
Later Wednesday I attended a meeting of the Wynston Ridge Homeowners Association meeting along with council member Smith. We spoke after the official meeting summarizing legislative issues, road issues, and park plans in the area. Afterwards we answered a variety of questions about sidewalks, developments, and lighting in the neighborhood.
I would be glad to speak at any homeowners association meeting. So if you're interested let me know.
Western Wake Partners
Thursday started with a meeting of the Western Wake Partners Policy Advisory Committee. This committee is made up of the "partners" who include mayors from Apex, Cary, and Morrisville.
At this meeting we approved the settlement agreement for Holly Springs to withdraw from the partners, received an update on the current budget, and an update on the proposed operating budget for fiscal year 2014 which begins in July. Since we were all provided materials in advance our meeting was very short.
Town Council Meeting
Thursday night the town council met for the first regularly scheduled meeting of the month.
We were delighted to receive a check from Whole Foods designated for Parks scholarship funds. Last year that provided funding for almost 70 kids. Thanks to Whole Foods for being a great corporate citizen.
We also presented a proclamation recognizing Girl Scout Week. A NC Forest Service Ranger presented Cary with Tree City USA award for the 30th consecutive year. And the last presentation recognized Arbor Day and our celebration scheduled for Saturday.
The meeting included a quasi-judicial hearing for a medical office building on Carpenter Fire Station Road that asked for more parking and for a change in traffic mitigation. These requests were granted.
Our final item was the Land Use Amendment to allow Office at the site located at Kildaire Farm Road and US1. This was also approved. We did point out that before that site can be developed the applicant would have to go through a rezoning which would allow a citizen protest. If such a protest were valid then it would require six council members (out of seven) to approve.
Arbor Day
Saturday I had the pleasure to kick of the Arbor Day celebration in Cary. There were about 100 people in attendance visiting several informational booths and a craft booth. In addition, 100 Dogwood saplings were available for attendees to take home and plant. Like last year, the highlight was the planting of a 15 foot tree on the town hall campus. BTW, the tree planted last year is doing great.
Tobacco Road Marathon
Sunday morning I gave welcoming remarks at the third annual Tobacco Road marathon at 6:30 AM. I don't know how many participated but I believe it was well over a thousand. It took almost five minute for runners to cross the starting line. I had a great view from atop the tower at the starting line.
While I would LOVE to participate in this event, I know my knees would quit long before I was ready to. So I guess I will just have to be happy with my five mile runs.
Basant Bahaar
Sunday night my wife and I joined over 400+ people at the Cary Arts Center to celebrate Basant Bahaar through witnessing great Indian cultural performances. This year's theme was "Kalakriti" which is a creative culmination of diverse hues and expressions. The show was fantastic and we were treated to over two and a half hours of great talent.
Staff Emails
In emails from staff this week the council was notified that at a statewide meeting in Raleigh, the Town of Cary's residential permitting process for electric vehicle supply equipment was highlighted as a statewide "best practice" by Advanced Energy's Katie Drye. Congratulations Inspections and Permits staff!
Mailbag
Emails from citizens this week included a complaint about a development, a complaint about barking dogs, a concern about traffic related to the Bradford project, several requests related to the Keisler property, a request to save the water tower next to Cary High School, a complaint about greenway construction at Lake Macedonia, a complaint about the town's proposals for the downtown opportunity site, a complaint about backflow inspections, a complaint about the town dump (same person complains on a regular basis), a complaint about the town's streetlight policy, a complaint about the town allowing clear cutting (we don't), a complaint about the hotel going on Academy Street, and several invitations to attend events.
Get in Touch
Well that is all for this week. My next post will be on Sunday March 24th. Please feel free to email me with a comment. Email all Town of Cary questions or comments to Harold.Weinbrecht@townofcary.org. Email personal comments to augustanat@mindspring.com.
https://carycitizenarchive.com/wp-content/uploads/2013/03/cary-mayor-blog-mar18.jpg
350
600
Harold Weinbrecht
https://carycitizenarchive.com/wp-content/uploads/2020/03/cc-archive-logo-450-v3.png
Harold Weinbrecht
2013-03-18 14:55:07
2016-01-09 11:59:06
Harold's Blog: Arbor Day and House Bill 150