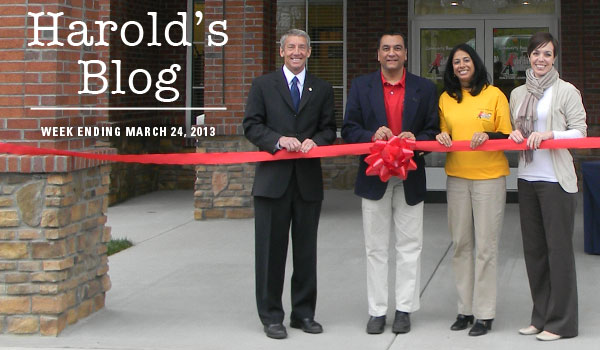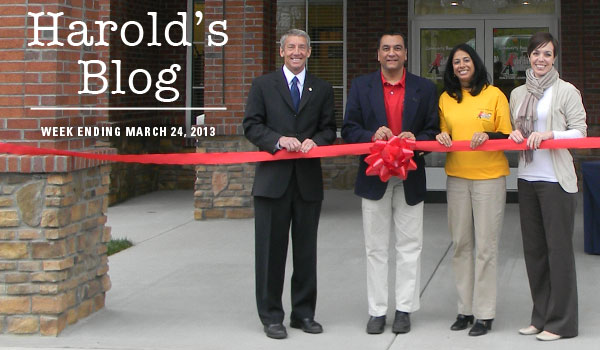 From the blog of Cary Mayor Harold Weinbrecht. 
Cary, NC – This week was busier than expected with more meetings than I thought and several long nights.
Monday – Piney Plains
Monday afternoon I met with the property owner that owns the land at Piney Plains Road and Dillard Drive. He is having problems developing his property that is mostly zoned for Office and Institutional. We discussed his idea of a retirement community at this location.
Monday – Mayors Association
Monday night the Mayors Association met at Campbell University Law School in downtown Raleigh. We discussed recent and future legislative actions with Paul Meyer, Director of Governmental Affairs for the NC League of Municipalities. Our meeting lasted about two hours. Nine mayors were in attendance.
Tuesday – Transportation Development
Tuesday the council held two work sessions. The first work session was on Cary's Transportation Development Requirements.
Attorney's and town planning staff went over tools available to the council as we work on a permanent development process without the Adequate Public Facilities Ordinance for Roads which was repealed last month. The town has authority given from the Town Charter and General Statutes that includes street and sidewalk improvement assessments, road project regulatory or development fee, subdivision requiring construction of community facilities, zoning, regulatory codes, special assessments, taxing, establishing control of streets, traffic, and parking, and building inspections.
Council asked staff to proceed creating more detail with a goal of promoting and preserving a high quality transportation system that provides an appropriate level of service to assure public safety and the general welfare of all town citizens and the traveling public.
Tuesday – Downtown Park
The second work session Tuesday was a presentation and discussion of the downtown charrette.
The proposal from the charrette showed the opportunity site with a three acre park surrounded by development. This proposal was presented to the public over the last few months and received much criticism. Feedback from citizens was mostly to make the entire site a park. Interestingly there was also the opposite feedback asking for more development on the site.
It is important to know that council has the authority to condemn a site for a park. So if council wanted to make the entire site a park they could have saved millions by just condemning the properties. I am not sure that would have been popular but it was an option.
Instead the town negotiated with owners to get them to sell with the intention of receiving some return by having some development. The amount of development was a big discussion point at this work session. Council directed staff to come back with options for a 6 to 8 acre park with much less development.
The majority of council leaned toward a larger park, 8 out of the remaining 11 acres, with some development along Walker Street. Most of the council wanted a clear view of the park from Academy Street, Kildaire Farm Road, and Walnut Street.
Staff will bring new recommendations back to council in a work session to be held in late spring or early summer.
Wednesday – Regional Planning
Wednesday afternoon I attended a meeting of CAMPO (Capital Area Metropolitan Planning Organization) TAC (Transportation Advisory Committee). There were two public hearings and several presentations including a presentation on the Transportation Improvement Program, a presentation on the Comprehensive 2040 Metropolitan Transportation Plan, and a presentation on a policy modification by the North Carolina Department of Transportation and the Turnpike Authority.
The policy modification with the Turnpike Authority is important to Cary because it may impact if the Cary interchange at Morrisville Parkway and I-540 will be funded. I asked the committee to allow comments from Cary town staff which were presented. Hopefully, those comments and concerns will be addressed in the final policy.
Wednesday – Cary Economic Development
Later Wednesday I attended a meeting of Economic Development Committee. Information highlights include:
The Chamber is working with Carolina Pottery on a new location in Cary.
Bass Pro Shops will locate at the current Carolina Pottery location.
A company that provides software for clinical research is looking to expand with 47 new jobs.
Blue Bell ice cream is looking to build a $2 million distribution center in Cary that will employ 30 people.
aap3, an IT service company is locating in Weston and should initially employ 20 people.
Fortnight Brewery should open at their location near Maynard and Old Apex this summer.
Cary has a Class A office vacancy rate of around 10% and there is approximately 400,000 square feet available in the market area.
Developers interested in building office still need around 50% preleased before they can get loans.
Accolades include:
#2 Fastest Growth Rate of Largest Metros
#7 Best city for Job Growth
#5 America's new tech hot spots
#2 in population growth from 1985 – 2011 (Raleigh/Cary)
#3 for creating and sustaining jobs and economic growth
The committee also received a report from council member Smith about his trip to Ireland to help our sister city in their quest to create a strong Chamber of Commerce and a mini research park. A Technology update was also given and included:
The Technology Task Force (TTF) continues working in the area that Cary should become a "Community Driven Technology Hub".
Open Data day had 70 people attending, with a waiting list of 12 with two weeks of promotion. The Town through the 'liberated' data sets, donated WiFi hotspots, and availability of Technology Services staff during the day, etc. They are working on the next Open Data Day.
The meeting ended after about an hour.
Thursday Meetings
Thursday I was scheduled to have several meetings including private meetings. My first meeting was with the pastor of Colonial Baptist Church. Unfortunately he was battling a case of food poisoning. Yuck. I had that once and it took several days to recover. My thoughts and prayers are with him. Since that meeting was cancelled I joined a meeting in progress between two council members and a developer. They had finished discussing business so I really was there to chat with everyone.
My next meeting on Thursday was with school board members Susan Evans and Bill Fletcher. They wanted to make sure I was aware of their budget requests, the legislation to change school funding, and the legislation to change how the school board is elected. They are looking for ways to communicate their message to the public. I let them know that anyone can speak at the Public Speaks Out portion of our council meetings. They said they planned to speak at a future council meeting.
The remainder of Thursday's meetings was private.
Saturday Ribbon Cutting
Saturday I had the privilege of being a part of the Ribbon Cutting for the new Kiddie Academy in Cary near Tryon Road and Walnut Street. This new day care is very well equipped and should be rated as a five star day care once the required six months of business has been achieved. I wish them much success.
Emails from Staff
In emails from staff this week it was announced that the westbound lanes on Cary Parkway will remain closed because of the culvert fire. Traffic will be detoured to Tryon Road then Lake Pine Drive.  They hope to have a contractor by March 29th.  Once the repair work starts, it is anticipated that BOTH directions of Cary Parkway will have to be closed for the duration of the repair for safety reasons.
Mailbag
Emails from citizens included several comments about the 13 acres the town purchased for the opportunity site, a complaint about House Bill 150, complaints about Cary's process for the Cary Summit of the Future, and several invitations to events.
Next Week
Next week includes a regularly scheduled council meeting and a taping of Cary Matters.
Get in Touch
Well that is all for this week. My next post will be on Sunday March 31st. Please feel free to email me with a comment. Email all Town of Cary questions or comments to Harold.Weinbrecht@townofcary.org. Email personal comments to augustanat@mindspring.com.
https://carycitizenarchive.com/wp-content/uploads/2013/03/cary-mayor-blog-mar25-2.jpg
350
600
Harold Weinbrecht
https://carycitizenarchive.com/wp-content/uploads/2020/03/cc-archive-logo-450-v3.png
Harold Weinbrecht
2013-03-25 16:15:04
2016-01-09 11:59:47
Harold's Blog: March 25, 2013