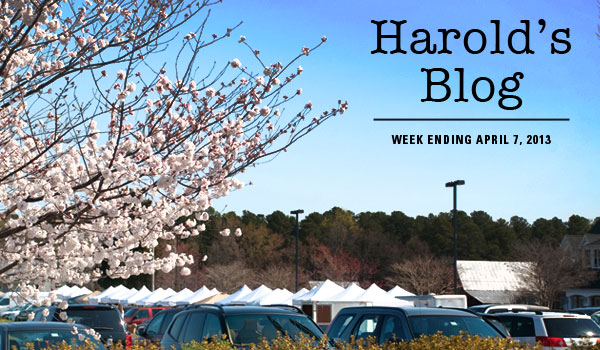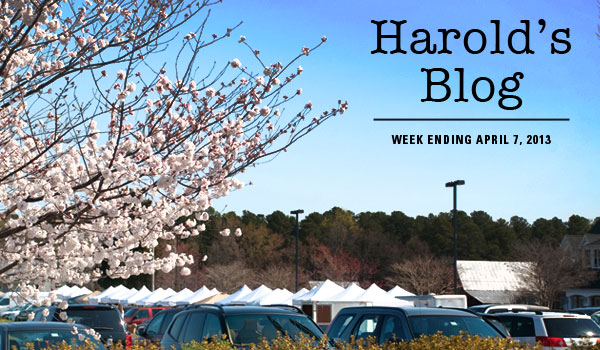 From the blog of Cary Mayor Harold Weinbrecht.
Cary, NC – This week was a light week relatively speaking. It allowed me to catch up on personal matters and prepare for my trip out of town next week.
Monday: Dinner at Home
Monday there were no meetings so I stayed late at work and then had dinner with my wife which is a treasure these days.
Tuesday
Tuesday I spoke to about two dozen business leaders at the Chamber's Cary Leadership held at town hall. I went over my roles as mayor, my thoughts in executing my duties, the business climate in Cary, our partnerships with the chamber and businesses, and then current issues the council is focusing on. I talked for about twenty minutes and answered questions for about ten minutes.
Later Tuesday the town manager and I went over a few issues. Those include the school board's naming of a future high school on Roberts Road (I favor SW Cary), minor issues with Bass Pro Shops coming to Cary later this year, our rezoning process with information provided in public meetings, and potential issues with Gig.U.
Wednesday
Wednesday I had my first meeting with a political group. I suspect there will be many of these in the upcoming months. I will gladly give my advice to any group who wants it. However, I do not plan to get involved in any campaign for council.
Mayton Inn
Emails this week included a press release and additional information from Deanna and Colin Crossman about the Mayton Inn to be built on Academy. Here is there information:
The Mayton Inn: New Boutique Inn Located In Downtown Cary, NC

Colin and Deanna Crossman, owners of The King's Daughters Inn in Durham, NC, plan to open a 45 room boutique hotel in downtown Cary, NC. With resounding success in their first renovated boutique, the Crossmans were approached by the Town of Cary to develop a new construction project that will blend and match the historic surroundings of downtown Cary. With the location of the property nestled on the corner of East Park Street and South Academy Street and the acquisition of two historic homes that will be moved to the site – the Waldo-Rood House and the Mayton House. The Mayton Inn will include 33 spacious rooms and 11 deluxe suites and a private cottage ,the first floor will boast over 13,000 square feet of public space including a library, full bar and restaurant as well as event spaces including reception space, meeting rooms and an outdoor terrace that will face the Cary Town park.

Due to break ground in August of 2013, the Crossmans are working with Center Studio Architecture to create the essential blend of historic character and quintessential luxury. Derived from classic architecture, the Mayton Inn will blend with the current buildings downtown. The property will include up to six room concepts and will be faithfully designed by the talented Megliola Beal Interior Design team.

With current plans to open before Lazy Days in August of 2014, the Inn will tear a page from their sister property and offer amenities including afternoon tea, turndown service with port and chocolate, a gourmet hot breakfast for guests in the full service restaurant as well as complimentary WIFI, in-room iPads, and 42 degree HDTVs. In addition, the Mayton Inn will offer a high tech gym facility and spa on property for guest use.

Local downtown businesses, non-profit organizations and Cary citizens have positively endorsed the Mayton Inn. The Friends of the Page-Walker, an active Cary community organization that supports historic preservation and community culture, has been a strong advocate for the project. "The Friends of the Page-Walker are delighted to welcome The Mayton Inn to downtown Cary," said Friends President, Brent Miller. "We believe that this luxurious Georgian-style hotel will be an asset to our community and attract more people to enjoy the historical and cultural resources downtown. We are very pleased that the owners have paid such careful attention to compatibility with the Town Center Historic District and preserving the Waldo House and Mayton House as part of the project." In addition, many local businesses and citizens have reached out to express congratulations and excitement for the Crossman's newest venture. Deanna Crossman notes, "We're thrilled to be a part of the renaissance in downtown. Everyone has been so welcoming, we feel like we're already neighbors and friends." The Mayton Inn and the Crossmans will be a true fit for the Cary community.

For more information or questions, please contact info@maytoninn.com. To follow the project, follow us on the Mayton Inn's Facebook Page or our blog: Musings at the Mayton Inn.
The Crossmans also sent the latest rendering of the Mayton Inn.
Current Projects
In emails this week staff sent the current projects under review. Projects entered in March include:
The Jones House on Academy Street
A 38,100 square foot expansion of Autopark Honda
A 66,398 square foot building in the Bradford at Davis Drive and High House
An addition of three modular classrooms at Green Hope High School
An addition of two modular classrooms at Panther Creek High School
A 7,340 square foot expansion of Land Rover in the Cary Autopark
A 49,928 hotel on Academy Street
A 6,109 square foot McDonalds on Walnut Street
294 apartments on Highway 55 in Parkside Town Commons
A Sheetz convenience store on Highway 55.
56 single family homes in the Southerlyn Subdivision on Green Level Church Road
A retail Verizon wireless store on Walnut Street
A 6,000 square foot building in Glenaire
Mailbag
Emails from citizens included information from a young man that is part of a group of students studying and promoting the STEM (Science, Technology, Engineering, and Math) curriculum. He is part of a part of a FRC team, The Hitchhikers, team 2059 http://thehitchhikers.org. They recently placed sixth in a recent regional robotic competition. I hope to get more information from the group soon.
In other emails from citizens I received thanks for the town's installation of signal arms at Academy and Dry, a request for electronic meetings, a complaint that we are spending too much money on parks and greenways, a complaint about spending too much money on downtown, and several people saying we should build a park downtown as promised (as I noted last week there was never a plan for a 13 acre park, however council will be considering options for a 6 to 8 acre park).
This Week
I will spend most of this week out of town working at the Masters Golf tournament. If you are there please drop by hole 17 where I will be scoring.
Get in Touch
Well that is all for this week. My next post will be on Sunday April 14th. Please feel free to email me with a comment. Email all Town of Cary questions or comments to Harold.Weinbrecht@townofcary.org. Email personal comments to augustanat@mindspring.com.
https://carycitizenarchive.com/wp-content/uploads/2013/04/cary-mayor-harold-weinbecht-apr7.jpg
350
600
Harold Weinbrecht
https://carycitizenarchive.com/wp-content/uploads/2020/03/cc-archive-logo-450-v3.png
Harold Weinbrecht
2013-04-08 16:15:19
2016-01-09 11:59:48
Harold's Blog: April 8, 2013