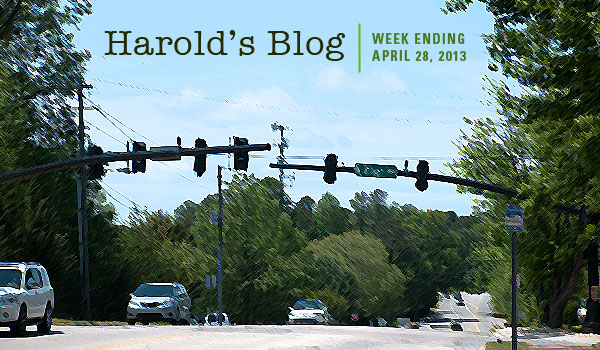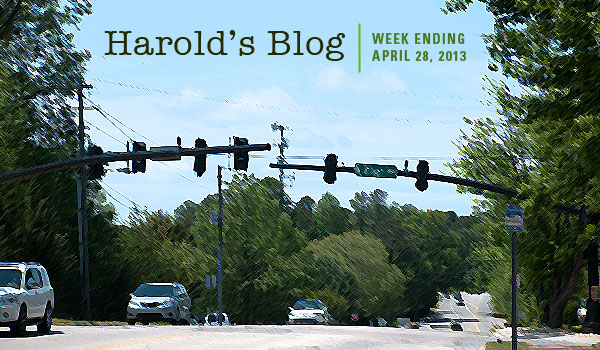 From the blog of Cary Mayor Harold Weinbrecht. Photo by Hal Goodtree.
Cary, NC – This week included meetings, events, and personal celebrations. Every year during this week in April my wife and I celebrate our anniversary (26 years this year) and both our daughters' birthdays.
Monday
Phone Call with a Citizen
I started out the week with a phone meeting. A citizen was very concerned about two group homes in a particular part of Cary. Her main concern was the way the property was not being kept and that was hurting the community. I agree, if there are homes (of any type) in your community that are not being kept then it will definitely hurt the value of your home.
95 Acres Near Wake Med Soccer Park
Later Monday I met with the State Representative who is selling the state property by the Wake Med Soccer Park which is about 95 acres. There is an option by Lennar Homes to build a project like Inside Wade on this property. There have statements made that a "North Hills" type project could be built here instead.
In my meeting with the state representative, she wanted to make sure that I understood that the property was well advertised and this was the best offer. She also pointed out that if this proposal fails then the state would take the property and use it for state purposes. The council will make a decision on this proposal at its May 9th meeting.
Cary/Morrisville Joint Committee
Later Monday I participated in the Cary/Morrisville Joint Issues Committee. I was joined by Mayor Pro-Tem Adcock and council member Robinson. We discussed a variety of issues which impact both towns. Here are some of my take away points:
Morrisville bonds passed and they will have the Evans Road Extension in this coming year's budget. Initially it will be a 2 lane road but buildout will have a 4 lane median divided road.
There was a public workshop on the future of Highway 54. NCDOT projects that traffic will more than double on this road by 2030. They will hold another workshop in June.
Airport Boulevard is being looked at and the committee will hear a report at our next meeting on ways to close the gaps in the road.
The Morrisville Parkway grade separated rail tracks will be starting late this year. The project should be awarded in October and should be completed by the end of 2016.
There are no plans to punch through Crabtree Crossing in the Morrisville Transportation Plan. Council member Robinson asked that information be provided about traffic that would be on this road if it did connect.
Crabtree Creek greenway in Morrisville will go from Davis Drive to Crabtree Creek. Cary's portion is in line with Morrisville. There is an 18 month design process and construction starts in 2015. The greenway should be finished by 2017 which would allow travel all the way to I540.
Cary and Morrisville are working on greenway connections for Indian Creek, Grace Park, and other areas using CMAQ funding (Congestion Mitigation and Air Quality Improvement Program).
Wake Tech is planning on opening a campus in Morrisville.
Morrisville will have a Cricket Park of about 25 acres. Bids are accepted in June and construction should take about a year.
The committee meeting lasted just under an hour.
Catching Up with Mayor Pro-Tem Adcock
Monday night I met with Mayor Pro-Tem Adcock to catch up and discuss issues. It is important for us to meet at least once a quarter. The Mayor Pro-Tem will be running our May 23rd meeting since I will be in New York City for my daughter's graduation. We talked about issues that could possibly occur during that meeting and how to best address them.
Tuesday
Meeting with Town Manager
Tuesday's first meeting was with the town manager for our weekly one on one. In our meeting we mostly discussed three issues:
the Walnut Street repaving which basically goes from the elementary school to the high school,
a notification by the federal government of interest in Cary of an ICE facility (Immigration and Customs Enforcement) with a detention center,
and my discussion with the state representative on the Boulevard rezoning across from the mall.
C-Tran
Later Tuesday I met with the town's transit service administrator, the planning director, and council member Bush to discuss CTran. Some interesting points and trends include:
Fixed routes have been averaging a 25% increase in riders for the past 4 or 5 years.
Door to door riders have been increasing about 5% a year.
75% of riders have average household incomes of $30,000 or less.
Almost half of fixed route riders are between the ages of 16 and 34.
40% of our riders transfer to or from Triangle Transit and CAT.
All fixed route buses are equipped with video surveillance cameras for safety, security, and liability reasons.
Electronic fare boxes are on all fixed route buses.
The town is investigating the costs to add Wi-Fi to buses.
The system has never had a fare increase. Fare increases are proposed in both Door to Door and Fixed services for this coming fiscal year.
If we expand the number of routes by CTran then any future transit expansion from a ½ cent sales tax would not include that route.
Our meeting lasted a little over an hour. It was clear that most of our riders were the young, elderly, and those in service jobs. These folks are vital in keeping are businesses running and our community strong. Therefore our transit system remains an important service for our citizens.
Wednesday – Elected Official Reception
Wednesday I joined many of the council members at an elected officials reception held at MacGregor Downs Country Club. This event was sponsored by the Chamber of Commerce and was our time to thank the other elected officials for all they do for Cary. Senators representing Cary were present but all NC House members were absent since they were in session. There were several elected officials, including judges, from the state and county levels attending. I gave a few welcoming remarks and so did a few others.
Thursday – 26 Years
Thursday my calendar was blocked so that I could spend the evening with my wife since it was our 26th wedding anniversary. We had a nice quiet dinner which was special since my wife flew out on an early bird flight the next morning. We also celebrated the fact that both our daughters had birthdays this week. This week has always been a celebratory week for the Weinbrecht family.
Weekend
Saturday morning I attended the Jefferson Jackson breakfast held at the North Raleigh Hilton. This was a Democratic event with several hundred in attendance.
Sunday I joined Mayor Holcombe of Morrisville and we spoke at the North Carolina Indian-American Political Action Committee's luncheon. We each spoke about 20 minutes before answering questions from the audience. The event lasted about 2 ½ hours.
I picked my wife up at the airport and headed over to the Baisakhi festival at the Booth Amphitheater. This festival is celebrated across the northern Indian subcontinent, especially in the Punjab region by the Sikh community. For the second year in a row we have seen rain at this festival but this year they were able to get in most of the performances. I gave a few remarks along with Council member Rao from Morrisville. We both spoke about diversity and what it means to our community and this region.
Info from Town Staff
House Bill 150
In information from staff and other sources the Senate Commerce Committee gave a favorable report to HB 150 Zoning/Design & Aesthetic Controls Tuesday morning, sending the bill to the Senate floor. The bill previously passed in the House of Representatives and would thus become law if it is passed by the Senate and signed by Gov. Pat McCrory. Fortunately, this approval has been delayed since the bill was sent to the Rules committee.
It is important to understand that HB 150 was introduced at the request of the N.C. Homebuilders Association and would prevent cities from imposing aesthetic controls over 1- and 2-family dwellings in all zoning districts, unless these controls are agreed to by the developer.
While proponents argue that these controls are an overreach by local government, almost all cities contend that eliminating them would render local governments unable to ensure that infill development is consistent with the character of existing neighborhoods, harming both economic development efforts and the property values of existing development.
Cary Quarterly Report
Staff sent out the quarterly report this week. Here are some notes from that report:
Phase 1 of the construction on the roundabout located at West Chatham Street and Old Apex Road is well underway.
Phase 2, construction of the roundabout located at East Chatham Street and East Durham Road started in mid-April. Construction is expected to last for 90 days.
C-Tran's fixed route services reached one million passenger trips provided mark since service began in FY06. Ridership continues to increase ridership on our fixed route services.
All eight of the major construction contracts for the Western Wake Regional Wastewater Facility are under way and on schedule.
Investment rates remain low. Two year treasury bills are yielding 0.23%, down from the 0.26% we reported last quarter.
Water consumption for the three quarters of the fiscal year was 3.2 billion gallons which is 2% less than the gallons billed at this point last year.
As of April 1, 2013, the Town of Cary's population is estimated at 144,316, an increase of 2,703 people (+1.91%) in the last year
Since the last quarterly report, the Town grew by 65 acres through annexation of Town owned land bringing the size of Cary to 36,043- acres (56.31 square miles).
During the 1st quarter 2013, 287 new single-family dwelling (SFD) permits were issued, up 26.4 percent from both the previous quarter (227) and the same quarter last year
Fire Station 8 is tentatively scheduled to be completed in early June, with a grand opening/dedication ceremony planned for later that month.
From 2003 to 2012 reported property crimes have decreased 0.12% based upon the raw numbers. However, the population of the town has increased throughout that period. Therefore, the overall reported property crime rate per thousand populations is the lowest it has been in the ten year period – a 39% decrease from 2003 to 2012 per thousand in property crime rates. Just from 2011 to 2012, there was 12.5% decrease in property crimes per thousand.
40 apartment communities are now actively participating in Project Phoenix which is a zero crime tolerance commitment.
The Cary Downtown Theater construction began this quarter with the building addition rising next to the original building. Construction is scheduled to be completed in 2013.
Almost all trends, of things Cary has control over, are moving in a positive direction.
Mailbag
Emails from citizens this week included complaints about the downtown park proposal, concerns about downtown development in general, complaints about our upcoming Summit for the Future, and a false accusation that Cary is trying to take over areas south of Cary.
Get in Touch
Next week will be busy with several events and speaking engagements.
Well that is all for this week. My next post will be on Sunday May 5th. Please feel free to email me with a comment. Email all Town of Cary questions or comments to Harold.Weinbrecht@townofcary.org. Email personal comments to augustanat@mindspring.com.
https://carycitizenarchive.com/wp-content/uploads/2013/04/cary-mayor-harold-weinbecht-apr29.jpg
350
600
Harold Weinbrecht
https://carycitizenarchive.com/wp-content/uploads/2020/03/cc-archive-logo-450-v3.png
Harold Weinbrecht
2013-04-29 16:15:52
2016-01-12 17:33:00
Harold's Blog: April 28, 2013