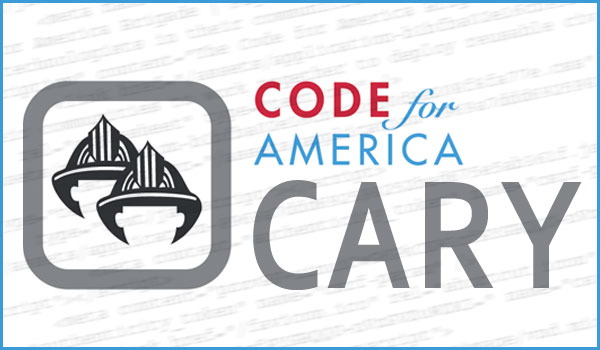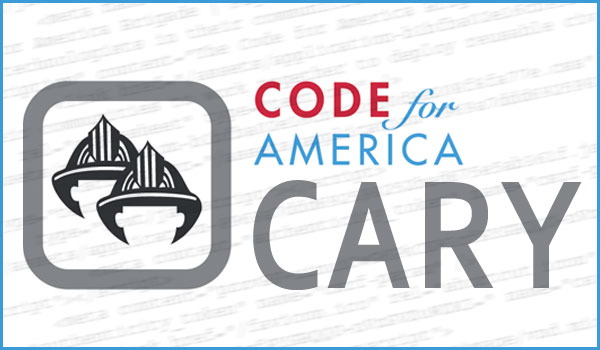 Cary, NC – Code for America (CfA) started in 2009. It's a non-profit, non-partisan organization that brings together programmers, designers, data analysts and other web-industry professionals to work with municipalities to promote openness, participation and efficiency in local government. Now, Cary has it's own Code for America Brigade.
Repurposing & Reusing Technology
CfA is all about public service through code. Brigades are specifically designated the task of reusing and repurposing existing technology for local governments. Why reinvent the wheel?
Open Data is a prime example. Governments collect oceans of data on citizens, costs and process. Open data uses existing tools to put that information on the web where it is available to everyone.
Code Something
CfA Brigades bring together programmers to code something useful, like a mashup of crime data with a Google map.
Vast server farms of data exist about our community – maps and water usage, crime, business permits and home sales, to name just a few. Pulling the data together so it can become useful for the community is the goal of the CfA Cary Brigade.
27 Apps in 2012
In 2012, CfA Brigades around the country created 27 municipal apps, including Honolulu Answers, Where's My Schoolbus and Adopt-a-Hydrant. In the Triangle, the R/Greenway app was developed at Raleigh CityCamp.
CfA Cary can implement some of these open source applications for our own community, or write code for a new municipal app and share it.
2012 Code for America cities include Austin, Chicago, Detroit, Philadelphia and New Orleans.
Code in the Triangle
Code for America started in the Triangle in Raleigh and is rapidly spreading. The more data we can pull together, the more we can understand regional issues. The goal is to create Brigades across towns in the Triangle and band together into a Code for America Division.
Cary Brigade Meeting
The CfA Brigade in Cary had its beginnings in the Technology Task Force, convened by Cary Town Council last year.
But the idea of a CfA brigade in Cary really got its start at  Cary Open Data Day in February.
TechnologyTank.org (former members of the Tech Task Force) provided organizational and operational help forming the brigade, including recruitment of co-captains Robert Campbell and Laura Hamlyn.
The Cary Brigade will hold a kick-off meeting on Tuesday, May 28, 2013 starting at 7:00 PM (EST) in Cary. The information is loaded in the Triangle Code for America Meetup Site. Register and join the Cary Code for America Brigade.
Code for America – Cary Brigade Meetup
Tuesday, May 28, 2013
7:00 PM
Cary Chamber of Commerce
307 N. Academy Street, Cary, NC
Register
What is next for the Triangle?
Durham and Morrisville are also in the process of forming Brigades. The plan may be to form a Code for America Division for the Triangle, something that does not yet exist in the Code for America structure.  The Triangle Region would then apply to be a Code for America City in 2015 with support from the municipalities of the Triangle.
If this sounds cool, then join the Brigade in your Town or City, or help us here in Cary.
———————————————————————————–
Ian Henshaw of TechnologyTank.org contributed to this article.
https://carycitizenarchive.com/wp-content/uploads/2013/05/code-for-america-cary.jpg
350
600
Hal Goodtree
https://carycitizenarchive.com/wp-content/uploads/2020/03/cc-archive-logo-450-v3.png
Hal Goodtree
2013-05-20 15:27:06
2016-01-09 11:46:51
Cary Gets Code for America Brigade