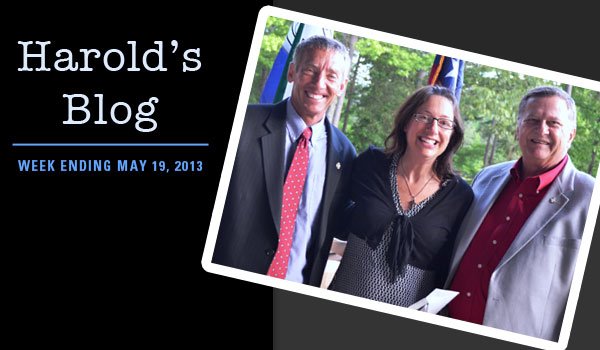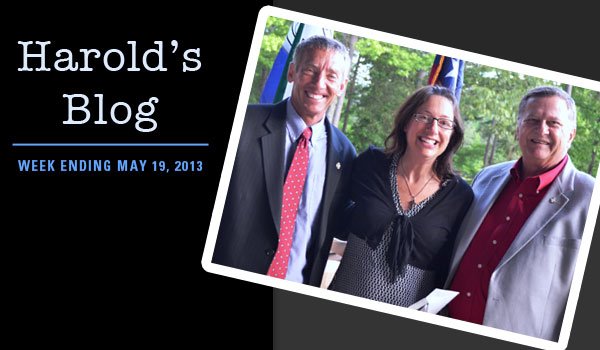 From the blog of Cary Mayor Harold Weinbrecht. Phot above (L->R) Mayor Harold Weinbrecht, Teach of the Year Denise LaPorta and Council member Jack Smith.
Cary, NC – This week was not as busy as anticipated due to two big cancellations.
Monday – Honor a Teacher
Monday I attended the Honor a Teacher Event at the Booth Amphitheater. This was the 12th year that the Chamber of Commerce has sponsored this even, started by the Ashworths. I gave a few remarks and then later in the program joined council member Smith to present an award to the Turner Creek Elementary winner, Denise LaPorta. Congratulations Denise! 26 other teachers were also awarded for their excellence. Award winners took home a nice trophy and a $1000 check. The event lasted about an hour and a half.
Tuesday – 2014 Budget
Tuesday the council held its first work session on the fiscal year 2014 budget. We started with a quick review of the manager/staff recommendations which include: increasing the property tax rate to 35 cents (an increase of two cents as a result of the Cary Community Investment Bonds approved by voters in November, 2012), a $15.00 per month Sanitation Fee (It is an increase of $1 per month. The fee was last increased in FY2009, an increase of 4.7% in utility rates for a residential customer using 4,500 gallons of water per month, and an increase of 5% in developer permit fees (for a new 4,000 square foot home increase is $54 from $1,080 to $1,134; fees last increased in FY2002).
The recommended budget can be reviewed at http://www.townofcary.org/Departments/Administration/Budget/recommendedFY2014.htm.
Tech Task Force
The council discussed several items on the budget for about two hours. The majority of the time was spent on recommendations from the technology task force which were not included in the budget. Staff's reason was that no matter what was included it would take additional staff time. And since they are already understaffed they would need additional staff to cover these requests which adds to ongoing costs. The majority of council reluctantly agreed with staff recommendations to not include additional staff for these technology initiatives.
Other questions and discussions included recycling, costs for the Western Wake Regional Wastewater Facility, how we are messaging the budget, and a potential capital project to add a sidewalk on Louis Stephens Drive.
The council's next work session on the budget will be on May 21st. One of the main topics of conversation at that work session will be Imagine Cary.
Wednesday and Thursday
Wednesday and Thursday I was scheduled to meet with attorneys in the afternoon and evenings. The issue was resolved so I had the time free to see my wife and catch up on work.
Saturday – Wake Young Men's Leadership Academy
Saturday morning I participated in the Wake Young Men's Leadership Academy forum. Mayor Jones of Wake Forest and I were hosts at one of the breakout sessions. We talked about our roles as mayors and the skills needed to be successful in those roles. It was a good session with a lot of interesting questions.
Local Newspaper Story About the Budget
In the local newspaper this week there was a story about the budget. There were several glaring omissions that I would like to rectify.
1) The employees added would take us to staffing levels of 2008 even though we added more than 20,000 residents. In addition, we would have 8.3 employees per 1000 residents when the average is 11. This would be one of the lowest employee/citizen ratios in the state.
2) The amount of savings being used is the excess above what the council has marked as restricted. That amount is three times what is required. Currently savings are making little to no money in interest. It makes no sense to pay higher interest on debt when you can use cash, reduce operating costs, and still maintain a balance well above what is required.
3) It was mentioned that the tax rate increase was approved by the voters last year. What was not mentioned is that we will still have the lowest tax rate in the county unless another municipality cuts taxes.
4) Developer fees will be increased but we are still very competitive. In addition, the impact of development is not completely covered by our fees. That means taxpayers pay the difference. So the more developers pay in fees the less the taxpayers pay.
5) The new planning retreat scheduled for late this summer is to answer several questions that may impact next year's budget. For example, does it make sense to have over $48 million in excess of what is required in savings especially when we can reduce debt that is costing more interest and in turn reduce operating costs?
Mailbag
Emails this week included congratulations and complaints about the kickoff for Imagine Cary. Other emails complained about tickets at the amphitheater being too expensive, requests for traffic lights, a claim that I am pushing high density in Cary, requests to deny a rezoning, and a couple of character assassinations related to comments in my blog on Imagine Cary.
Get in Touch
Well that is all for this week. Next week I travel to Augusta, Georgia, then to New York City to see my oldest daughter graduate from graduate school. Once we all return we will head out for a week long family vacation. So my next post will be on Sunday June 2nd. Although I have Facebook and Twitter accounts those are not the best means of communications with me. Please send all Town of Cary questions or comments to Harold.Weinbrecht@townofcary.org and email personal comments to augustanat@mindspring.com.
https://carycitizenarchive.com/wp-content/uploads/2013/05/cary-mayor-harold-weinbecht-may19.jpg
350
600
Harold Weinbrecht
https://carycitizenarchive.com/wp-content/uploads/2020/03/cc-archive-logo-450-v3.png
Harold Weinbrecht
2013-05-20 18:22:53
2016-01-09 11:58:35
Harold's Blog: May 20, 2013