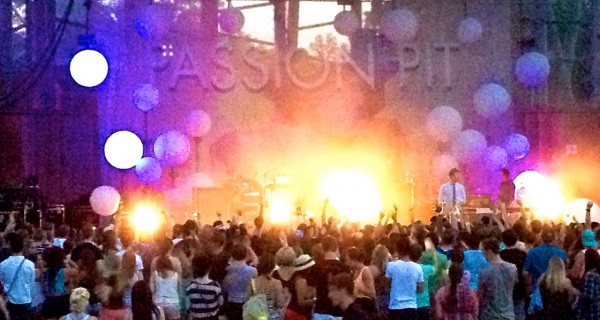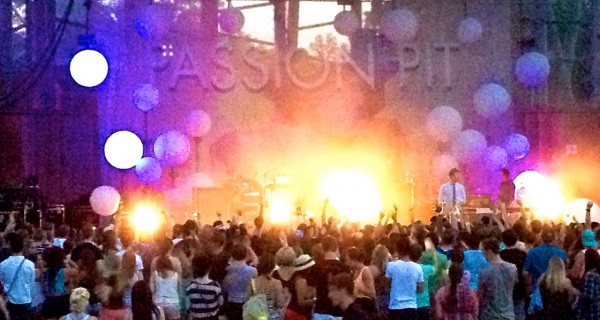 Story and photo by Lindsey Chester.
Cary, NC – This past week, Koka Booth Amphitheartre played host to two of the best concerts you are likely to see here in the Triangle: Passion Pit and The Lumineers.
Both of these headline acts have hits currently climbing the charts- yet the two concert experiences couldn't have been more different.
ElectroPop Passion Pit – Younger Audience
Tuesday night, Passion Pit played Cary's Booth Amphitheatre to a young alternative audience.
Hailing from the Boston area, with several alternative rock hits in their repertoire, this concert attracted a younger Cary audience, one that I have rarely seen when heading over to the amphitheatre. Both my daughters  (aged 14 and 19) took friends to this show and each had a fabulous time.
The warm-up band, The Cults, hails from New York and is only a few years old. They played to a sparse crowd as the beautifully clear evening gave way to darkness. Lead singer Madeline Follin was cute and knew how to work the VIP crowd, who sang along and knew many of the songs. Lead guitarist, Brian Oblivion, was just weird enough with his long black hair to pique my interest. Their Indie rock sound reminded me a little of Paramour without the screaming. I'll be checking them out on iTunes.
Smoke and Lights
Passion Pit took the stage around 8:30 amidst lots of smoke, lights and a very cool set of light-up bubbles that changed colors throughout the show. Their charismatic lead singer, Michael Angelakos, commanded the stage convincingly. I was hooked. These guys haven't been around long either, having formed only in 2007, but mark my words: you'll be hearing more of them.
Their brand of music is called electropop– and it's a nice change from the amount of pop and hip hop that I hear in my car with my daughters who attended the show!
The hit everyone came to hear was "I took a Walk" and they didn't disappoint. In fact they played it fairly early in the show which left me thinking: What are they going to do for an encore?
The answer was a song, that I had forgotten (OK I didn't know) was theirs, Carried Away (video). The audience was rocking and waving their arms in the air along with these hits and begging for more. The happy vibes this band emotes, left everyone in a buoyant mood.
My one complaint? The convert was over too soon. I know Booth Amphitheatre wants crowds out by 11pm because there are subdivisions nearby and a noise ordinance that's enforced. But this show ended at 10pm. Come on Passion Pit- a few more songs would have been great!
Lumineers Show a Stormy Experience
Thursday's  Lumineers show marked Booth Amphitheatre's first major sellout , and the weather forecast was not looking good. In fact, several of my gal pals who were supposed to attend with me, bailed at the last second (ladies, you know who you are!)
My stalwart friend, Vanessa, was psyched for a Gal's Night Out and took the wheel as we headed to the Regency Park area at 5:30. Right about that time the winds began to pick up for a night of scary 60 mph gusts. Social Media and Town emails arrived while we were en route telling us that gates were pushed back from 5:30 to 7pm.
The rains began when we arrived at 6 as we huddled in our car til the first wave of the storm passed. The rain cleared by 6:30 and we sallied forth to check out some food trucks in the parking lot. I had a wonderful basil mozzarella grilled cheese. Excellent start to an adventure!
Making the Best of a Late Start
We got in line and were inside the amphitheatre by about 7:30. Clouds were threatening, but the storm never fully reached the performance area and the first of 2 warm up bands began to play around 8:30. We parked our chairs under the trees, in a spot we thought would be advantageous should the weather turn sour and a speedy exit become necessary. I hadn't brought a rain poncho, so I used my art school skills and fashioned my "rain vest" from several small garbage bags. Luckily-the storm never materialized again and the show went on. And what a show!
I can't picture how many more people would have packed the area than what I saw Thursday night. This crowd was older than on Tuesday- although there were high schoolers and college age kids, what was missing was the Chartreuse hair and piercings. Mom and Dad were having a night out for this one!
Frankly the two warm-up bands were good, but with the eyes in the sky wondering about the weather, I couldn't tell much you about them. The stage was still covered by tarps and the skies were threatening. Both bands (Cold War Kids and  J Roddy Watson & the Business) played up-right pianos and had a similar folk rock sound that was a good lead in to the Lumineers.
The Lumineers have managed to crossover their Folk Rock sound quickly- the band had their first album, The Lumineers released in December of 2011. It was picked up on anything from G105- to my current fav 95.7 which plays alternative rock. Their hit "Ho Hey" seems to resonate with a wide audience. Booth was lucky to book them.
Surprises From the Band
The stage set was rather sparse compared to the show two nights before. No back drop or light show, just several gigantic simple chandeliers similar to those hanging on the band's album cover. The surprise for me was a Dylan song they whipped out early- I said to my friend that I doubted many in attendance even knew the song, much less that it was by Bobby D's "Subterranean Homesick Blues" which brought a smile to my face and told me these guys weren't afraid to be a little different.
They had a few other surprises up their sleeve. Mid-way through the show, the band suddenly materialized up behind the sound stage, literally out in the middle of the lawn seats. They played 2 songs out there, to a thrilled cheap seats audience. "Stubborn Love" was a  beautiful acoustic song that was a great chose and big audience pleaser from that got the crowd on their feet singing, or faking the words they didn't know.
They confidently walked back to the stage and played a couple more before saying "good night". Which of course was a cue for cheers and an encore of four songs one of which was Creedance Clearwater's "Have You Ever Seen It Rain"- How apropos. They ended with the snappy "Big Parade" which I didn't know, but we all clapped along nonetheless.
Stellar Week for Booth
Overall it was a stellar week for Booth Amphitheatre. Two shows that brought new crowds to the venue and they managed a tricky situation well with a weather scenario that could have been a disaster for their sell-out crowd. I eagerly look forward to what the balance of the season holds at this world-class venue in Cary.
See their full schedule here (and look for reviews on Harry Connick, Jr and Robert Plant in July.
https://carycitizenarchive.com/wp-content/uploads/2013/06/passionpit-e1371521392209.jpg
320
600
Lindsey Chester
https://carycitizenarchive.com/wp-content/uploads/2020/03/cc-archive-logo-450-v3.png
Lindsey Chester
2013-06-18 14:05:20
2013-06-18 10:52:19
Two Great Concerts in One Week