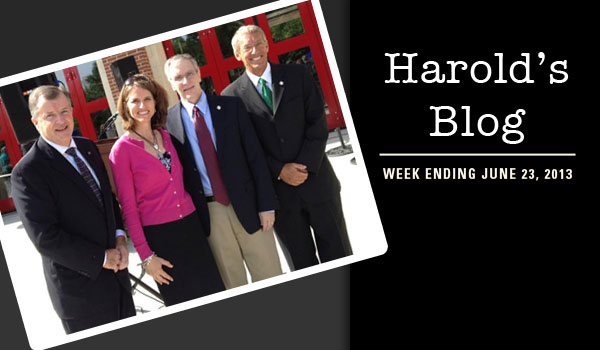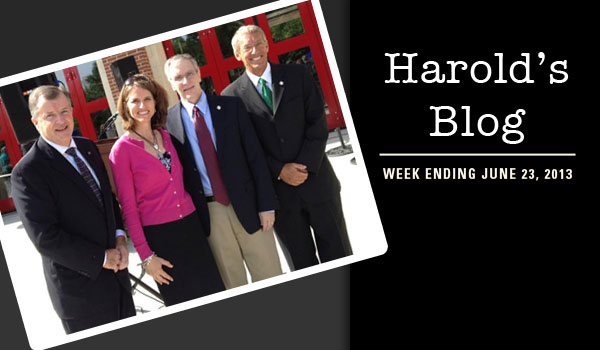 From the blog of Cary Mayor Harold Weinbrecht.
Cary, NC – This week was a busy week full of events including the opening of a new fire station.
Monday
Economic Development Downtown
Monday I, along with council member Robinson, met with several town staff members to go over a downtown economic development proposal. Hopefully, we are nearing an announcement on another exciting project downtown.
Mayor's Association
Later Monday I traveled to Wendell for a Mayors Association meeting. Eight of the twelve mayors were in attendance.
The discussions were short and focused mostly on how proposed legislation on tax reform is going to negatively impact our municipalities. In Cary the current tax proposals by the legislature will cost us from $4 to $5 million or about 2 cents on the tax rate.
Hopefully, we will be able to get the legislature to understand how much this will harm our towns. If not, towns will be left with the decision of cutting services and/or raising taxes.
One interesting bit of information discussed at our meeting was on the history of the Mayors Association. According to some of the older mayors the Mayors Association was started in 1946 by the Wendell mayor who invited all the other mayors to go fishing and then have dinner with what was caught. Our meeting was nothing like that lasted about an hour and a half.
Tuesday
Tuesday I had the privilege of attending the Cary Senior Center Community Garden Harvest Dinner. This is an annual dinner held by those that work in the community garden to celebrate their harvest.
Once I arrived I was given a tour of the garden which has grown dramatically since I saw it a year or two ago. There was about anything you can imagine growing in the garden from all kinds of vegetables to sweet blueberries.
The dinner included a wonderful guest speaker Cullen Whitley. He has started several community gardens and is an expert in plants and soil. In one garden he created, a ground harder than concrete was transformed to an environment which produced two award winning squash at the state fair. His comments were inspiring and fascinating especially on how community gardens and volunteerism make so much of a difference in people's lives. To find out more about Cullen just Google him or just email him at cwhitley@goodwillenc.org.
Wednesday
Fire Station 8 Ribbon Cutting
Wednesday morning I participated in the ribbon cutting for Fire station #8 which is our newest safety center located on Mills Park Drive. It is our first "green" facility from the ground up. All other town green facilities were retrofitted. Here is an excerpt from my comments:
"… Cary has a strong culture of conservation. We know this from scientific surveys, public input sessions from a variety of projects, and just by observing our community's general habits. Conservation goes beyond litter reduction and beautification, and it's not something that's just a trend today. In Cary, it's ingrained to how we live every day and it goes hand-in-hand with sustainability.
In 2011, we were fortunate enough to be selected as one of only two dozen municipalities nationwide to receive grant funds as part of the EPA's Climate Showcase Communities and we are elated to have Beth Craig from the EPA's DC Headquarters with us today. With these funds, not only are we able to incorporate handfuls of green features into this building, saving us from retrofitting costs in the future, but we were also able to take steps in making our overall fire service more sustainable, energy-efficient and cost effective. Our rooftop solar system will create 13 percent of the station's energy. The solar hot water system offsets about 75 percent of natural gas energy required for a typical hot water system. The overall facility smart-design and construction will save taxpayers $10,000 a year in electrical and natural gas costs. Interior rooms without windows feature solar tubes to allow natural light to filter in. The co-location of the District 2 police substation negates the need for separate facility construction, saving money and preserving open space.  …"
There were over 100 people in attendance including the artist who incorporated stained glass art work into the building. This was a milestone event in Cary not only because we were showcasing a "green" facility and taking a major step in sustainability, but also because it will dramatically help response times in one of the fastest-growing parts of Cary. The building will be integrated into service during the next month.
Cary Economic Development Committee
Wednesday evening I met with the town's Economic Development Committee. The following is some of the information from the committee meeting:
DB Global Technology will be adding 431 new jobs in North Carolina by the end of 2016 and invest over $13.5 million in its Cary location.
A health related group is looking to open operations in Cary and hire 250 by the end of 2013.
Chatham Hill Winery will be moving to Chapel Hill Road near town hall.
A charter school focusing on IT is looking to move to Cary from the Triad area.
Cary hosted the NCAA Division II baseball championship for the 5th consecutive year. We will continue to host this championship until at least 2015.
Cary only has approximately 400,000 square feet of class A office available. Most of this small is smaller segments of around 20,000 square feet.
Highwoods has submitted plans for three buildings with 650,000 square feet of class A office space.
Home sales are up 9.7% during the last 12 months. 44% of homes sell within one month.
Cary ranked #8 for economic potential according to fDiIntelligence.com.
Cary's unemployment rate is now 5.0%. This is getting closer to the full employment rate of 3% – 4%.
The meeting lasted about 45 minutes. The next Economic Development committee meeting will be on September 18th.
Thursday
Thursday I met with a candidate for the Wake County School Board.
This will be the first of many meetings I will have with candidates for county and municipal offices.
Saturday
Morrisville Health Fair
Saturday morning I attended a Health Fair at the Hindu Temple in Morrisville. This event has been held annually for several years. This year drew over 800 folks from the area. God bless the doctors who offered free time and examinations over the last two weekends.
Ritmo Latino
Saturday afternoon I attended the Ritmo Latino festival in downtown Cary sponsored by Diamante. Diamante is an organization dedicated to the preservation, development, and promotion of the Latino/Hispanic culture, heritage, and artistic expressions. I had the honor of giving a few welcoming remarks and then enjoying some of the entertainment. The festival was an all-day event and was held on Academy Street between Dry Avenue and Park Street.
NC Symphony
Saturday night I hosted several mayors from the Wake County Mayors Association at the NC Symphony's Broadway performance. In attendance were the mayors from Fuquay-Varina, Morrisville, Wake Forest, and Zebulon. The symphony and accompanying singers were fantastic and everyone had a great time.
Emails
Emails from citizens this week included a complaint about the fire sculpture, a complaint about not have public clay tennis courts, a complaint about signage at an intersection, a complaint about the downtown 13 acre site, a complaint about a rezoning request, a complaint about maximum buffer widths, a complaint about an apartment complex manager, a complaint about string lights, and several requests to attend events.
Get in Touch
This week will be a more typical week with a council meeting, a work session, and a taping of Cary Matters.
Well that is all for now. My next post will be on Sunday June 30th. Although I have Facebook and Twitter accounts those are not the best means of communications with me. Please send all Town of Cary questions or comments to Harold.Weinbrecht@townofcary.org and email personal comments to augustanat@mindspring.com.
https://carycitizenarchive.com/wp-content/uploads/2013/06/cary-mayor-blog-0623.jpg
350
600
Harold Weinbrecht
https://carycitizenarchive.com/wp-content/uploads/2020/03/cc-archive-logo-450-v3.png
Harold Weinbrecht
2013-06-24 16:15:47
2016-01-09 11:58:36
Harold's Blog: June 24, 2013