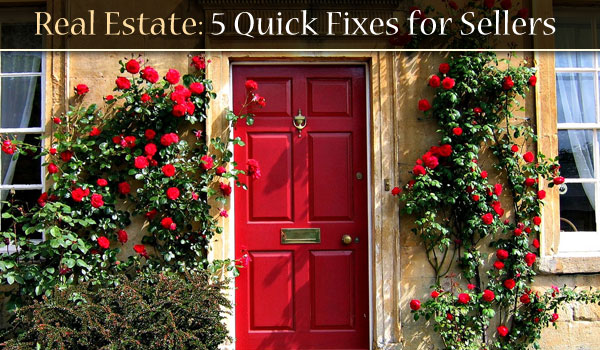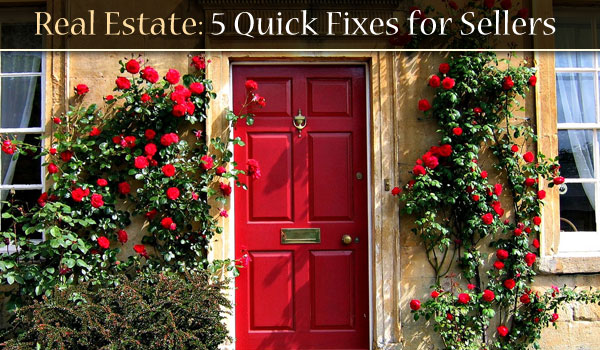 Cary, NC – As Real Estate Agents, we often get asked "What are some of the best updates or renovations I can make for my home?"  Here are 5 Quick Fixes to help your house get that "updated" look.
Real Estate: 5 Quick Fixes for Sellers
Here are 5 inexpensive updates that a real estate seller could do to add instant pizazz to their home. In part two and three of this series, I will focus on larger kitchen and bathroom updates that will provide your home with the facelift that it needs.
*News Flash* Not too many buyers in Cary today want to take on renovations and are proving that they will pay more for an updated home vs one that needs work.
1. Paint Your Front Door
Nothing says fresh & clean more than a freshly painted door. It can immediately change the curb appeal of your home.
Numbers suggest that a fire engine red or a black door are the most compelling amongst buyers.
I just had my entire front door repainted for $30 not including paint, and it makes a world of difference.
2. Change Out Old Light Fixtures
If your house still bears the brass look of the 80's and 90's, do yourself a favor and change your light fixtures. Start with the front porch light and work backwards through your house.
You don't need to break the bank; a simple brushed nickel finish on light fixtures works well. It shows that you have made an effort as a seller and gives the appearance of updates in the home.
3. Paint
If you can't afford to give the entire home a facelift with a new coat of paint, then at least paint the main living room or family room. Even just painting the trim in the dining room or on the staircase would make a world of difference. A fresh coat of paint will give a cozy feeling to the area and welcome your buyers.
PLEASE pay a professional to do the painting. Buyers can easily spot when a homeowner tries to save money and does it themselves. More often or not they see it as a room that needs to be repainted. If you do not know a painter then ask your realtor. We have a rolodex of vendors we can refer you to. I have personally done this to my house. The rooms that have been professionally done stand out and makes the rooms that I have painted myself look pitiful.
4. Windows
Do not let deferred maintenance doom your real estate offering. If you know you have a bad window, then replace it. A $200 dollar window is well worth the investment. A bad window or even worse bad WINDOWS lead to lower offers and a repair request to have them replaced. In the end you could save yourself hundreds by doing it ahead of time.
5. Change out Appliance Flat Panels
White Appliances SHOUT old. A dishwasher is considered a fixture. You don't need to buy a new dishwasher to help showcase your kitchen. For under $150 you can change that old white dishwasher that still works fine into a stainless steel or black new-look appliance.
Bonus Tip
Deep Clean Your Home
This isn't an update or a renovation, just common sense. Hire a team to give your home a deep clean. It will make a world of difference. They will clean in places that you wouldn't even think of. This is a $200-300 dollar investment that could pay large dividends in the eyes of real estate buyers.
Real Estate in Cary and Morrisville has been selling well this Spring and Summer. Inventory is at a 4 year low, but it's the homes that look great and are priced right (as always) that are moving quickly.
If you are thinking of selling your home, take a look at these tips. Let us know if they helped when you negotiated with your buyer. We would love to hear your ideas and feedback.
—————————————————————————————–
Story by Benjamin Passwaters of DT & Co Real Estate in Cary. Part 1 of a 3 part series. Photo by JRP.
https://carycitizenarchive.com/wp-content/uploads/2013/06/real-estate-5-quick-fixes.jpg
350
600
Community Contributor
https://carycitizenarchive.com/wp-content/uploads/2020/03/cc-archive-logo-450-v3.png
Community Contributor
2013-06-27 19:25:36
2013-06-28 11:48:25
Real Estate: 5 Quick Fixes for Sellers