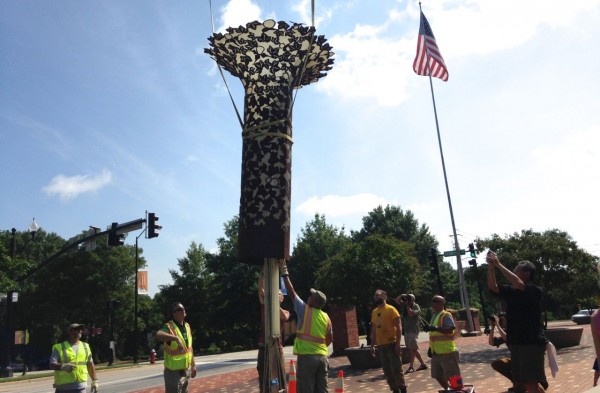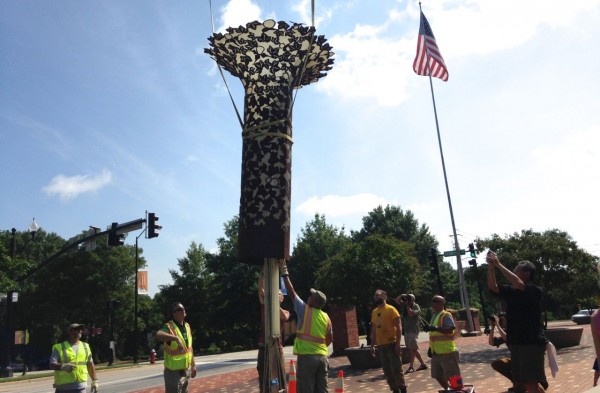 Cary, NC – Friday morning, Downtown Cary was the scene of moving cranes and heavy trucks as Cary Visual Art's sixth annual Outdoor Sculpture Exhibition was installed.The juried exhibit includes a dozen new public art sculptures on loan including one piece that was the "People's Choice" through an online voting process this past Spring.
CaryCitizen was there to witness the drama of cranes lifting heavy metal sculptures some weighing more than 1800 pounds! This year's show includes many of the same locations as last year, when former CVA director Claire Sifford made the move to extend the exhibit from Town Hall Campus and include sites along  Academy Street up to Cary Arts Center.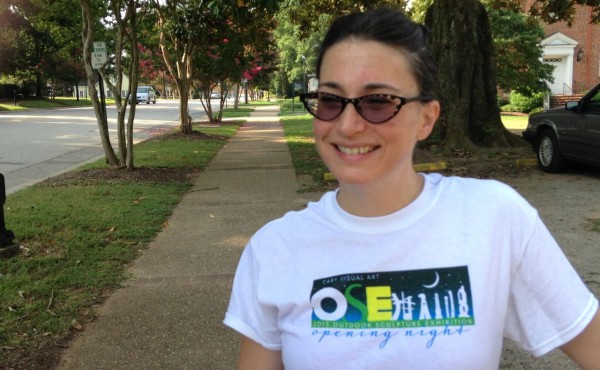 New CVA director Mary Davis Wallace said she "had big shoes to fill" when I spoke with her during the installation.
The show involves not only selecting the pieces, but finding a well-known and qualified juror. This year, that was Cheryl Stewart from Greensboro, who has  selected much of the public art at RDU Airport.
In addition to selection and installation day, Mary coordinated hotels for the artists, a gala at the Cary Arts Center, an audio tour and publicity for the event. She looked pretty relieved when I caught up with her later that night.
Outdoor Sculpture Exhibition in Downtown Cary
Of the placements in this year's Outdoor Sculpture Exhibition, three pieces are on Town Hall campus, two are near Page-Walker,  two pieces at the Cary Arts Center and the balance are on private properties along South Academy Street.
There was some waiting around for both artists and photographers Friday morning. Even with the best laid plans, which included assigned times for each sculpture, inevitably some arrived early, and one big piece arrived quite late…But as these pieces will be on display til June 2014, what's a half hour give or take?

What You'll See
Visit the Arts Center in the evening and see "Cotton Column" by artist Jim Galluci (lead photo depicts installation). His piece lights up from within and looks like a leafy tree.
After the popularity of the silver horse named "Dapple" from last year's Outdoor Sculpture Exhibition, the board selected Jonathan Bowling's "Colorful" as a replacement. His work uses up-cycled scrap metal and was placed in the same spot on the Yarborough property. Bowling was also in last year's show, with "Pull Toy" an up-cycled elephant on the post office site.
In front of Lana Addison Bridal is the People's Choice piece "Dancing Birches" (pictured being installed by artist Mark Krucke above).
Last year's show included my personal favorite,  a flying house near the Baptist church. A new house has arrived, this one by artist Rudy Rudisill called "FS.939.07"  is part of an ongoing series that he does involving houses and circular geometry. A sculptor and museum exhibit builder Rudisill said this was his third installation this week of art in area shows.

Best In Show
In front of the The Purple Polka Dot sits this year's Outdoor Sculpture Exhibition Best of Show by artist Paul Hill.
The piece depicts in metal and fused glass a curvaceous Venus Flytrap sculpture called "Natural Embrace." Hill has been in the show previously, with a piece depicting a goat in the exhibit two years ago.

Juror Cheryl Stewart stated it was easy to select the twelve pieces to go in the show, but very difficult to select the winner. In order to best make that selection, she walked the show Friday after all the pieces were in place.
Mostly North Carolinian Artists
Interestingly, the show includes mostly artists living in North Carolina, and one, Chris Hansen, who lives in Cary.
In the past, many of the pieces came from as far away as Minnesota and Ohio. Davis theorized that "the expense of transporting pieces and the still weak economy may have resulted in more submissions from area artists than in the past. This year only Johnathan Hills is from as far away as Oklahoma.

Fire Sculpture on the Move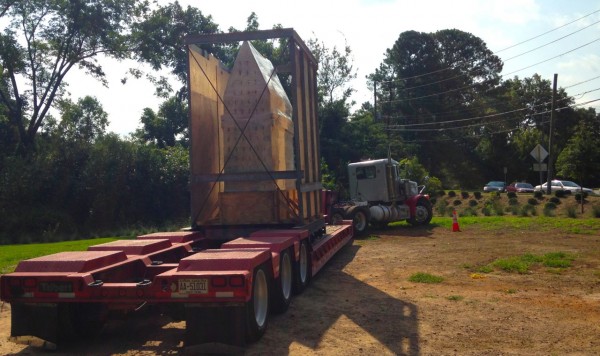 On another note- the controversial sculpture known as "The Meeting Place" will be moved by this Sunday August 11 in the morning. The new home will be roughly across  the street from Cary Elementary School in the space recently cleared of a water tower. May it rest in peace.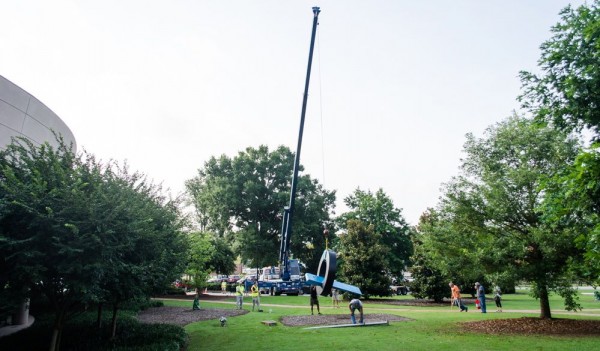 For a map detailing where each sculpture has been placed and additional info about the exhibit visit the Cary Visual Arts website.
————————————————————————————————–
Story by Lindsey Chester. Photos by CaryCitizen intern Brian Speice and Lindsey Chester.
https://carycitizenarchive.com/wp-content/uploads/2013/08/tree-e1376148161192.jpg
393
600
Lindsey Chester
https://carycitizenarchive.com/wp-content/uploads/2020/03/cc-archive-logo-450-v3.png
Lindsey Chester
2013-08-12 14:42:20
2016-01-01 19:06:53
Outdoor Sculpture Exhibition Installed in Downtown Cary